Devil's Eyebrow Natural Area.
May 23, 2013

A rugged, riparian enclave
of about 2,000 acres of limestone bluffs, creeks, springs, meadows, forest, and lake in the Ozark Mountains of Arkansas, Devil's Eyebrow Natural Area is quasi-public land dedicated to the ideals of conservation, to the sports of hunting and fishing, to the recreational and spiritual pursuits of hiking and solitude, and to the preservation of flora and fauna. That's how we see it at Crow's Cottage. Others will choose a perspective all their own.

---
In the Nick of Time.
May 19, 2013

For reasons, the origin of which
I cannot plumb, on the afternoon of April 13, 2013, I was moved do something that had been simmering on the backburner of my good intentions file for years, to wit: Shoot the old Arkansas Power and Light Company power plant on Fourth Avenue in my home town of Pine Bluff, Arkansas. Since I have now lived here for 50 years and noticed the old abandoned structure the first week of my residence, I can say to myself, "Self, it's about time, what's the holdup been?"

---
Smitten by
The Native Trees of Arkansas.
April 15, 2013

A native tree of Arkansas is right at home on the land that nurtures and sustains it. At White River Nursery in northwest Arkansas, native trees and perennials are front and center in an initiative to provide gardeners, landscapers, and horticulturists with a wide range of indigenous species. Part of a national movement toward the idea of "sustainable wildlife," White River's initiative is finely attuned to the times. For someone who loves trees, it's downright special.

---
CSCTFL Conference Focuses on Role
Of Languages in a Global Society.
April 4, 2013

I was fortunate to be one of over 900 foreign language teachers and educators who gathered in Columbus, Ohio, a couple of weeks ago for the 45th annual Central States Conference on the Teaching of Foreign Languages (CSCTFL). Our theme, "MultiTasks, MultiSkills, MultiConnections," highlighted our focus on the role of languages in a global society.

---
I Survived the Long Count. Did You?
March 14, 2013

Remember the Maya apocalypse of last December? As lightning-fast and crazy-hectic as our pop culture moves nowadays, the end of the world that came and went.... Well, it seems like an eon ago. Fringe History, Pseudoscience, and Popular Culture, Ron Fritze's history course now underway at Athens State, took up the Maya Long Count last week. What led to the latest outbreak of end-times mania? What do we really know about the ancient Maya? Why do people continue to buy snake oil from the prophet of doom? Ron looks to history for answers.

---
I Got the Writin' Blues.
March 6, 2013
With its emphasis on relating personal experiences, blues music can be the perfect vehicle

to inspire writing for the adolescent experiencing the joys and heartbreaks of growing up. "I Got the Writin' Blues," a unit of three lessons, introduces students to the blues genre through the wit of Conan O'Brien and the lyrics of bluesman Danny Chicago, and then leads them through the process of writing a blues song. For the classroom teacher with an eye toward innovation and the development of new lessons, "I Got the Writin' Blues" also provides good seed for the study of poetry and cultural history.

---
Two Measures Ahead,
A Glance at the Fading Notes.
February 27, 2013
LitTunes turned five-years-old in November, and the people at Google Analytics tell us that we are becoming an established open-access web for teachers. Over 80,000 people visited LitTunes in 2012, up considerably over prior years, and while things like numbers and statistics about usage are important to consider, the personal e-mails, phone conversations, relationships, and possibilities for the future give me the biggest charge. Not surprisingly, the statistics tell us that LitTunes lesson plans are the most accessed part of our web and that we have visitors from all around the globe. Thanks, teachers, for making our free classroom resources a success.

---
The Admiral and The President:
An Amazing Day in Richmond.
February 21, 2013

Does the Abraham Lincoln envisaged by pop culture and history today match-up with the flesh-and-blood man who led the North to victory in the great War Between the States? Interesting question, especially in light of today's slew of postmodernists, those prominent cusses who worship at the fount of opinion. In Ron Fritze's review of Steven Spielberg's Lincoln, we encounter some central ideas about the historical Abraham Lincoln. Along the way we meet an admiring admiral, an eloquent abolitionist, and three little kittens caught up in the madness of war.

---
All Things Needful.
Ocotber 12, 2012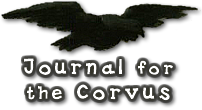 Born poor and raised in a house of fear, I'm never too far from a haunting by the haint Scarcity. I look dead ahead and conjure-up emotional dank, quicksand on a moonless night. I see me, broke and eaten-up with the negative self, lost 'n wandering through a desolate marsh, confidence sinking into grim and intractable mire. It's a bad situation, the sudden absence of love in a place where love abides....

---
'Safe Home'
August 14, 2012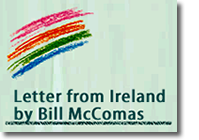 In his twenty-first and final dispatch in the series "The McComas Family Ireland Fulbright Adventure," Bill McComas tells about touching a mummy at St. Michan's Church, visiting the bridge where a renowned mathematician joyfully announced to the world his discovery of quaternion multiplication, and experiencing the cultural wonders of Bloomsday in Dublin. At the end, we are reminded, one of the most valuable of all exeriences is to be 'Safe Home.'

---
Not Richter, but Boss ....
Very Big and Very Friendly.
August 7, 2012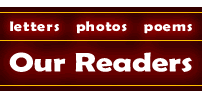 Amy Hollinger-King recently met one of CornDancer's guest photographers at the Dumas Ding Dong Days festival in Lower Arkansas. She writes to tell us about one of her English Mastiffs, who goes by the name of Boss. Amy also wants photographer Doug Dempsey to know how much she enjoyed his photo essay about the festival.

---
Methods Class: Summer Term
Nears the Home Stretch.
July 30, 2012

We enter the fourth week of summer classes. The end of the term is nigh! You are intrepid explorers in the methods class, discovering a wealth of theories and practices to ground you in the profession of teaching other languages. Your first foray into lesson planning and presenting was successful, thanks to the generous feedback of your peers. I expect even better performances for your second lesson plan and mini-lesson presentation.

---
When an Ex-Priest Weds an Ex-Nun,
A Memorable (Luther) Union Ensues.
February 15, 2012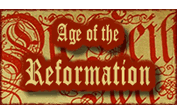 Early in the German Reformation, twelve well-born Cistercian nuns escaped from their cloister at Nimbschen. With the help of Leonard Kopp, solid citizen of Torgau and supplier of foodstuffs to the monastery, they made their way to Wittenberg. Legend has it that Kopp concealed the renegades in barrels used for storing herring, which would have been a rather smelly experience. If so, it would have been a scene reminiscent of the escape of Bilbo Baggins and the dwarves from the Elk King's stronghold in The Hobbit.

---
In Search of Metaphors for Diversity.
January 27, 2012

In my reflections on this semester's goals, I sought a metaphor or visual image to express my understanding of the concept multicultural. I drifted back to my childhood and the summer vacations I spent with my father's mother, Tacy Farmer Alexander. She was a quilter who carried a white shirt box with her whenever she visited. Every female "worth their salt" at that time had a sewing machine and knew how to use a needle and thread, so most of our clothes were designed and crafted by mothers, sisters, aunts, and grandmothers.

---
ABC Who Are We? A 'Just Because'
Moment Leads to a Marvelous Poem.
March 17, 2011


Teachers experience a great deal of satisfaction when they create an assignment that students really appreciate and enjoy. Every now and then a student is inspired to go beyond the requirements and reformulate an assignment "just because." Annie Ratliff, a graduate student in a multicultural issues class, took an assignment named ABC Who are We? to another level and wrote something special.

---
I Can Remember.
March 9, 2011


In a touching tribute to the memory of her father, Linda Hagen drifts back to childhood and a special moment when the rain fell in the desert night.




---
May Day. The Good Comrades
Are Vanquished. What Next?
March 24, 2010
After twenty-five months of silence, Dylan FitzDylan returns to CornDancer with the publication of a

lyrical narrative he claims to have written while imprisoned in a Soviet socialist satellite state. What are we to think of Marko's oracle, the androgynous, raven-haired creature whose last dance outside the Youth House in Györ, Hungary, leaves her feet bloody and her prophetic voice mute? What role does Imre Washington play in the first May Day celebration after the fall of the Iron Curtain? And how successful is sweet Ildie in her search for new isms?

---
Martha Sandven's
Miss Martha Mystery Assessment.
September 24, 2009
Martha Sandven, 2009 graduate of the Master of Arts in Teaching (MAT) Program at the University of Arkansas, created the Miss Martha Mystery assessment activity during her internship year of 2008-2009. Based on the four domains of the Pathwise Classroom Observation System, the activity expands the assessment opportunity for interns by including the most important stakeholders in the classroom, the students.

---
| Daily Logue from the Opposite Loft |
---

---
---
---
---
---
---