Great Aunt Helen Got Jilted
by the Millinery Salesman from Chicago.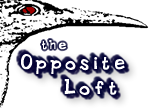 By Ebenezer Baldwin Bowles | Thursday, December 5, 2013
No measure of conscious focus
can stop the scatter. We're all over the place the windscreen is too dirty. Too many waves. From all directions. All at once. Every feasible spectrum. Ceaseless.