Baillon's Crake:
Bird of the Reedy Margins.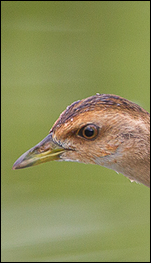 By Andrew Hardacre | Wednesday, March 5, 2014
Our study of the Baillon's Crake
delves into the taxonomy, habitat, and lore of this remarkable species. John Gould's The Birds of Europe and F. O. Morris' A History of British Birds provide the historical foundation of an in-depth analysis of the several taxonomic and name changes foisted on the species over the years. We also visit Hong Kong Park to see a beautiful human-made pond that provides a refreshing urban oasis for the occasional straggler crake. The first winter female of our study was photographed in Long Valley Hong Kong last winter. Take a look!