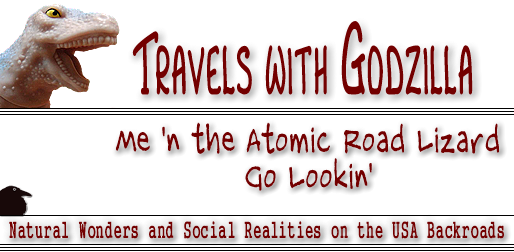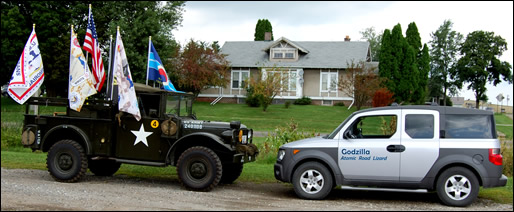 Godzilla chats with his new friend, Army Truck, a powerful old soldier.
Army Truck resides with Cliff Anderson in the friendly town of Joy, Illinois.


Carry Me Home.
Saturday, August 8, 2009
Watseka, Illinois
Cliff Anderson told me the story of his beloved Army Truck while the two of us stood admiring the vehicle in the hot August sun. We were standing on the gravel parking lot of Cliff's sprawling antiques market beside Illinois 17 in the pleasant village of Joy.
It was March of 2008. Cliff's father-in-law, Ira 'Buddy' Adams, was looking forward with great anticipation to the arrival of his son-in-law's new toy, a restored 1951 Army Truck. Buddy remembered riding in various versions of the truck's predecessor, the Dodge Power Wagon, during his army service in World War II.
An antiques dealer and picture frame craftsman with a passion for all things military, Cliff had purchased the Army truck with an eye toward pleasing his ailing father-in-law. It was being readied for shipment and would arrive at the end of March, just in time for springtime parades and festivals.
After scurrying about the USA for several years in the 1950s, Army Truck deployed with United States forces for service in the Viet Nam War, and then returned safely to whatever fate attends to decommissioned military vehicles. That his ultimate home would be among the cornfields, pleasant villages, and meandering backroads of central Illinois seemed a fitting reward for the old mechanical warrior — and it is a fitting reward, too, but our story hasn't gotten that far. It's early March, 2008, and we're waiting for the truck to arrive in Buddy and Cliff's hometown.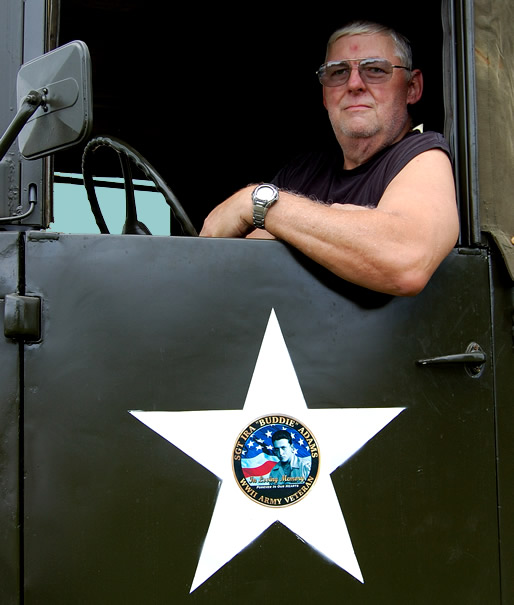 Cliff Anderson sits behind the wheel
of his smartly restored 1951 M37 Troop Carrier.
Pictured in the center of the white star
is Cliff's late father-in-law,
World War II veteran Ira 'Buddy' Adams.
Army Truck served in the Viet Nam War
as a member of the United States expeditionary forces.
A tall and amiable man, plenty stout, Cliff was a warrior like his father-in-law. As a young soldier with the 101st Airborne in the Central Highlands of Viet Nam in 1966 and 1967, Cliff had wrestled and wrangled the great and mobile guns of the U.S. Army artillery into position to support the airborne infantry in their intense and victorious battles against the North Vietnamese army and their Viet Cong allies. Cliff said his artillery battery didn't stay put in any one place much more than a week at a time. They transported the 155 mm howitzers from forward firebase to forward firebase in Chinook helicopters so they could rain down killing fire on the enemy.
Cliff was pleased that his new truck was a fellow Viet Nam veteran. He knew that Buddy would be proud to sit in the passenger seat and wave at friends and neighbors.
Buddy died in early March, just two weeks before Army Truck's arrival in Joy. Buddy's lifetime mate and devoted wife, Lois Diehl, had passed away the previous June. Buddy couldn't wait any longer for the reunion.
"They always said they wanted to be buried together," Cliff said. "So we took my father-in-law's ashes and my mother-in-law's ashes, and mixed them together in an urn."
After Buddy's funeral service, Cliff put the ashes of the family Adams in the passenger seat of Army Truck and drove his father-in-law to the cemetery.
Cliff and I stood for a moment in quiet fellowship beside our vehicles. Then a couple of customers arrived to look at antiques. We shook hands. "Thanks for your service," I said. "Welcome home," he said. Yes. It's always good to be back from the war.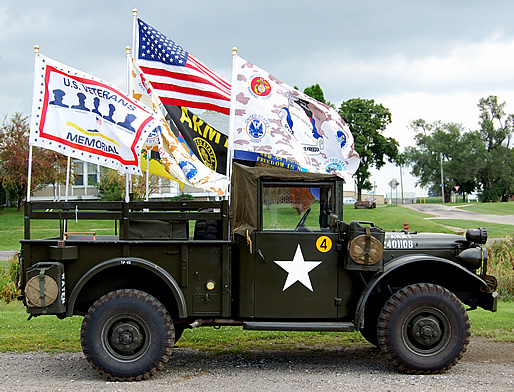 Army Truck


To read the previous dispatch in the narrative,
kindly click the crow!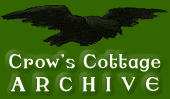 ---

---

---

---

---

---

---

---

---

---


The stories
linked below
form the narrative "Travels with Godzilla."

The Journey Ends:
Bye, Buck Bowles.

Dispatch Eighteen
Fayetteville,
Arkansas
Monday, August 31

Tobacco:
By the Hand of Man.

Dispatch Seventeen
Benton,
Kentucky
Thursday, August 27

Shy and Wonderful:
In Pursuit
Of the Wild Image.

Dispatch Sixteen
Bowling Green,
Kentucky
Wednesday, August 26

Mullens
It Wasn't the Flood.

Dispatch Fifteen
Williamson,
West Virginia
Tuesday, August 25

What Coal?
So Many Mountains
They're
Giving Some Up.

Dispatch Fourteen
Beckley,
West Virginia
Monday, August 24

Illustrated Man:
Pay Is Pay
On the
Honorable Path.

Dispatch Twelve
Morgantown,
West Virginia
Saturday, August 22

Which Road?
Counting the Lanes.

Dispatch Eleven
Bel Air,
Maryland
Friday, August 21

An Easy Puzzle:
Shade Drenched,
Flat and Tidy.

Dispatch Ten
Seaford,
Delaware
Thursday, August 20

Sea Cruise:
A Fine Old Motor Vessel Makes a Smooth Crossing from Jersey to Delaware.

Dispatch Nine
Seaford,
Delaware
Wednesday, August 19

Mighty Joe:
From the River Valley To the Sandy Pine Barrens On a Road to Heaven.

Dispatch Eight
Vineland,
New Jersey
Tuesday, August 18

Sugar Hollow Road:
Not too Far
down the Way
from Mehoopany.

Dispatch Seven
Scranton, Pennsylvania
Friday, August 14

Lucky Stars:
Godzilla Wrestles
a Bear.

Dispatch Six
Scranton, Pennsylvania
Thursday, August 13

Erie:
Off Balance, Agitated.

Dispatch Five
Erie, Pennsylvania
Tuesday, August 11

Purpose:
Success and Fear On the Sly Peripheral.

Dispatch Four
Kent, Ohio
Monday, August 10

Indiana:
You Want to Take Forever.

Dispatch Three
Howe, Indiana
Sunday, August 9

Army Truck:
Carry Me Home.

Dispatch Two
Watseka, Illinois
Saturday, August 8

Road Trip:
Go Fast.

Dispatch One
Muscatine, Iowa
Friday, August 7

---
---

---
---