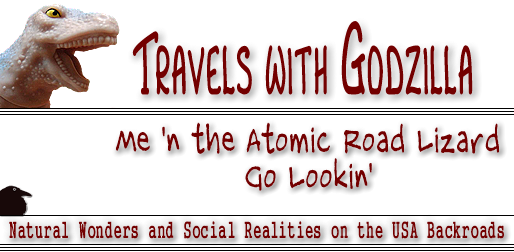 Godzilla, wishing she could swim.


Off Balance, Agitated.
Tuesday, August 11, 2009
Erie, Pennsylvania
Crummy picture. Could be any old lake. That's why I added the arrows. Believe me. It is Lake Erie. Just ask Godzilla. At the end of a very long day in the trenches of tourism, it's the best we could muster.
The day's activities began at the scene of a massacre in Kent, Ohio. Back home at X Haven, the dogs were sick. No wonder the psychic radar was heavy with fog all the way to Erie. I was off balance and agitated.
Kent has a university. The university has a dark story, one that's stuck with me for almost forty years since I first heard about it during my extended visit to the far away city of Da Nang on the South China Sea. Today I showed up on campus to see for myself and gather a version of the story. I gathered it, too. But the telling shall have to wait until I return to the study at Crow's Cottage. For now, the road is just too demanding.
One thousand, five hundred and nine miles under Godzilla's singing tires since we last saw Crow's Cottage. True and steady all the way. The sights we've seen illustrate the wonders and mysteries of nature, the creative and prodigious labors of woman and man. (He said, matter of factly.) As for the immeasurable and infinite expressions of life on a drifting planet, those, too, shall have to wait for another day.
It's not likely you'll hear from me for a day or two. I'm heading into the wilderness where there aren't any Internet pipes. Just infinite expressions of life, immeasurable truths and beauties, a place to rest one's weary head. And the other one's four Toyo tires. Rest. Lay down your sleepy head, my little Buckaroo. Rest.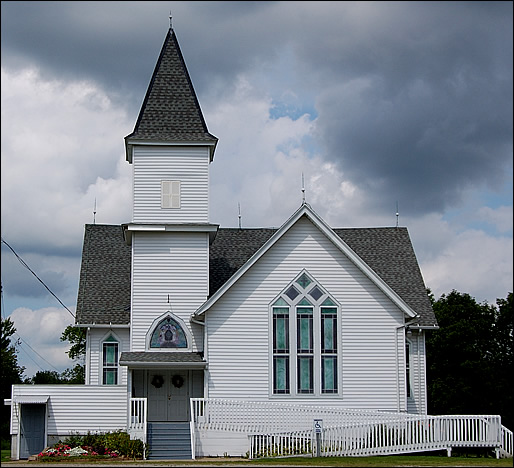 Cherry Valley United Methodist Church
Intersection of Ohio 193 and Ohio 6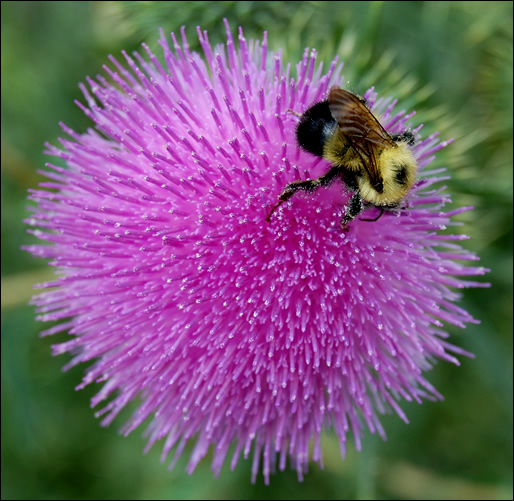 Wild Flower and Bumblebee
Cooney, Ohio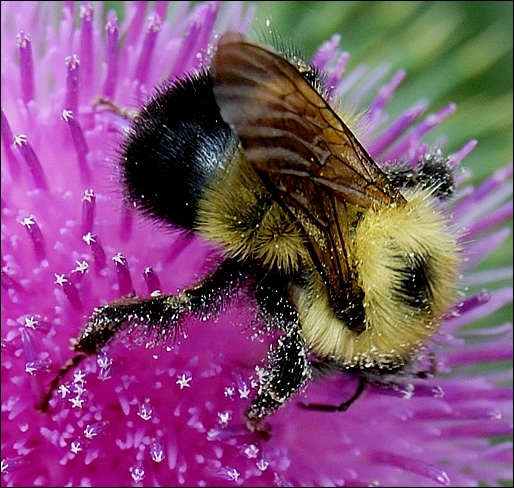 Bumblebee with Pollen and Stars
Cooney, Ohio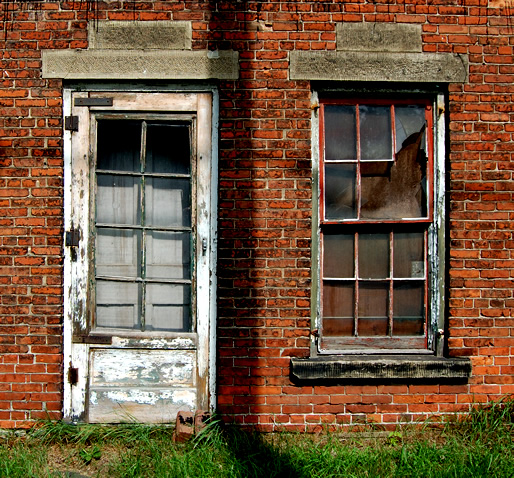 Bricks with Door and Window
Intersection of Ohio 193 and Ohio 20


To read the previous dispatch in the narrative,
kindly click the crow!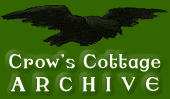 ---

---

---

---

---

---

---

---

---

---


The stories
linked below
form the narrative "Travels with Godzilla."

The Journey Ends:
Bye, Buck Bowles.

Dispatch Eighteen
Fayetteville,
Arkansas
Monday, August 31

Tobacco:
By the Hand of Man.

Dispatch Seventeen
Benton,
Kentucky
Thursday, August 27

Shy and Wonderful:
In Pursuit
Of the Wild Image.

Dispatch Sixteen
Bowling Green,
Kentucky
Wednesday, August 26

Mullens
It Wasn't the Flood.

Dispatch Fifteen
Williamson,
West Virginia
Tuesday, August 25

What Coal?
So Many Mountains
They're
Giving Some Up.

Dispatch Fourteen
Beckley,
West Virginia
Monday, August 24

Illustrated Man:
Pay Is Pay
On the
Honorable Path.

Dispatch Twelve
Morgantown,
West Virginia
Saturday, August 22

Which Road?
Counting the Lanes.

Dispatch Eleven
Bel Air,
Maryland
Friday, August 21

An Easy Puzzle:
Shade Drenched,
Flat and Tidy.

Dispatch Ten
Seaford,
Delaware
Thursday, August 20

Sea Cruise:
A Fine Old Motor Vessel Makes a Smooth Crossing from Jersey to Delaware.

Dispatch Nine
Seaford,
Delaware
Wednesday, August 19

Mighty Joe:
From the River Valley To the Sandy Pine Barrens On a Road to Heaven.

Dispatch Eight
Vineland,
New Jersey
Tuesday, August 18

Sugar Hollow Road:
Not too Far
down the Way
from Mehoopany.

Dispatch Seven
Scranton, Pennsylvania
Friday, August 14

Lucky Stars:
Godzilla Wrestles
a Bear.

Dispatch Six
Scranton, Pennsylvania
Thursday, August 13

Erie:
Off Balance, Agitated.

Dispatch Five
Erie, Pennsylvania
Tuesday, August 11

Purpose:
Success and Fear On the Sly Peripheral.

Dispatch Four
Kent, Ohio
Monday, August 10

Indiana:
You Want to Take Forever.

Dispatch Three
Howe, Indiana
Sunday, August 9

Army Truck:
Carry Me Home.

Dispatch Two
Watseka, Illinois
Saturday, August 8

Road Trip:
Go Fast.

Dispatch One
Muscatine, Iowa
Friday, August 7

---
---

---
---