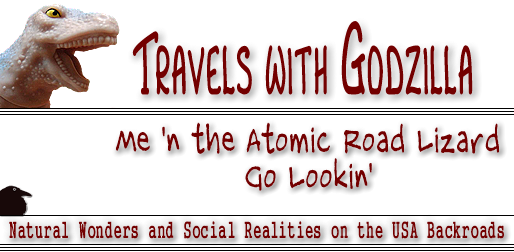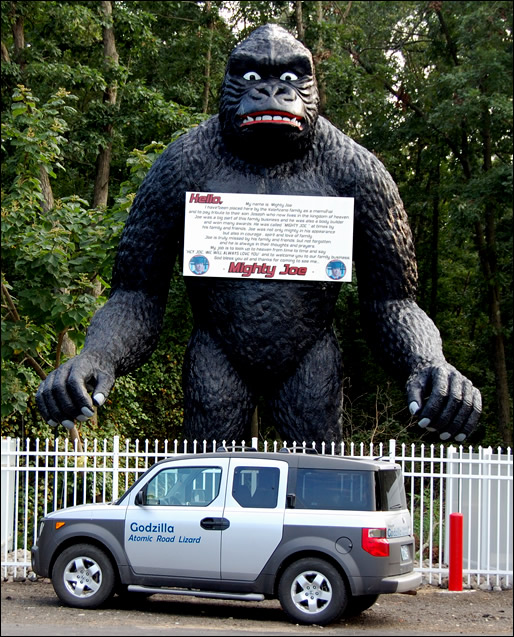 Godzilla reminisces about past adventures
with her old pal, Mighty Joe Young,
who is serving for a season as an honor guard in New Jersey.

From the River Valley
To the Sandy Pine Barrens
On a Road to Heaven.
Tuesday, August 18, 2009
Vineland, New Jersey
In the early morning light, having learned many fascinating things at the economic conference, me 'n Godzilla bade farewell to the Hudson River Valley and turned south to begin the long trek home. The drive, coming after three days of sequestered study and quiet fellowship, began smoothly enough, but eventually turned into a friendly tussle between the Atomic Road Lizard and yours truly.
But we got here.
Along the way we met an Illustrated Man, received a gracious Irish-Catholic blessing from Father McHugh, and got close to a grounded U.S. Navy jet that once flew with the Blue Angels — among other wondrous and special moments on the path toward enlightenment and southern New Jersey. Again, the road has gifted us with stories to tell after journey's end.
As for Godzilla's fellow giant Mighty Joe, he was standing in the sandy Pine Barrens under a falling sun, holding a sign at a roadside grocery and gas station on an isolated stretch of blacktop about six or seven miles north of Hammington on U.S. Route 206. The sign reads:

Hello,
My name is Mighty Joe.
I have been placed here by the Valenzano family
as a memorial and to pay tribute to their son Joseph
who now lives in the kingdom of heaven.
Joe was a big part of this family business
and he was also a body builder and won many awards.
He was called "Mighty Joe" at times by his family and friends.
Joe was not only mighty in his appearance
but also in courage, spirit and love of family.
Joe is truly missed by his family and friends,
but not forgotten, and he is always
in their thoughts and prayers.
My job is to look up to heaven from time to time and say
"HEY JOE, WE WILL ALWAYS LOVE YOU"
and to welcome you to our family business.
Mighty Joe


"Mighty Joe" Valenzano is pictured on the bottom right and bottom left of the great beast's sign, which towers above the family business. It is an amply outfitted and friendly roadside pit stop, too, with strong and tasty coffee, but we didn't have the heart to ask how Joe lost his life, and couldn't linger to strike up a conversation because we were running late from our tussle, me 'n Godzilla, and wanted to beat dark home here at the Comfort Inn on Landis Avenue in Vineland.
After inviting Mighty Joe Young to visit her at Crow's Cottage should he ever be roaming our way, Godzilla roared onto the highway with the sun falling fast to our right. I might as well tell you the truth, we had gotten ourselves into a time crunch due to more than one misapplication of map reading and dead reckoning skills on New Jersey's numerous and constantly crisscrossing highways, and I wasn't a hundred per cent sure of the outcome until the Vineland city limits appeared on a sign in the gathering darkness. All day long Godzilla had insisted on veering to the east. I suppose she wanted to find the wave-kissed beach and gaze upon the great Atlantic Ocean, but as usual she wasn't talking, and I was determined to keep us on a southerly tack, and then somehow we drifted too far west into a rough neighborhood in Trenton, where a tough looking police lieutenant in a squad car suggested we turn back, given that he was casing the scene in anticipation of a crime, but he took the time to give us directions, and let us make a u-turn, and very soon thereafter we found a fast road, and then went too far toward the ocean again, but life is good, and you gotta know when to backtrack, and I'll repeat, life is good, and then you die and go to heaven.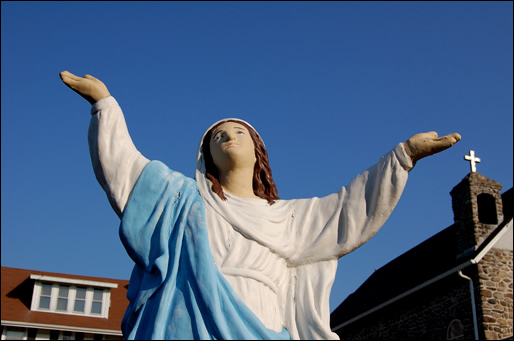 Church of the Assumption
Maybrook, New York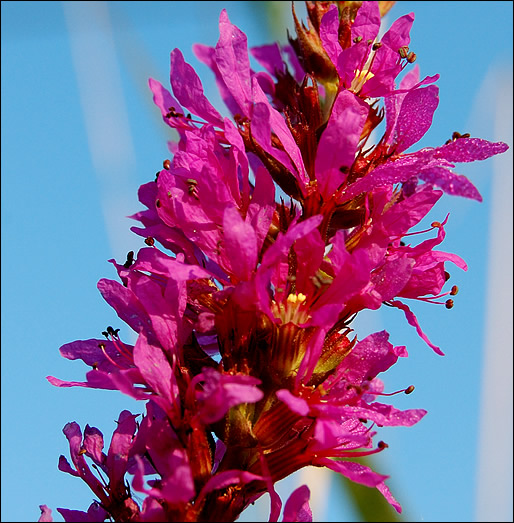 A wildflower
Rider Road off New York 52 north of the village of Walden



To read the previous dispatch in the narrative,
kindly click the crow!

Notices of new dispatches from my Travels with Godzilla are sent by e-mail express to my list of family, friends, students, and fellow travelers. If you've come here by some other means than an e-mail invitation, and would like to receive notices, please write me so I can add you to the list. I share the addresses with no one but Godzilla, who can't type and doesn't do e-mail.
Ebenezer Bowles
threadspinner@corndancer.com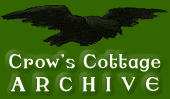 ---

---

---

---

---

---

---

---

---

---


The stories
linked below
form the narrative "Travels with Godzilla."

The Journey Ends:
Bye, Buck Bowles.

Dispatch Eighteen
Fayetteville,
Arkansas
Monday, August 31

Tobacco:
By the Hand of Man.

Dispatch Seventeen
Benton,
Kentucky
Thursday, August 27

Shy and Wonderful:
In Pursuit
Of the Wild Image.

Dispatch Sixteen
Bowling Green,
Kentucky
Wednesday, August 26

Mullens
It Wasn't the Flood.

Dispatch Fifteen
Williamson,
West Virginia
Tuesday, August 25

What Coal?
So Many Mountains
They're
Giving Some Up.

Dispatch Fourteen
Beckley,
West Virginia
Monday, August 24

Illustrated Man:
Pay Is Pay
On the
Honorable Path.

Dispatch Twelve
Morgantown,
West Virginia
Saturday, August 22

Which Road?
Counting the Lanes.

Dispatch Eleven
Bel Air,
Maryland
Friday, August 21

An Easy Puzzle:
Shade Drenched,
Flat and Tidy.

Dispatch Ten
Seaford,
Delaware
Thursday, August 20

Sea Cruise:
A Fine Old Motor Vessel Makes a Smooth Crossing from Jersey to Delaware.

Dispatch Nine
Seaford,
Delaware
Wednesday, August 19

Mighty Joe:
From the River Valley To the Sandy Pine Barrens On a Road to Heaven.

Dispatch Eight
Vineland,
New Jersey
Tuesday, August 18

Sugar Hollow Road:
Not too Far
down the Way
from Mehoopany.

Dispatch Seven
Scranton, Pennsylvania
Friday, August 14

Lucky Stars:
Godzilla Wrestles
a Bear.

Dispatch Six
Scranton, Pennsylvania
Thursday, August 13

Erie:
Off Balance, Agitated.

Dispatch Five
Erie, Pennsylvania
Tuesday, August 11

Purpose:
Success and Fear On the Sly Peripheral.

Dispatch Four
Kent, Ohio
Monday, August 10

Indiana:
You Want to Take Forever.

Dispatch Three
Howe, Indiana
Sunday, August 9

Army Truck:
Carry Me Home.

Dispatch Two
Watseka, Illinois
Saturday, August 8

Road Trip:
Go Fast.

Dispatch One
Muscatine, Iowa
Friday, August 7

---
---

---
---