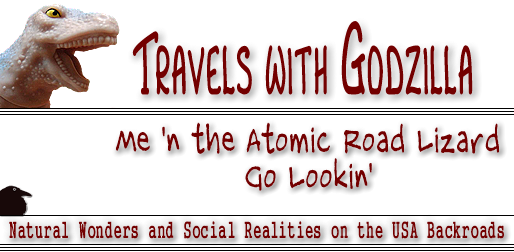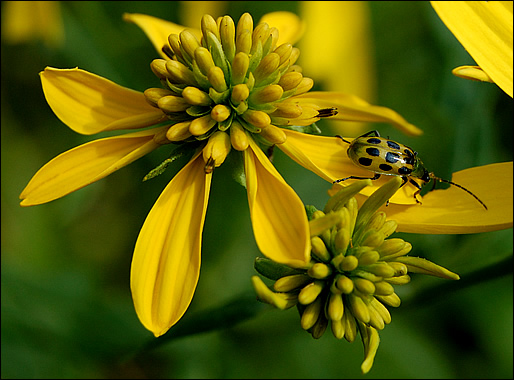 A wildflower and a hungry beetle
cavort in a field just north of Cove Run Road on West Virginia 92.
So Many Mountains
They're Giving Some Up.

Monday, August 24, 2009
Beckley, West Virginia
Seventeen days on the road. I'd like to tumble into cliché and easy language, but the Guardian of the Opposite Loft is diligent and won't allow it. He's a hard task master.
Left Morgantown in the early morn. Fog rising from the warm earth. Looking back, I rued not finding the time to explore the college town. Most of what I saw there on Sunday's day of rest revealed itself in the motel room or the laundromat. It was time to regroup. "Welcome Home Students!" the signs proclaimed. Freshman orientation was underway at West Virginia University. The kids were everywhere, many of them towing parents in their wake.
At the laundromat, a lean guy with whiskers and wild eyes was making out with his smiling country gal. I think they were in love. They were kissin' 'n huggin' in front of the tumbling dryers. The guy broke free for a moment to kindly give me directions to a grocery store where I could buy some concentrated liquid Tide for my wash. When I got back maybe fifteen minutes later, his gal asked, "Did those directions he gave you work? He's kinda messed up."
The fog hid the vistas as me 'n Godzilla motored south, climbing and descending a slew of Appalachian mountains. By mid-morn the fog had fled. Scenes of natural wonder and rustic harmony appeared.
There's no shortage of mountains in West Virginia. They're everywhere. In fact, the countryside has so many mountains that West Virginia's political and financial elite have decided they don't need 'em all. The extra ones they've deeded to the coal industry to be reshaped into dissolute and forlorn new forms. Rip the tops right off of 'em to harvest the black gold. Don't have to dig mines anymore. They call it Mountain Top Removal. Not that they're proud of it. The mountain tops they remove are situated a good ways back in the boondocks and hidden from view by travelers. All roads leading to the removal sites are guarded by menacing signs, warning you: Be Afraid!
A hot issue here. People are taking sides. Godzilla was extra cautious, given the steady flow of dump-truck style behemoths roaring around the tight curves, stuffed with coal. I suppose they were stuffed with coal. Someone down one of the hills said it was coal, but you couldn't tell. The loads were hidden 'neath tightly sealed lids with nary a sign of black smudge or grime to indicate the treasure onboard. A secretive enterprise for sure.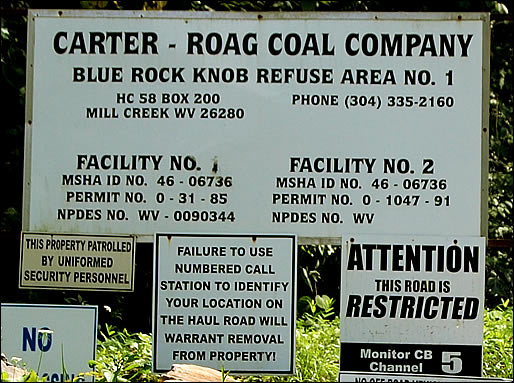 This sign and two others stood sentry
at entry points to coal operations along West Virginia 20.
Or maybe it was West Virginia 92. Could have been Route 219.
Frankly, I couldn't decipher the cartographer's interpretation
of the lay of the land on the "Official State Highway Map
West Virginia Wild and Wonderful 2008/2009."
After a while I was navigating with compass and the rays of the sun.

Log trucks, too — more of 'em than coal trucks. The traffic pattern was odd. Just trucks. Maybe six or seven sedans for a hundred miles. Me 'n Godzilla followed one log truck for about thirty minutes, speeding up and slowing down, his smoke stack spewing on the climb, his jake brakes shouting on the descent, the load of oak and walnut and hickory leaning to the left at especially sharp turns. Thirty minutes and not one vehicle behind us. A green limb fell off the load and hit Godzilla, but the Atomic Road Lizard deflected it without even blinking.
What a beauty is West Virginia. Our path was awash in the wildest of colorful flowers, green meadows, full-bodied late summer trees, an undulating horizon of mountains on all sides, rocky creeks and rivers with rapids. As for trucks, me 'n Godzilla got nothin' against 'em as long as they stay on their side of the road and keep their limbs to themselves.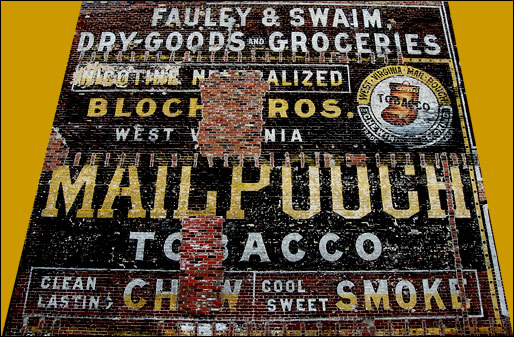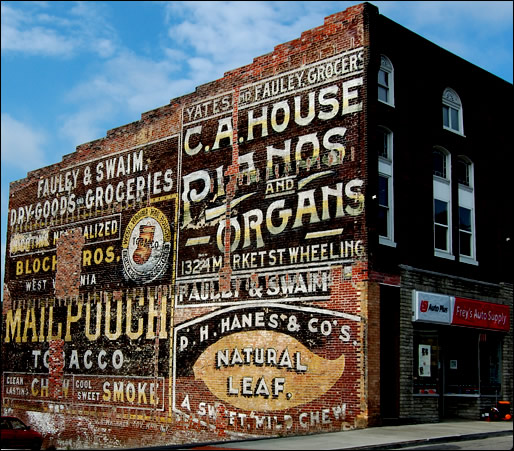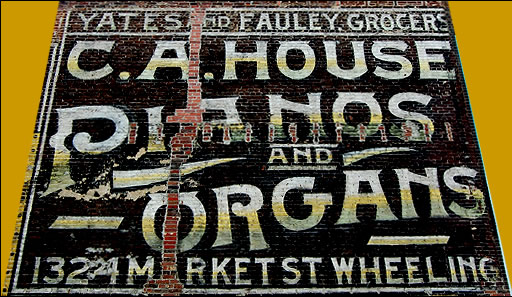 "I own that picture right there," John Snyder of Grafton, West Virginia,
said in a friendly tone as he watched me snap another photo.
We were standing in the parking lot
next to the building that houses Mr. Snyder's business,
Frey's Auto Supply and Service Center on East Main Street.
Towering above us was a massive advertising wall.
The wall is unique because it is original and unrestored.
John and his work crew discovered it about ten years ago
after tearing down the building that covered it up.
"We were chipping away at the plaster and found that sign," he said.
"I've been told it's the best non-restored example of its kind in the country."
Apparently the "Mail Pouch Tobacco" signs
are famous among devotees of such splendid expressions of Americana.
People come all the way from California to take its picture.
As for C.A. House Pianos and Organs,
they're still in business over in Wheeling.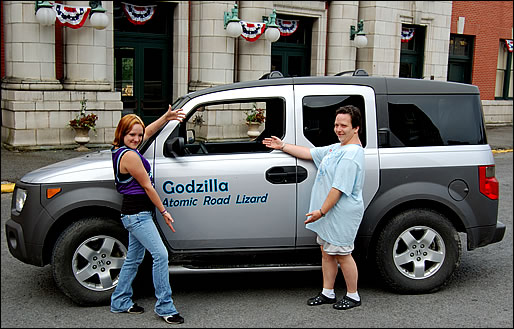 Faye Weaver (left) and Gloria Bowman strike a pose beside Godzilla.
The ladies were walking on the sidewalk
in front of the grand old B&O Railroad headquarters
when me 'n Godzilla rolled past on East Main Street.
Gloria and Faye laughed loudly and delightfully
at the sight of an Atomic Road Lizard on the lightly traveled streets
of their very own Grafton in the state of West Virginia.
Accepting Godzilla at face value with nary a question
about her origin or purpose, Faye and Gloria
brought a ray of their special sunshine to our Monday morning.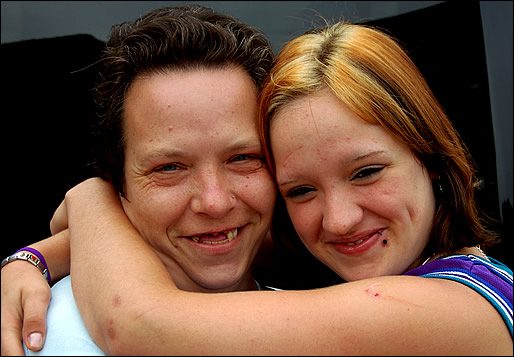 To read the previous dispatch in the narrative,
kindly click the crow!

Notices of new dispatches from my Travels with Godzilla are sent by e-mail express to my list of family, friends, students, and fellow travelers. If you've come here by some other means than an e-mail invitation, and would like to receive notices, please write me so I can add you to the list. I share the addresses with no one but Godzilla, who can't type and doesn't do e-mail.
Ebenezer Bowles
threadspinner@corndancer.com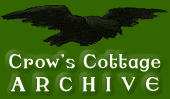 ---

---

---

---

---

---

---

---

---

---


The stories
linked below
form the narrative "Travels with Godzilla."

The Journey Ends:
Bye, Buck Bowles.

Dispatch Eighteen
Fayetteville,
Arkansas
Monday, August 31

Tobacco:
By the Hand of Man.

Dispatch Seventeen
Benton,
Kentucky
Thursday, August 27

Shy and Wonderful:
In Pursuit
Of the Wild Image.

Dispatch Sixteen
Bowling Green,
Kentucky
Wednesday, August 26

Mullens
It Wasn't the Flood.

Dispatch Fifteen
Williamson,
West Virginia
Tuesday, August 25

What Coal?
So Many Mountains
They're
Giving Some Up.

Dispatch Fourteen
Beckley,
West Virginia
Monday, August 24

Illustrated Man:
Pay Is Pay
On the
Honorable Path.

Dispatch Twelve
Morgantown,
West Virginia
Saturday, August 22

Which Road?
Counting the Lanes.

Dispatch Eleven
Bel Air,
Maryland
Friday, August 21

An Easy Puzzle:
Shade Drenched,
Flat and Tidy.

Dispatch Ten
Seaford,
Delaware
Thursday, August 20

Sea Cruise:
A Fine Old Motor Vessel Makes a Smooth Crossing from Jersey to Delaware.

Dispatch Nine
Seaford,
Delaware
Wednesday, August 19

Mighty Joe:
From the River Valley To the Sandy Pine Barrens On a Road to Heaven.

Dispatch Eight
Vineland,
New Jersey
Tuesday, August 18

Sugar Hollow Road:
Not too Far
down the Way
from Mehoopany.

Dispatch Seven
Scranton, Pennsylvania
Friday, August 14

Lucky Stars:
Godzilla Wrestles
a Bear.

Dispatch Six
Scranton, Pennsylvania
Thursday, August 13

Erie:
Off Balance, Agitated.

Dispatch Five
Erie, Pennsylvania
Tuesday, August 11

Purpose:
Success and Fear On the Sly Peripheral.

Dispatch Four
Kent, Ohio
Monday, August 10

Indiana:
You Want to Take Forever.

Dispatch Three
Howe, Indiana
Sunday, August 9

Army Truck:
Carry Me Home.

Dispatch Two
Watseka, Illinois
Saturday, August 8

Road Trip:
Go Fast.

Dispatch One
Muscatine, Iowa
Friday, August 7

---
---

---
---