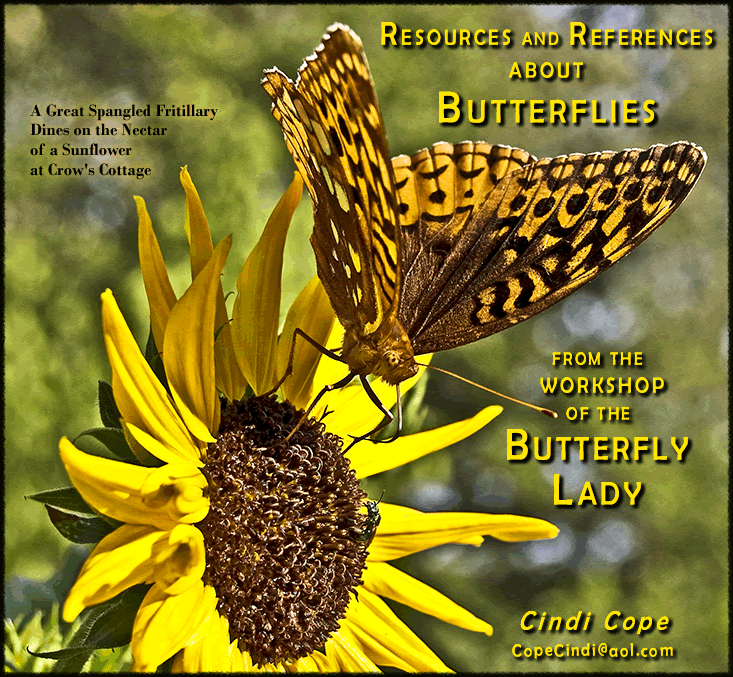 Arkansas Butterflies and Moths
A book by Lori A. Spencer
Published by the University of Arkansas Press in October 2006, Lori's book includes 263 species descriptions and 363 color photographs, maps, and drawings. Part of the Ozark Society Foundation's nature series, Arkansas Butterflies and Moths includes information abut butterfly gardening and prime butterfly locations.


Bringing Nature Home
A book by Dr. Douglas W. Tallamy
"How Native Plants Sustain Wildlife in Our Gardens" is the subtitle of Mr. Tallamy's book, written for "gardners everywhere" who believe they can make a difference in developing healthy ecosystems.


Monarch Watch
An educational outreach
Based at the University of Kansas, Monarch Watch provides information about the biology and conservation of Monarch butterflies. Founded in 1992, the program brings together school, nature centers, and like-minded organizations in a network devoted to research and education.


Journey North
Wildlife migration and seasonal change
The center for an innovative citizen science project for children, Journey North facilitates the study of migrating creatures, the budding of plants, changing sunlight, and other natural events related to wildlife migration and seasonal change.


The Life Cycles of Butterflies
A book by Judy Burris and Wayne Richards
"For every person who has ever watched the miracle of a butterfly emerging from its chrysalis, this book is a treasure chest of amazing butterfly transformations," Judy and Wayne write on their website, Butterfly Nature.


The Family Butterfly Book
By Rick Mikula
Projects, activities, and a field guide to 40 favorite North American species, The Family Butterfly Book won an award from the National Science Teachers Association. Rick is known as "the grandfather of butterfly farming."


Birds and Blooms
A magazine devoted to beautiful backyards
"Beauty in Your Own Backyard" is the theme of this nature magazine. Stories and photos of butterflies are one of its mainstays.


National Wildlife Federation
The nation's largest wildlife organization
On its wildlife web, the Federation asks you to "Make a Difference" at home, in your backyard, at school, on campus, and in your area.


The Nursery
Tontitown, Arkansas
Trees, perennials, grasses, and shrubs friendly to butterflies and native wildlife are available at this nursery, owned and operated by Lindell and Robin Duncan.


Pine Ridge Gardens
Helping Restore the Earth
Devoted to producing native plants — trees, shrubs, vines, flowers, and grasses — that provide food or nectar for butterflies, hummingbirds, songbirds, and other wildlife, Pine Ridge Gardens is a unique nursery in the woods near London, Arkansas.


White River Nursery
Fayetteville, Arkansas
One of White River's specialties is native plants of northwest Arkansas. Under the link "Natives," their web features of list of trees, vines, grasses, perennials, and shrubs native to our area.


Westwood Gardens
Nursery and garden centers
Westwood Gardens has four locations in northwest Arkansas. The first Westwood nursery opened in 1982.


Butterfly Lady
The Purposeful Habitat
Back to where this all began on Crow's Cottage.... If you came here directly from another web, you can read the Letter from Crow's Cottage inspired by Cindi Cope's Summer Speaker Series presentation of July 25, 2011, "Creating Habitat for Butterflies."


Wednesday, August 3, 2011