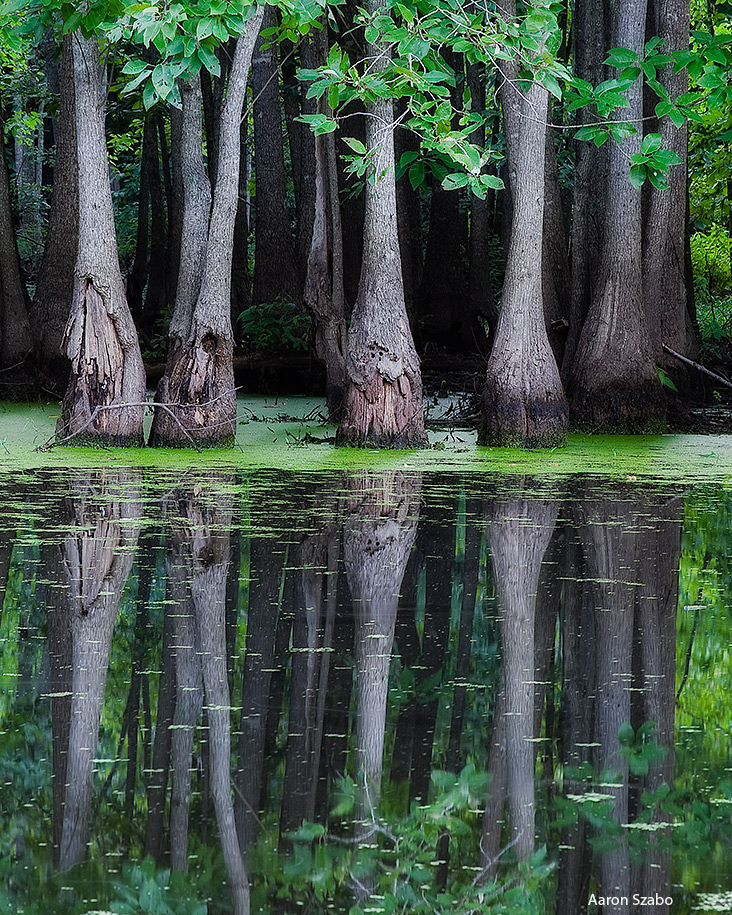 Knee Deep
Pope County, Arkansas • July 22, 2009
Photo by Aaron Szabo


Posted on August 4, 2009, from Fayetteville, Arkansas

On a warm Saturday afternoon in late July, most Arkansans don't think being knee deep in the middle of a swamp is that much fun. Oddly enough, it's one of my favorite places to be in Arkansas.
Going into this swamp at 6 p.m. was my best option for good light, but I quickly found out that it's not that safe to go into a swamp alone right before dark with expensive camera gear and no flashlight. After hiking a long way and taking just a few shots, I had to head back because it was almost completely dark!
At one point, I tripped and almost fell directly on one of the hundreds of cypress knees sticking out of the ground.
As a new nature photographer in Arkansas, I feel the only way to get original landscape material is to explore locations that other photographers are not shooting very often.
The swamp is located in the Arkansas River Valley in Pope County not too far from Atkins. The link below has more information about this Natural Area.
L I N K S :

Goose Pond Natural Area

Imagine Film Company
Aaron Szabo's website.

P H O T O N O T E S :

Knee Deep:
5D Mark II ... Canon 100-400mm ... F/11 @ 3.2 seconds ... ISO 200

I'm Bigger:
5D Mark II ... Canon 24-105mm ... F/11 @ 4 seconds ... ISO 100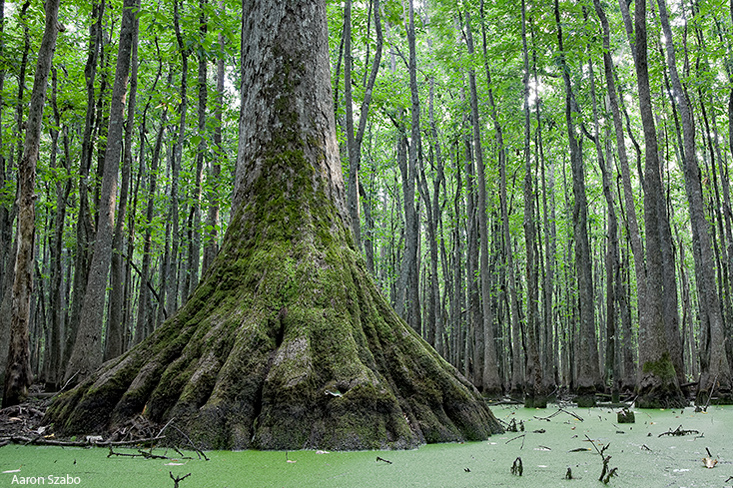 I'm Bigger
Pope County, Arkansas • July 22, 2009
Photo by Aaron Szabo
Many thanks to Aaron for providing these wonderful photographs. Let's hope he will become a frequent contributor to Crow's Cottage.
The next wildflower or natural wonder, and those that follow in this series, shall appear here in the Crow's Cottage Glossary and Compendium. Notices of new entries are sent by e-mail express to our list of family, friends, students, and fellow travelers. If you've come here by some other means, we invite you to write us at the address below so we can add you to the list.
Ebenezer Bowles
threadspinner@corndancer.com
Tuesday, August 4, 2009