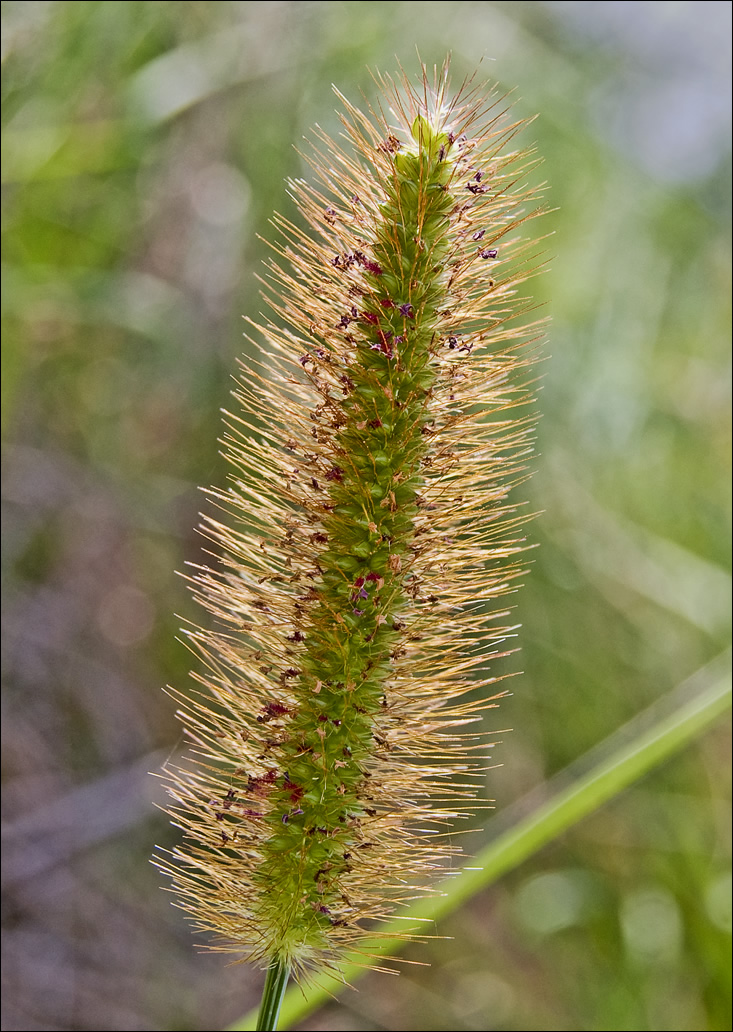 Foxtail ~ Setaria pumila, glauca, or viridis
Samuel Hill Road in the south of Delaware • August 20, 2009
Photo by Beau Bosko


Posted by Ebenezer Bowles on March 15, 2010, from Fayetteville, Arkansas

The botanist with the Delaware Natural Heritage program was certain about the genus, but needed to see more of the plant to determine its species. Nevertheless, the botanist pointed me in the right direction. My search led to three possible conclusions: the bristlegrass pictured above is either one of two versions of the yellow foxtail (Setaria glauca or Setaria pumila), or the green foxtail (Setaria viridis).
In the final analysis, this spiky and spiraling plant is a weed. The foxtail can be valuable as forage for wilding critters, and in the eyes of some beholders it exhibits beauty of form and color, but to farmers and ranchers, the foxtail is more liability than asset. Those little golden spikelets, known in the botanist's trade as "spiked awns," can become snared in the mouth, nose, and eyes of livestock, causing infections. And to lawn meisters, the foxtail is a downright nuisance.
The purplish-red things clinging to the foxtail? "The red things are anthers," the botanist wrote in an e-mail to David Smith of Delaware Wildflowers. Ah, sweet language! Awns and anthers, panicles and ligules, glumes and lemmas, pedicels and culms. Each discipline, each subculture, each branch of inquiry reveals a special lingo, mysterious and evocative. Exploring the one, the other, and the next for meaning and connections is a fine way to wash away the psychic gray.
Our choice here at Crow's Cottage: the yellow foxtail (Setaria glauca).

L I N K S :

Thoreau's Cream Pitcher Becomes My Meadow Beauty.
A companion feature to the foxtail.

Delaware Wildflowers
When I sought help to find the name of the little bloom that became my Meadow Beauty, I turned to David Smith, master of the website Delaware Wildflowers, who knew in an instant the little flower's identity, which he graciously shared via e-mail. David's Delaware Wildflowers is a free, open, non-commercial, and original place devoted to the sharing of knowledge and experience. David's web is a beautiful piece of work by an individual who found a vision and mustered the will to pursue it.

An Easy Puzzle: Shade Drenched, Flat and Tidy
A meditation on Southern Delaware . . . ripe corn on a roadside stalk . . .
historic Bethesda Church . . . the Meadow Beauty before I knew its name.



Notices announcing new entries for Crow's Cottage Glossary and Compendium are sent by e-mail express to my list of family, friends, students, and fellow travelers. If you've come here by some other means, I invite you to write me at the address below so I can add you to the list.
Ebenezer Bowles
threadspinner@corndancer.com
Monday, March 15, 2010