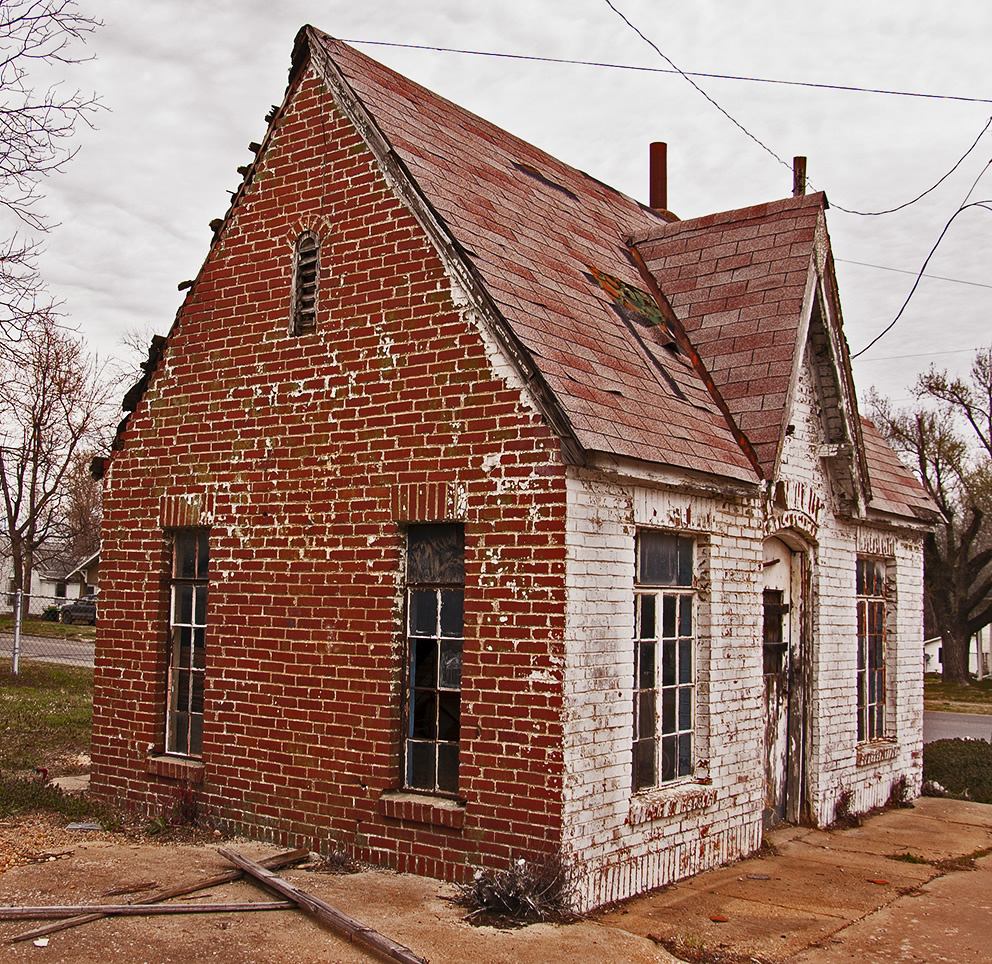 Fill 'Er Up with Phillips 66.
Crussel's Phillips 66 at the intersection of Chincapin and Williams in Westville, Oklahoma
(Chincapin is the town's street name for U.S. Highway 62)
• March 19, 2013 •
Images by Beau Bosko

By Ebenezer Baldwin Bowles
Posted on March 27, 2013, from rural Washington County, Arkansas

What compelled us to stop? The day was late, and our eyes were weary, and we were trying to beat dark home. So? On a road trip, it is never, ever sensible or agreeable to get in a hurry, especially when your headlights are in working order. Most times we abide by an essential truth: We pass this way but once. If we dare wait on a promise to come back, we may never — and if we do, the treasure may be gone, or the moment of inspiration lost in the slippery light of change.
Did I see a childhood memory embedded in weathered bricks and ragged shingles? Or did the elegance of the ruin present an irresistible opportunity to grab a few images from the gray, cold day?
Lately I've uncovered more questions than answers, so I'll just answer yes and yes — and move on down the lane.
I do recall little cottage gas stations in the neighborhoods of my youth — the odd word Esso was ever a source of mystery — but I never became a grease monkey, never was very comfortable under the hood, never found a knack for working with the steel, rubber, and greasy fluids of roaring Detroit engines and all the other mechanical devices that make vehicles go. I preferred — still do — to drive a car, not fix or fiddle with it. My youthful eyes were attracted to stylish exteriors, to the colors and shapes of the majestic machines, and most especially to the intertwined ideas of escape and speed. Driving away to anywhere, peddle-to-the-metal and full-speed-ahead: That was the car! That was my little boy's dream. I wanted to race down the road and never look back.
Phillips 66, the brand purportedly dispensed at Crussel's three pumps, came from Oklahoma refineries based in Bartlesville. We didn't see many of the black and orange 66 shields in central Arkansas back in the fifties and sixties. Ours was the land of Lion Gasoline from the south Arkansas oil fields around El Dorado, Esso from Standard Oil refineries in south Louisiana, Texaco from Beaumont on the Texas Gulf Coast, and Mobil the Pegasus of Socony in far-away New York.
Looking back on our encounter with the neglected filling station in Westville — my true love Sadie Liz was travelin' with me on the road trip — I wonder about the fate of the Phillips 66 signs that once graced the property. How did the Dr. Pepper banner now towering over the little structure come come to replace the 66? When was the cottage built, and how did it look in its heyday, and on what day did some forlorn old soul pump the last gallon of leaded premium from one of Crussel's spinning old gasoline pumps? Someone in Westville knows the answers. Perhaps I'll go back one day and find them.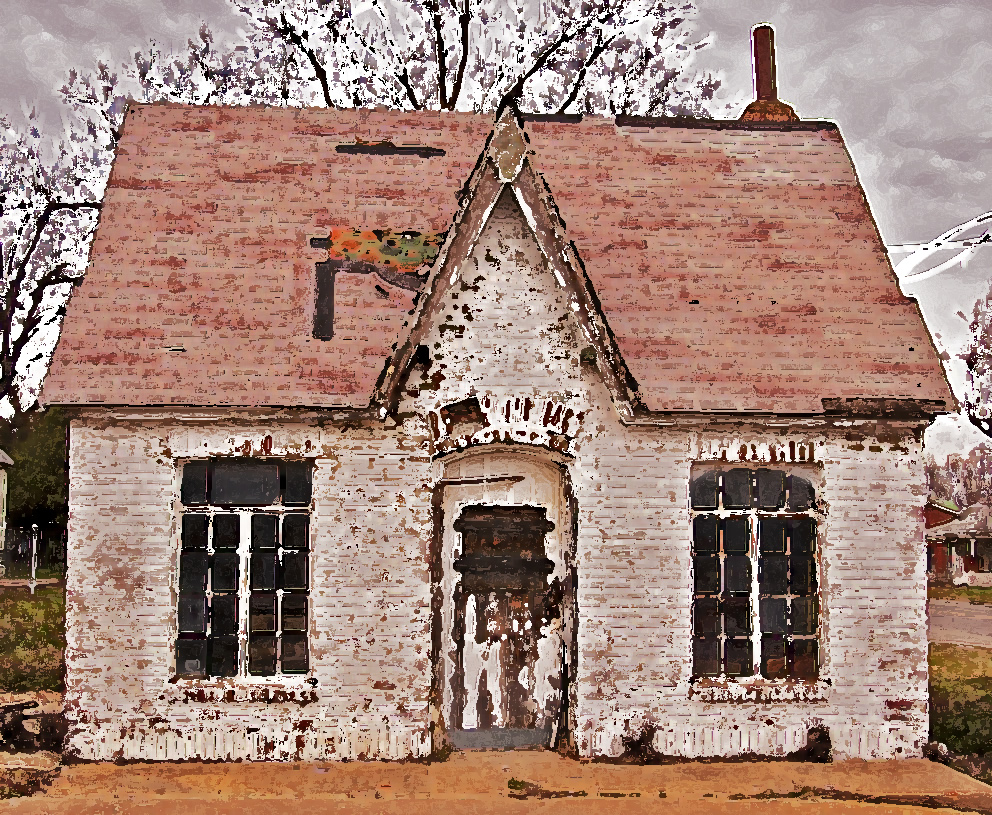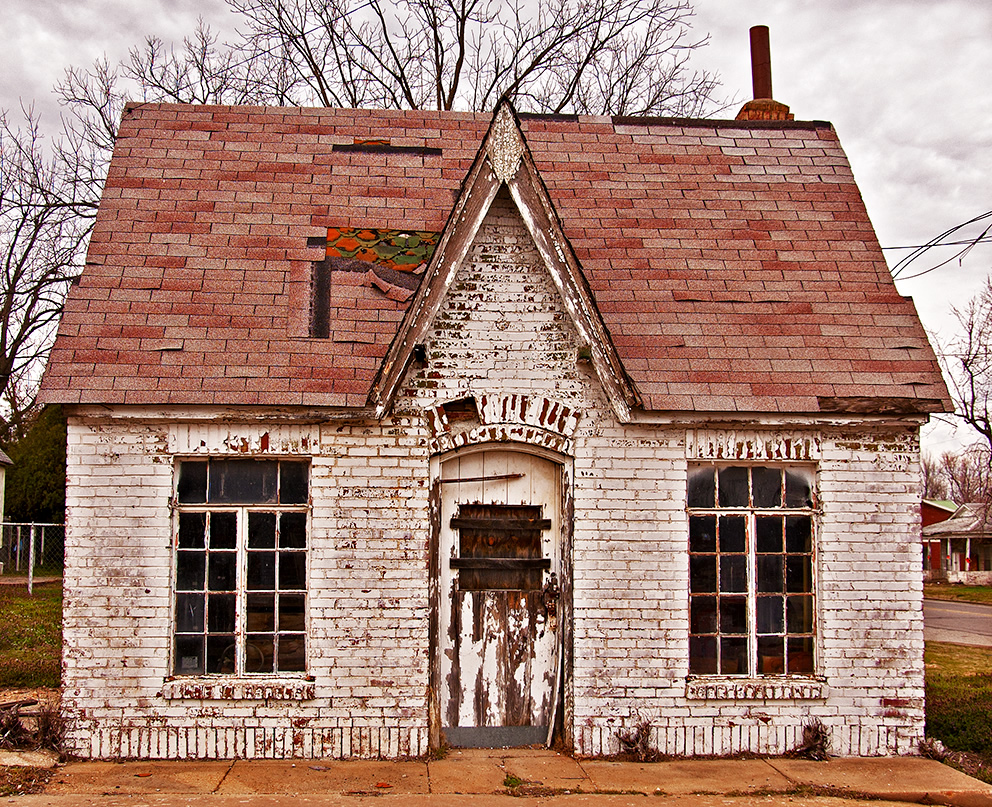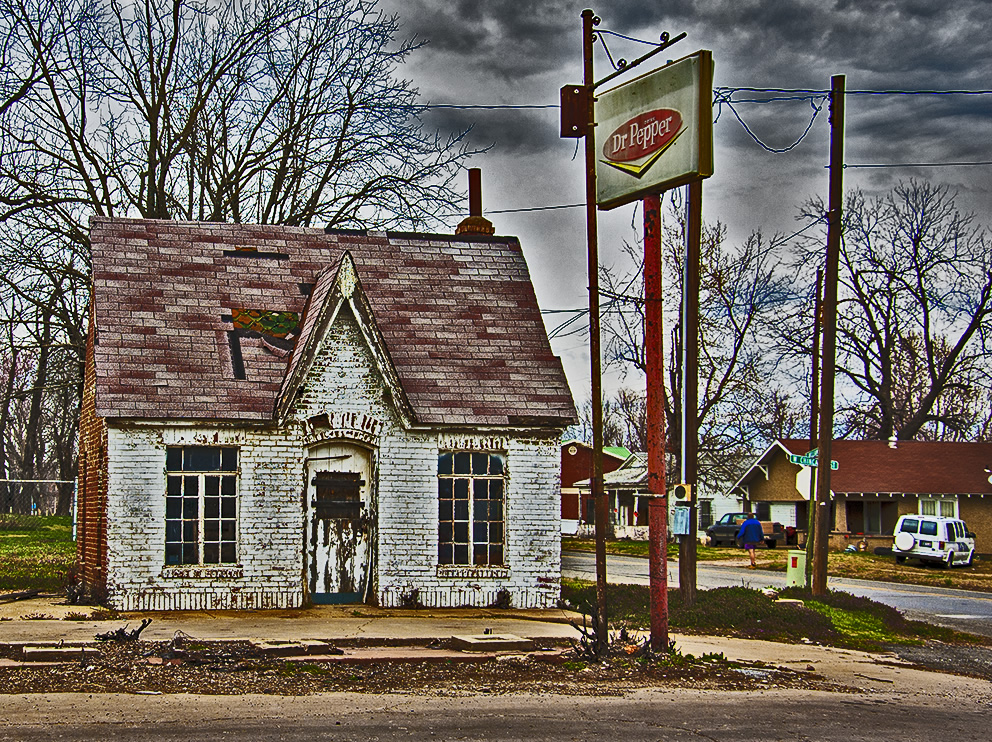 the Filling Station was posted on Wednesday, March 27, 2013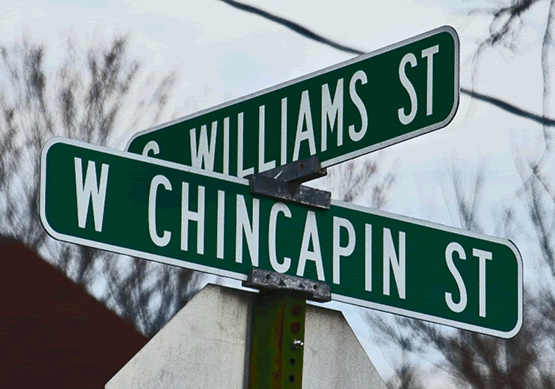 Far and Near

sandys service