Goodbye to Two Old Friends:
George MacDonald Fraser
and
Sir Harry Paget Flashman.
"In a good history, the judgement must be eminent;
because the goodness consisteth in the method,
in the truth, and in the choice of the actions
that are most profitable to be known.
Fancy has no place, but only in adorning the style."
— Thomas Hobbes, Leviathan
By Ron Fritze
January 16, 2008
I recently had a sad experience. It was the start of the New Year and I was getting reacquainted with a couple of old friends when I learned that they had just died.
Now you should understand that I never met either of these two dear friends in person. We never talked on the phone and never exchanged letters or e-mails, but I have known them for over thirty years. My friends were an author and his protagonist, and our only contact came through my reading the one's books and imagining the other's actions. I am talking about George MacDonald Fraser and his best known character, Sir Harry Flashman.
A Loss Worthy of Reflection.
I was halfway through a pleasant reading of Fraser's latest Flashman novel, Flashman on the March. It was an experience of great enjoyment, flavored with nostalgia for the earlier novels in the series. Something distracted me and I drifted to other pursuits. I found myself browsing the Random House and Knopf websites, where I saw the announcement of Fraser's death. I had to put down the departed author's book and reflect on the loss.
The news left me a little sad because Fraser's books have provided me with enjoyment and light entertainment since the middle of the 1970s. By the way, reading Flashman on the March was a somewhat delayed pleasure. The novel was published in 2005 and I never got around to buying it when it first came out. Eventually I procrastinated long enough to decide to wait for a cheap remainder copy, which finally materialized in my mailbox during the last half of December 2007. Yes, I know it, I'm cheap! We've all got our faults.

I was introduced to Fraser and Flashman while working on my masters degree in history at Louisiana State University by my friend and fellow graduate student Randy Roberts, who has since become a successful author and teaches at Purdue University. While Randy's specialty is twentieth-century American history, he is also deeply interested in Victorian Britain, so Fraser and Flashman were made to order for him. If I remember correctly, Randy told me that he was introduced to Flashman by Art Bergeron, then the graduate coordinator at LSU and a future historian of the Civil War.
It's the Fiction, Not the Pictures.
At that time the fourth book in the series, Flashman and the Great Game, was being serialized by Playboy. Randy loaned me the earlier issues featuring the serialization. I started reading and liked it. It wasn't long until the last installment hit the newsstand. I got to finish the story and wanted more. It has always been the claim of Playboy to publish all sorts of good fiction and non-fiction, which, of course, is why the magazine is so popular with college men and guys in their twenties. They buy it to improve their minds and get all that intellectual stimulus. Hey, my nose just got longer! Anyway, I can assure you that I just read the story and never glanced at the centerfolds. Ouch! For some reason my nose is continuing to grow. I don't know why, all of us guys say the same thing!
Meanwhile I got ahold of the three earlier Flashman novels and devoured them — and I've been reading them as they've come out ever since. Fraser and Flashman have been welcome companions most of my adult life.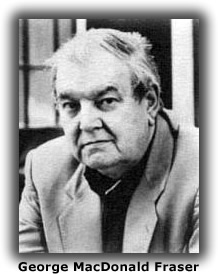 George MacDonald Fraser was born on 2 April 1925 and died from cancer on 2 January 2008 at the age of 82. Fraser was born at Carlisle in England to Scottish parents. He was educated in Scotland, served as an enlisted man in an Indian Division and as an officer in the Gordon Highlanders during World War II. During that time he was stationed in India, North Africa, and the Middle East, gaining experiences that would help to shape his fiction. During the 1950s and 1960s he worked as a reporter and deputy editor at the Glasgow Herald. He quit journalism in 1969 to write novels.
Appropriating the Bad Boy to Be a Hero.
His first novel was titled Flashman and appeared in 1969. It was the first of twelve books with Sir Harry Paget Flashman as the main character. This choice of a protagonist is the first indication of Fraser's cleverness and humor. Flashman originally appeared as a character in the autobiographical novel Tom Brown's Schooldays by Thomas Hughes, which appeared in 1857. Tom Brown's Schooldays tells the story of Tom Brown's growing up and his time as a student at the Rugby School of Thomas Arnold (1795-1842), the famous Victorian Educator and the father of Matthew Arnold. As a boarding school for boys, Rugby was a place with many traditions, some rather barbaric. Older students hazed the younger students mercilessly. In Hughes' novel, the greatest persecutor was Harry Flashman, who is eventually expelled by Thomas Arnold for drunkenness.
Fraser in his novels depicts the rest of Harry Flashman's life, imagining what would have happened to the rogue, scoundrel, and bully who was introduced to the world as Hughes' original schoolboy character. While the moralizing Hughes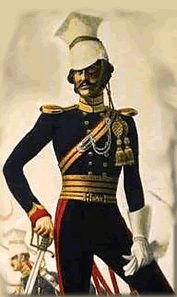 shows a defeated Flashman, expelled from Rugby in disgrace due to his own bad habits, Fraser conjures up a mature Flashman with an impressive pedigree. As introduced in the first novel of the series, Fraser's Harry Flashman has lived a long and successful life. He has received a knighthood, attained the rank of brigadier general, and won numerous medals and honors, including the Victoria Cross and the Medal of Honor.
According to the imaginary Who's Who biographical notice Fraser provides his readers, Flashman also participated in many of the great events of the nineteenth century: the Sepoy Mutiny in India, the charge of the Light Brigade, John Brown's raid on Harper's Ferry, the Taiping Rebellion, Custer's Last Stand, and the Zulu Wars among others.
Action Hero or Anti-Hero?
How could a cad like Flashman have accomplished so many great and seemingly heroic things? That is the question the Flashman novels answer. The stories they tell are not pretty in the sense of the classic hero tale, but they are funny, entertaining, and in terms of their historical settings, extremely accurate depictions of the era. Flashman is an anti-hero who in a cat-like manner always manages to land on his feet and usually comes out of a tough spot as a seeming hero. The Flashman behind the supposed man of action is a womanizer, a shirker, a coward, and just plain unscrupulous — but for all that, he's also basically a likeable fellow.
Fraser's novels assume the voice of an aged Sir Harry Flashman, reflecting on the events of his life in the style of a memoirist. These so-called Flashman papers were supposedly discovered in an attic. Fraser is merely the editor. He even provides the novels with appendices and footnotes, based largely on actual books of history. His effort to mimic the format of an authentic edited memoir was so successful that ten of the thirty-four American reviewers of the first Flashman mistakenly reviewed the book as an actual historical memoir instead of as a historical novel, a work of fiction and imagination. Fraser was very proud of that.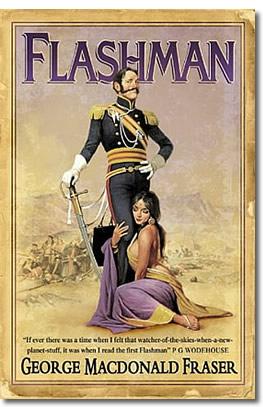 The first novel, Flashman, tells of Sir Harry's exploits after being expelled from Rugby School during the years 1839-1842. Keep in mind, Fraser has placed Flashman's year of birth in 1822. Harry comes from a well-to-do family and secures a place in the army as an officer. His unit is stationed in a part of Great Britain that was experiencing some labor unrest. The troops are dispatched to the region to suppress it. There Flashman meets and seduces the beautiful but seemingly thick-headed Elspeth Rennie Morrison, the daughter of a wealthy factory owner.
No Factory, No Fidelity....
I'm Heading to India.
When Elspeth's father discovers the romance, Flashman is forced to marry her — not such a bad situation for Harry because Elspeth is rich, beautiful, and very enthusiastic in the bedroom. Her father, however, is none too fond of his new son-in-law, who is absolutely not interested in staying at home to help dear old dad run the family's factories. Nor is Harry a one-woman man.
Harry is released from his distasteful familial responsibilities soon enough when he gets sent to India with the army, where he proceeds to drink and wench to his heart's content. India is also where he develops a remarkable facility for learning languages quickly. Some might consider Harry's talent a bit hard to believe, but it is but not entirely without a basis in fact, albeit somewhat exaggerated. Sir Richard Burton, the real life African explorer, writer, and unexpurgated translator of the Arabian Nights, also had a preternatural talent for learning languages.
Cruel fate intervenes on Flashman's imperial idyll when he is dispatched to wild Afghanistan. In 1839 the British army had swept the country and captured its king, Dost Muhammad, replacing him with his rival, Shah Shuja. Dost Muhammad was sent to India as a prisoner. The main British army quickly returned to India but left a small garrison with the British envoys in Kabul. Flashman is sent to join the British delegation. While the British are supremely confident, the fiercely independent Afghans are plotting an uprising, which breaks out in November 1841. Two British envoys, Sir William Macnaghten and Sir Alexander Burnes, are murdered in early hours of the mayhem, and the British garrison and civilian dependents are surrounded and besieged. Negotiations occur and on 6 January 1842, the British troops and civilians are permitted to leave Kabul to make their way to India under promise of safe conduct. Instead they are dogged by Afghan fighters as they attempt to make their way through mountainous terrain during the height of winter.
From Ne'r-Do-Well to National Hero.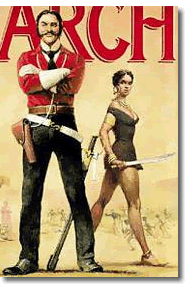 Massacres take place and prisoners are seized, but the resourceful and lucky Flashman manages to find his way to the British fort at Jalalabad. Always looking to save himself, even if it requires the most craven behavior, Flashman is found at the Jalalabad fort in a state of unconsciousness, wrapped in a Union Jack, and surrounded by rampaging Afghans, who are driven off by a British relief force. As an apparently brave survivor of the tragic retreat from Kabul, Flashman is catapulted into the role of national hero. Presto! A chronic ne'r-do-well is launched on a successful and distinguished career.
Flashman is not just a funny and entertaining novel. It is also a pretty good work of history. Of course Flashman is a fictional character, but many historical people appear in the novel, a motif Fraser follows throughout the Flashman series. Fraser does his research, too. His descriptions and characterizations of historical people emit a ring of authenticity. Fraser adroitly weaves his plot lines into the actual historical events rather than bending and breaking history for the sake of advancing the fictional narrative. His footnotes refer to real books, clearly the books he consulted to research his novels. The reader actually can learn a lot of history and enjoy the genuine flavor of the Victorian era in Britain, its empire, and beyond.
One book that Fraser cites in Flashman is Patrick Macrory's Signal Catastrophe: The Retreat from Kabul, Afghanistan 1842 (1966). Fraser calls it an "admirably clear account" and he was absolutely right. I found a remaindered copy in a London bookstore in the late 1970s and read it with great enjoyment. It also confirmed that Fraser was an author who carefully researched and faithfully depicted the historical settings of his novels.
Eleven more Flashman novels appeared:
Royal Flash (1970)
Flash for Freedom (1971)
Flashman at the Charge (1973)
Flashman in the Great Game (1975)
Flashman's Lady (1977)
Flashman and the Redskins (1982)
Flashman and the Dragon (1985)
Flashman and the Mountain of Light (1990)
Flashman and the Angel of the Lord (1994)
Flashman and the Tiger (1999)
Flashman on the March (2005)

There's Continuity in the Friskiness.
The novels were not written in the chronological order of Flashman's career, but like the best writers — Fenimore Cooper's five Leatherstocking tales come to mind — Fraser pays close attention to Flashman's age, injecting each new adventure with believable continuity. With Flashman the one constant is that he is frisky to the end.
The Wikipedia article, "Harry Paget Flashman," mentions that in 2006 Fraser said he was working on another Flashman novel, so perhaps there is hope for one final adventure. That would be nice as we know from Fraser's bio of his protagonist that Sir Harry managed to fight for both sides in the Civil War, and that he also enjoyed some harrowing adventures down in the Mexico of Emperor Maximilian and Benito Juarez. Wouldn't it be nice to open the pages to a posthumous novel about one or both of those adventures?
Royal Flash was made into a movie in 1975 with Malcolm McDowell portraying Flashman.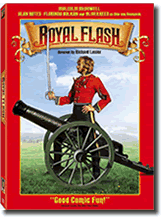 The novel is sort of a Flashman-ocentric retelling of The Prisoner of Zenda with Otto von Bismarck as one of the characters. Unfortunately McDowell is miscast as Flashman. As described in the novels, Flashman is a handsome, large, and athletic man who appears to be the hail-fellow-well-met sort of chap, trustworthy and capable of all sorts of bravery. McDowell is too small, too weasely — and just not chummy enough to make do. Alan Bates, who played another character in the film, would have made a far better Flashman.
Entertaining, Historically Accurate
And Delightful to Read.
The latest and perhaps last novel, Flashman on the March, set during 1867 and 1868, focuses on Flashman's role in the British expedition to Abyssinia under the command of Sir Robert Napier. The British army invades Abyssinia because the Emperor of Abyssinia, Theodore II, takes as prisoners the British consul and some other Europeans. Naturally, they must be rescued, whatever the cost, and Flashman plays his usual venerous and devious role in events. As always Fraser has done his research with a studied thoroughness, and some of that research appears in his endnotes. One book he cites with great approval is Alan Moorehead's The Blue Nile (1962). It provides an excellent if brief account of the Abyssinian campaign and once again confirms that Fraser can write a wonderfully entertaining novel in an accurate historical setting.
Fraser's Flashman novels are meant to be shared with others who love reading. They also could be used with profit as supplemental readings for college history classes, but there's a big problem with this concept: Sex, and too much of it for the tastes of some people.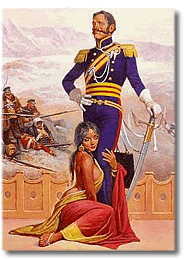 Another potential issue is that Flashman is the type of oinker who shuffles through the worst nightmares of the politically correct. He's a sexist and a racist, although such concepts would have been completely alien to a gentleman of the Victorian elite.
While the character Flashman is a sexist and a racist, the author Fraser is not. Women and native peoples are frequently depicted as more intelligent, braver, and more honorable than Flashman. Many of these very believable secondary characters could easily put the anti-hero to shame, but Harry Flashman does not feel shame like most of the rest of us.
Fraser is so open-minded that he even depicts some Americans as heroic, cultured, intelligent, and altruistic.
A Word to the Wise: Don't!
That said, take my advice: Don't use these books in a class. They are a little too ribald and a little too politically incorrect for mainstream sensibilities. And let's face it, Flashman will not appeal to most women. While the female characters in the novels seem to flock to Harry, readers get to see the real man — and it's just not an attractive picture from a woman's point of view. So I guess it is up to us guys to make sure that George MacDonald Fraser's heirs are not left huddling, hungry, cold, and in the dark.
Also, lest anyone (especially you women) think I am a bit to narrow in my fiction tastes, I am eagerly awaiting the arrival of a cheap remainder copy of Fried Green Tomatoes by Fannie Flagg. I ordered it a week ago after learning of dear Fraser's demise. I quite enjoyed the movie Fried Green Tomatoes as I think Mary Stuart Masterson is a fine actor. Besides, I want to learn more about Alabama barbeque.

Click on the black panther to read Ron Fritze's previous essay,
"Of Old and New Friends."