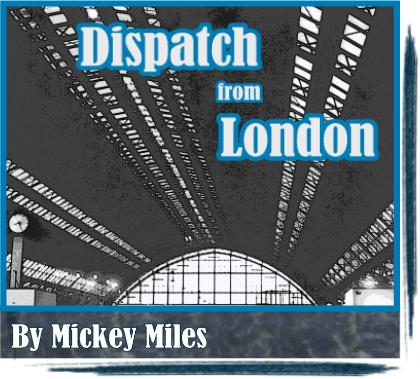 Dispatch Number Nine
---
A Kinder Attitude
Among the French.
---
DATELINE:
Wednesday, November 29, 2000, at 1200 hours CDT.
Once More From the Top.
A Trip to Paris.
EDITOR'S NOTE: Mr. Miles is a professional journalist and political operative who moved to London in summer, 2000, to explore a new line of endeavour.
Paris, France, is a fabulous city. There is a great feel about the city. It is hard to describe, but I must say I felt safe and at home there. I struggled with my French, but without fail, French men and women alike were helpful, cheerful, and patient.
I supped with some professional journalists, Americans, and they all speak fluent French. I was struck by something one of them said. She is a journalist who has moved back to Paris with a new husband, also an American and also one who used to live in Paris. She said she and her husband noticed that there has been a change in attitude by the people of Paris. She said both of them had reached the same conclusion separately.
"French people have changed, their attitude has changed, and they are more helpful, more friendly," she told me.
It's Wrong to Call Them Haughty and Rude.
That is the bottom line I'll draw after having spent five days in Paris. Back home in London, I got to thinking that maybe the stereotypical line that the French are haughty and rude is downright wrong.
It is also worth noting that America has never fought a war against France. Sure, maybe Americans fought the Vichy French in World War II, but not France. It was the French, after all, who helped finance the Revolution, which gave birth to the United States. Yes, I know they acted for selfish reasons, their hatred of the Brits, etc., but at least they acted.
My mornings in Paris were busy, but I never failed to find a few moments to get some good coffee and watch the sunrise on a horizon that featured the Eiffel Tower.
I think it would be a wise thing for young people to take a backpack and a friend -- and go out to see the world. I would tell any one of them to go, and go now, while they have their health, with no serious obligations and a few dollars. I think they should make Paris first on the agenda.
I would write more, but I worked so hard in Paris. I'm so tired now, I cannot. Don't be concerned, the power will return at some point. Cheers.
---
---
EDITOR'S NOTE:
WATCH FOR DISPATCH NUMBER TEN
on Wednesday, December 6, 2000.
Mickey's weekly Dispatch from London is available by E-mail.
Let us know if you want to receive it.
Please forward your name and email address to
ebenezer@corndancer.com
Visit the web site at www.corndancer.com
| ©2000 by David Ebenezer Baldwin Bowles |
| Send e-mail | 501.450.7989 |