---
Berlin in Springtime: Away with the Grey.
In Trendy Prenzlauer Berg,
Vestiges of the Fallen East
Erode Slowly in a Flow of Money.
---
By Jens Hampe
Saturday, April 7, 2001.
DATELINE: Berlin, Germany
Special to corndancer.com
[EDITOR'S NOTE: Jens, a native born German, writes to us in his second language. Photos by Raimo.]
Berlin, new and old capital, chance and curse at the same time.
In the wintertime, Berlin shows an ugly face; even the "Berliners" say so. Wintertime is depressing. A cold east wind hollers through the streets. Maybe that is the reason for a very interesting and very Berlin-like spectacle in springtime. A huge mass of "Berliners" begins to move and change their apartments. It's another way of leaving the depressing winter behind and beginning again; I like that 'cause it helps you keep alive.
Grey is the most popular colour in December. I began to believe that I, too, should have moved to Berlin in springtime and not in the winter. Not only is the sky completely filled with different forms of grey, the streets and houses also take over the colour of the sky.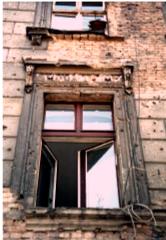 An endless line of grey passes by as I arrive in Berlin's Prenzlauer Berg for the first time. This is supposed to be the hip district right now. Situated in the northeast of the city, it luckily survived the World War II bomb raids and the devastating East German architecture of Plattenbauten. Four-to-five-story houses from the Gründerzeiten (time of the founders; referring to the second German Reich, which was established by Bismarck in 1871) still represent the architectural character of this district.
A Legacy of the Fallen East
Lends a Touch of Urban Wilderness.

In Berlin's East before the Wall's fall, there wasn't any money left to keep and restore those houses, so most of them were rotten and broken by the end of the '80s. Some of the fronts of the houses still seem rather rotten, and that gives this district a special touch of urban wilderness.
An alternative style of living was established here after the Berlin wall tumbled down. For Westerners, it was hip to move into the area at the beginning of the 90's. Rents and prices were very cheap, and life was different in an environment that could be characterized by a drastic social change — sometimes, even chaos. Therefore, a lot of students and young-at-heart artists relocated to the Prenzlauer Berg, where they found it much easier to find their own place than in the settled west.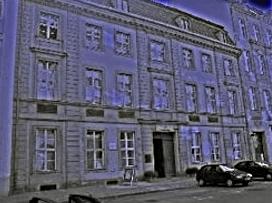 In the millennium, however, you can see everywhere that the real West has arrived. It must have been the flow of money into the East that did it. Here and in Berlin MITTE (the middle), you can see how colours and styles come back again and how houses are being repaired. Nowadays, Prenzlauer Berg is filled with cafes and pubs, designer stores, art galleries, and other trendy shops. Each place is trying to be unique, which makes it difficult to find a place to sit down and enjoy a cappuccino.
Where do the folks who live here buy their normal stuff like groceries? That question pretty soon comes to mind as I walk through the district without seeing a supermarket or anything like that. Prices are as high here as they are in the west of the city. The rent costs up to 15 DM per square meter now; for a lunch at a good restaurant you pay at least 10 to 15 DM. For young people with good jobs and money, it is the place to live and enjoy their evening after working the typical ten-hour day.
What to Do with So Much Money?
Let's Buy Designer Furniture!
My Vermieter, the one I rent the apartment from, is a young doctor. His girl friend is a successful lawyer working on corporate law. In their early thirties, they earn more money than they can spend, but they spend much of it on the symbols of a successful lifestyle — more than I thought anyone could actually spend. They told me about their designer furniture and how a chair costs up to 5,000 DM if some well-known Italian guy designed it (or at least gave his name to it; you can't really tell how it is nowadays).
For me that is pretty strange. I am still searching for my place in life, and although I can enjoy nicely designed things and don't mind spending more money on things than I need to, there seems to be a limit for me, although I can't exactly say what it is. But 5,000 DM for a chair is beyond that limit for sure. I wonder how he felt buying that chair. I am really amazed how uncomplicated they are — nice people with a lot of understanding for others, who are not a bit snobbish as I always thought folks gotta be who pay that much for a chair.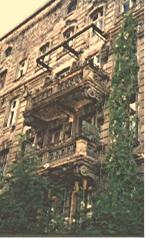 My new apartment is nice and big, about 65 square meters. I can't really tell you how many square feet that would be; as a proud European, I was born into the metric system, and even after spending an year in the States in the 1980s, I don't understand the American system. The apartment is situated right in the middle of Prenzlauer Berg. It is a five-minute walk — yes, you actually do walk in Berlin — to the Kollwitz-Platz, one of the centres in the Prenz'l Berg.
Let that Dog off the Leash.
Kollwitz-Platz doesn't really deserve the name "Platz," which in English means park. In the middle is a very, very small green area that couldn't be called a park, even if you have lots of imagination and a well-developed sense of fantasy. There is not even enough space to let your dog off the leash. Well, there actually isn't any space in Berlin where you are allowed to let your dog off the leash anyway, but it's a rule that is broken more often than it is followed.
Pubs are everywhere. Some are really nice, although none has the old flair of the East, which could be felt just of couple years ago. At least that's what the people say who lived here back then. But there are not many of these people left.
It takes a long time to find real "Berliners" with their schnodderig way of speaking and their unique, seemingly unfriendly behavior, which is not really the case. Actually they are refreshingly open and straight forward. Maybe that makes it uncomfortable nowadays when everyone hides behind masks in order not to reveal his or her real feelings. We are just not used to openness anymore.
The Latest Philosophical Theory
About the True Way of Potato Soup.
Berlin is inhabited by all kind of folks who haven't been raised here, but behave as if they have lived here all their lives and try to tell you how to look upon Berlin. They carry their pseudo-cosmopolitan attitude like a "purple heart."
They are arrogant Großstätter (big city folks), who feel like they must be special just because they live here. The ones who work in the offices of the parliament especially behave like that. Nothing is trivial enough to avoid the temptation to theorize about it; I spent lunchtime a couple of weeks ago listening to Großstättern discussing the true way of making Kartoffelbrei (potato soup) from a philosophical point of view.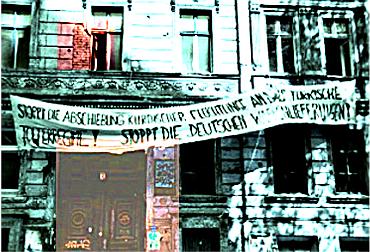 The most amazing thing was watching the intensity those folks used when they presented their beliefs, as if they were discussing the most important thing on earth. If only everyone knew exactly and without a doubt how Kartoffelbrei must be prepared and cooked!
That attitude is often viewed in Berlin. Everyone knows everything. Doubt seems to have vanished from this place. Maybe you have to be that way to survive a real big city. To get attention, you've got to be heard. And the quiet ones never get heard very well.

Jens
Hampe
A
Personal
Note
Written
at
CornDancer's
Request.
LEFT: Jens and his loyal dog Lena at the young man's Berlin apartment.
I don't really know what interesting or important description could be said about me. From 1989 until 1990 I stayed for a year with the Bowles family in Little Rock as an exchange student, earning a diploma from an American high school. That time simply has changed my life into something different, which I haven´t figured out yet. For sure it was the beginning of a new life, and to keep the contact is one of the most important things to me. When Ebenezer asked me to write for corndancer.com I felt proud to add my view of the world to this project.
After returning home to Germany, I graduated again from high school and began studying law. Two years ago I finished university and began a two-year term in the state service in order to finish my education.
During this service I stayed in Berlin for four months and worked in the office of a member of the German parliament. Since I always have been interested in politics I needed to find out if I'm interested in finding a job in politics. But I guess I am not made for doing politics; it is easier for me to keep my ideals by being an observer. Therefore I will begin my career as a lawyer pretty soon. Maybe in a couple of years I might even feel experienced enough to try for the position of judge.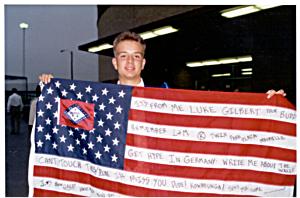 Signed:
Jens Hampe
---
---
Jens with a gift from his American high school classmates, 1990.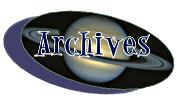 Who
is the next Saturday's Guest Writer?
Perhaps the prolific Miss Jenny Penny,
or the reclusive poet, Angry Dove.
We shall see.
If you are a subscriber,
watch for an article in your mailbox
on Saturday, April 14, 2001.

If you're interested in joining our tight little group,
please let me know.
I'll be glad to add your E-mail address to the list.
Please forward your name and E-mail address to
ebenezer@corndancer.com
| ©2001 by David Ebenezer Baldwin Bowles |
| Send E-mail | 501.450.7989 |