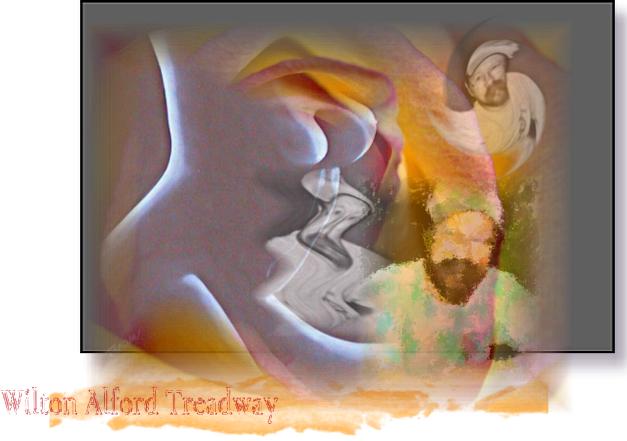 Treadway writes about Treadway:
Interested in art since age of five.
Sold first painting at age of eight.
Grew up painting and sculpting.
Fifteen years of age: started making serigraphs.
At seventeen, moved to Taos, New Mexico, and painted and sold oil paintings on the side of the road. Next went to Jackson Hole, Wyoming, and did the same. Then Seattle and Vancouver.
Traveled all over the west and south of the United States, painting. When painting sales were slow, I painted signs, which kept the bills paid (sometimes).
When I was twenty years old, I lettered Andy Gibb and Neal Sedaka's jet, THE SONG BIRD. Andy Gibb bought a painting and took it to Europe to his home there.
I have had many one-man shows in the U.S. and Canada with other works sent to Europe.
I had a dream when I was eight years old of the Treadway International Art Center. In 1998 this dream became a reality when the art center was opened as Treadway International Art Center. It was registered with the State as a non-profit organization, "An Art Center to be used for Art Therapy."
West Winds Pottery was formed at the same time. I started West Winds to have a place to work and create sculpture with clay. It has also help fund the Art Therapy Unit of Treadway International Art Center.
We are currently teaching the handicapped, the Arkansas School for The Deaf and Blind, the Elder Hostel, The Heifer Project International, Gain Inc., and other organizations interested in Art Therapy.
We are growing every year and project that we will have a therapy unit in each state in the United States within the next two years with Units also overseas in various needy countries.
This is the brainchild of Wilton A. Treadway, who has brought together a group of dedicated people to staff his organization, and who also sees a need to help people through Art Therapy.
We are in the process of raising a new building to house our therapy unit. Our hope is to complete it this year. This building will house the therapy unit and also offices of the organization.
Treadway is also in the process of building a new building that will house the Treadway Museum, which will show the history of his family and his life. The museum will feature a selection of Early American tools dating to the 1700's. We will have a section on the paintings and sculpture of Treadway, and a special section on some of the Early Masters.
We also plan a show featuring artists of the Twentieth and Twenty-First centuries. We will have special shows for upcoming unknown artists, which will hopefully advance their career.
Treadway is still having exhibitions during the course of the year with works to be shown in New York during the fall of this year.
___________________________________________________________
Blue Nudes.

West Winds Pottery.
Treadway on Treadway.