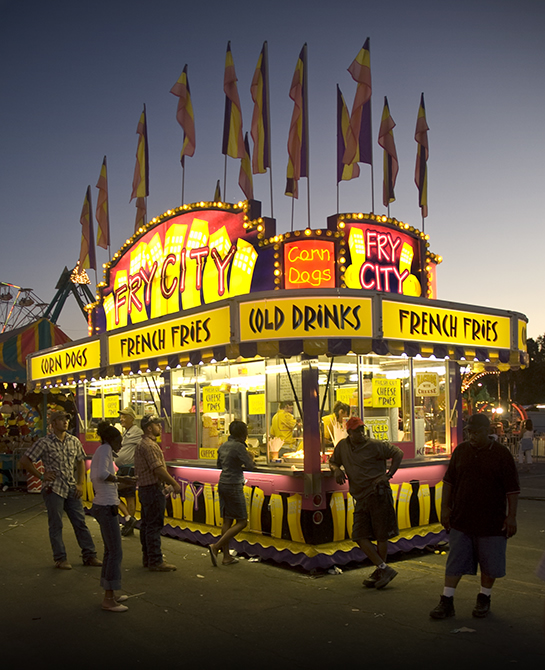 Sunday, September 2, 2007
Grease, the southern staple. In the forties, fifties and perhaps a tad into the sixties, no self-respecting southern kitchen was complete without a coffee can full of bacon drippings. To the uninitiated, this translates to "hog fat." Hog fat indeed, turbocharged with a long exposure to hickory smoke. There is nothing which successfully replaces the bouquet of greens, peas, or pinto beans laced with bacon drippings. Many have tried and none to my knowledge have succeeded. Ain't happenin.'
Frying in bacon grease (drippings) is as southern as kudzu, Co-kolers, and the word "y'all." One of my old sailing buddies alleged that the biggest part of the food his mother prepared was in a well-seasoned cast iron skillet as black as the heart of Satan himself. Probably a common question among kitchen practitioners of the period was not, "Howdoyacookthis?" . . . but "Howdoyafrythis?" All of which leads to the irony of this establishment doing a brisk business at an Arkansas State Fair some years ago.
The word "fry" conjures up thoughts of mother and home. So the proprietor of this den of fat boldly emblazons his emporium of grease with the magic words "FRY CITY." His siren song bids good ol' boys to come forth, loaded with Friday afternoon pay, and stuff their gullets with questionable delicacies, fried in an unknown slimy liquid heated to the point of melting solder.
These southern stalwarts are thinking to themselves, "... Hail, if momma done it, it cain't be all bad." With discarded popcorn sticking to the discarded Juicy Fruit or Spearmint sticking to their tennis shoes, they stroll through the maze of giant teddy bears and gut-wrenching rides, breathe manure-laced air, and muse that life is good. Perhaps so.
Seems fair to me.
N O T E :
Nikon D-100 / Nikkor f2.8 35-70mm macro zoom, hand held
(got lucky).
Click the silver star
to see the previous Photo of the Week. . . .