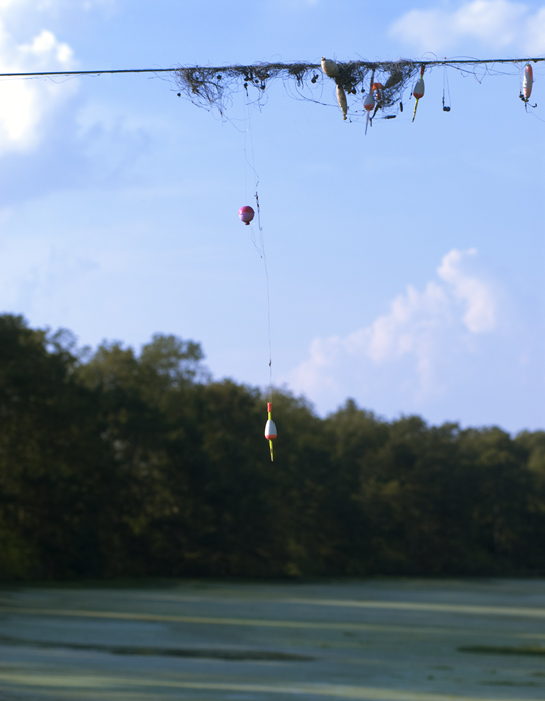 Sunday, March 23, 2008
To really understand this image, it will immeasurably help if you are from the South. Further, if you have ever done any bank fishing and wetted a hook strung from the end of a cane pole, no further explanation is needed.
For the rest of you, this scene is from a small, low bridge spanning a narrow section of Noble Lake southeast of Pine Bluff, Arkansas. If you've ever driven on US 65 south of Pine Bluff, you've passed within rock throwing distance of the location. The oxbow lake, I'm told, is a remnant of the Arkansas River from hundreds of years ago. In the days before revetments, locks, dams and flood management, rivers had a nasty habit of changing course and leaving behind an occasional lake or two.
In the South, it is an unwritten rule that any low-slung bridge over any given body of water is as much a fishing pier as it is a bridge — and don't you forget it. This one, just a few feet over the water, has long been a favorite of local bank fishermen. Actually, they are "meat-fishing," rather than sport fishing — and few fish are ever thrown back.
Virtually every one who avails themselves of the pier/bridge uses a cane pole with hook, line, sinker, and bobber. Size matters in cane poles. The longer the better. Experienced practitioners can heave their lines out from the bridge with more than a modicum of accuracy. The less experienced forget about the telephone line, which crosses the lake at the site of the bridge. They swing those long cane poles in a ballistic arc and inevitably entangle their lines in the telephone wire that crosses the lake at the site of the bridge. Thus the tackle carnage you see above.
Talk about frustration. You must remember that fishing line is made not to be easily broken. The line is tied to the end of the pole, which is now pointing skyward. Hook, line, sinker, bait, and bobber have worked up a good head of steam during the cast, so when it encounters the wire on the downswing, it makes a few loops while you gawk in disbelief.

The only thing left to do is to jerk, pull, and tug until the line breaks. More often than not, this not-so-graceful act of extraction lands the fisherman or woman on their respective butts. This is about the time one of your neighbors drives up to cross the bridge, and there you are, sitting on your duff in the middle of a bridge with a long cane pole in your hand.
Lesson learned, the intrepid fisherman rebuilds the rig and tries again with a less enthusiastic placement of the baited line. It all becomes worth it when a bream about the size of a blacksmith's hand grabs your bait and lives to regret his greed on your stringer. Add hushpuppies, fries, sliced onions, and a mason jar full of the house wine of the south, sweet tea. Repeat if necessary.
After I made the photo, I dropped by a good buddy's legendary hamburger joint and told him about what I'd just shot. Both of us, being card-carrying good ol' boys, born and raised in the south and still here, laughed until we hurt. His fry cook overheard the conversation and allowed as how the bridge was his parent's favorite fishing venue and that they had likely contributed to the morass on the wire. We all laughed together. Small world. Ain't life grand?
N O T E S:
Nikon D200, Nikkor 80-200 f2.8D hand held / Post processed in Photoshop CS3 extended. Ain't life grand?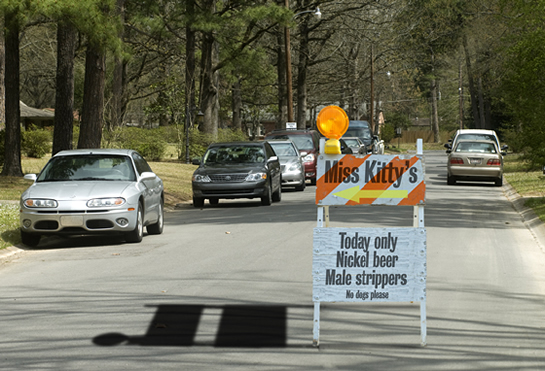 Wednesday, March 26, 2008
This afternoon, I was taking a break, as was my next door neighbor. We concurrently let our dogs loose to do their business, his a handsome brindle boxer and my three, including the 65-pound Rottweiller — the smallest of the bunch is about 55 pounds. Unbeknownst to us, our neighbor, a woman of good humor, thank goodness, was hosting a Sunday School class of senior women from First Presbyterian Church, the youngest of which is nicely into her 70s.
The first guest arrived about the time our dogs were turned out. Each of these dogs is terminally friendly and loves every human, but of course the first lady did not know this. She promptly shot back into her vehicle when Cleo the Rott went to check her out and make friends. So we had successfully treed the first of our neighbor's guests.
We called the dogs back. The lady successfully entered our neighbor's domicile. Then, Kitty, our neighbor, dressed to the hilt in her afternoon party finery, sauntered over and in her gracious manner, clued us in as to what was about to happen. We corralled our beasts and the rest of the phalanx of attendants arrived without any other untoward encounters.
Later, it occurred to me: There was an opportunity here. The results are displayed above.
P.S. I suppose I should clarify, that the sign was digitally imposed. I have not completely lost my mind.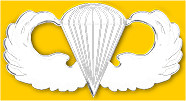 Click the jump wings
to see the previous Photo of the Week. . . .