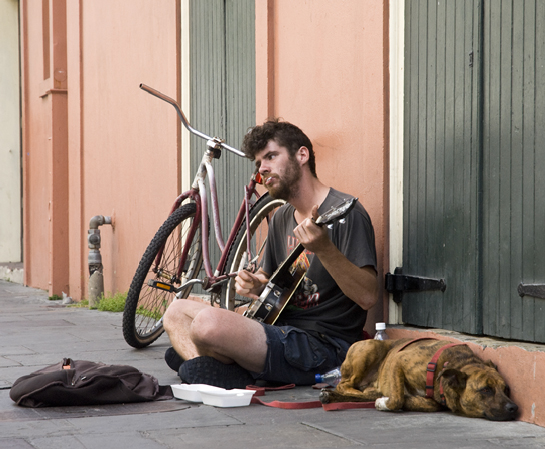 Sunday, April 20, 2008
Jesse is a street performer. His dog Rosalie is.... Well, a dog. And apparently, a pretty nicely adjusted, happy canine at that. Jesse picks a right mean four-string banjo. Rosalie, for the most part, just lies around, chilling. I figured Jesse to be OK after I spotted the Styrofoam sandwich box for Rosalie's food and water.
On this particular day, Jesse's chosen real estate was a few square feet of flagstone sidewalk on St. Peter Street,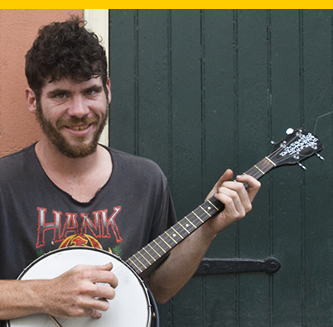 about a half-block northeast of Jackson Square in New Orleans' French Quarter. Jesse was slightly off the beaten track for street performers, who are usually ensconced in their normal slots and pecking order on Jackson Square. Could be something akin to "off Broadway," New Orleans style. When you plod around the vicinity of Jackson Square, encountering performers like Jesse is not unusual.
I listened to Jesse for a while before I engaged the camera. Every tune he picked rang forth in the mystic, haunting tones that come only from minor keys. He would probably be right at home warbling amongst a Sacred Harp group, but not as an instrumentalist, since they eschew instruments and sing a cappella. His skill as a picker (not a strummer) is admirable; he is nimble on the frets. And when he gets down to business, Jesse and his instrument are one.
After I captured the distant shots, I approached Jesse for conversation. When I mentioned his proclivity toward minor keys, his smiling rejoinder was, "Well, I suppose I like the dark sound." We chatted a bit more, and then I shot a few close-ups, salted his larder with some good folding Yankee green, and went on my way.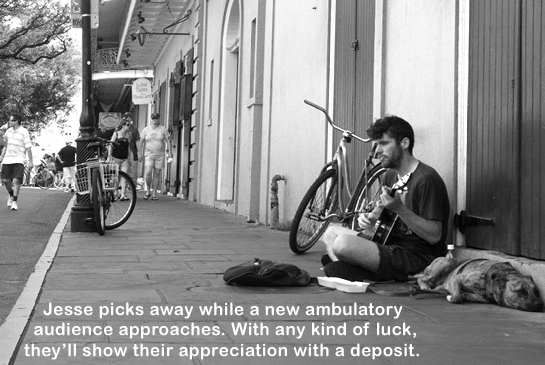 For those souls who crave out-of-the-ordinary experiences, Jesse and his ilk of street performers provide essential ingredients in the complex stew that transforms the French Quarter into an auditory banquet. Street music is the necessary spice. Jesse's understated tunes stand in stark contrast to the raucous sensory attack of a Dixieland band just a few blocks away. It takes both to make the tantalizing flavor. It's why people keep coming back. It's a medicinal treatment in one's quest to maintain a modicum of sanity. Yeah buddy.
If my guess is correct, Jesse's personal belongings probably do not go far past what you see on the sidewalk. A serviceable old bike with good tires (complete with old-fashioned coaster brake), a banjo, and few more garments in the genre of what he was wearing at the time, in all likelihood, are the bulk of his inventory. That condition does not seem to be of great concern to Jesse. He's not talkative, but when he does speak, he smiles.
So did I. Thanks Jesse.
N O T E S:
Nikon D200 / AF Nikkor 80-200 f2.8D / Post processed in Photoshop CS3 and Genuine Fractals Print Pro.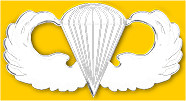 Click the jump wings
to see the previous Photo of the Week. . . .