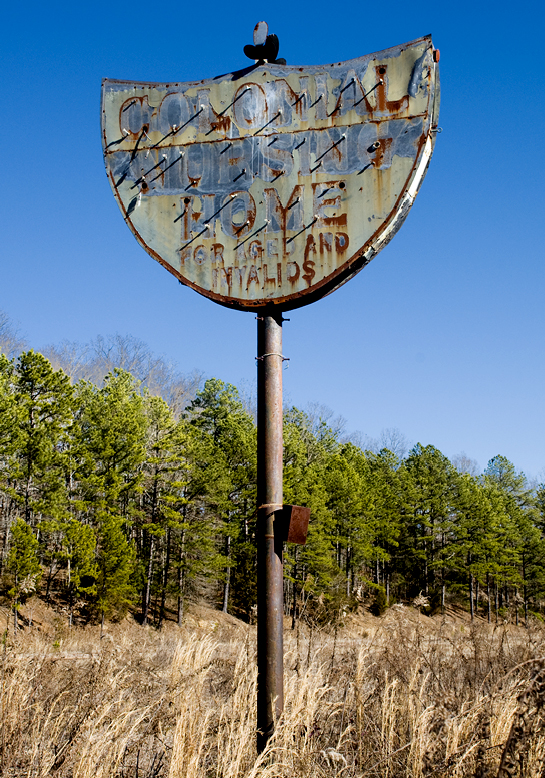 Sunday, January 18, 2009
Like a single steel sprout, the old sign stands alone beside Arkansas Highway 5, not very far east of the point where 5 intersects with Arkansas 7 on the outskirts of Hot Springs. The sign reads "Colonial Nursing Home for Aged and Invalids." There is no evidence of the building it represented, save a few scraps of parking lot clinging tenaciously to mother earth.
The terminology and the sign have fallen into disuse. The bygone language was replaced, for better or worse, by vernacular deemed more acceptable by a changing society. Perhaps more politically correct. Perhaps the victim of word nazis.
The sign is a relic of a lost art. I say that with due respect for the sign makers and showcard writers of days gone by. In my introductory years as an art director, I was tutored in the art of lettering by two of the finest practitioners of those skills, Stuart Berryman and Sam Peters. Their hands were as steady and sure as those of a surgeon. Anyone who has ever tried to hand-letter a notice, sign, or poster may have a miniscule of understanding of their astounding hand-eye skills.
Today, computers have hundreds of fonts. There are more than seven hundred of 'em in the computer I'm pecking on to write this report. A few keystrokes and you do in seconds what formerly took hours.
In those days, electronic fonts were not even a figment of the collective imagination. Fonts, for the most part, existed in special books. The art directors, with their hot little hands, emulated what they saw to create custom headlines, graphics, and yes, signs.
Like others of its day, the sign for Colonial Nursing Home was initially laid out on paper. The design was then transferred to the surface of the sign by sheet metal magicians. Finally, a sign painter lettered the sign with brushes made especially for his craft. The paint, known as "bulletin," was of the highest quality because buyers expected long life from their signs. It had more pigment and tougher binding agents than "ornidary" paint.
Once the paint dried, the neon guys did their magic. First came the heating and bending of glass tube to conform to the desired contours of the sign. After that came gassing, sealing, and electrifying.
There are still some good neon guys around, but not many. And people who possess the brush skills of sign painters of the ilk of Mr. Berryman and Mr. Peters are as rare as eyebrows on eggs.
I can't say if the world is better or worse now that these skills have faded into obscurity. As our civilization develops, outmoded procedures, products, and techniques fall to the wayside in favor of efficiency. I can do this evening on a computer what I once paid several skilled artisans to do — and I can do it faster and cheaper.
One additional manifestation of this growing efficiency is increased life expectancy. While many of us will argue for the value of bygone times, few of us will argue against increased life expectancy. It gives us a longer time to bitch about the "good old days."
I do believe there is value in knowing how things evolved. Even with that knowledge in hand, I do not see the demand for buggy whips reversing its downward slide anytime soon.
N O T E S:
Nikon D300 • AF-S Nikkor 18-135mm f3.5-5.6G ED • ISO 200 • 1/250@f10 • Post processed tieh Photoshop CS3 Extended and Genuine Fractals Print Pro

See another view of the sign and some barns shot on the same trip on our blog, Weekly Grist for the Eyes and Mind
Click the jump wings
to see the previous
Photo of the Week.

Click the camera
for an index to every
Photo of the Week.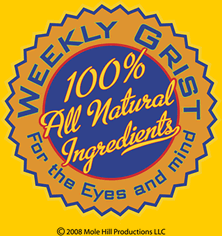 Most of the time, there is more to the Photo of the Week story than can be told in an essay. And most of the time there are more pictures to be seen. Presuming that some folk will enjoy being privy to this trove of information, I have created a blog, "Weekly Grist for the Eyes and Mind," where I am showing and telling "the rest of the story." There are also some blatantly commercial mentions of some of the things we do to earn our beans and taters. Click on the Weekly Grist logo and go to the blog. — J. D.