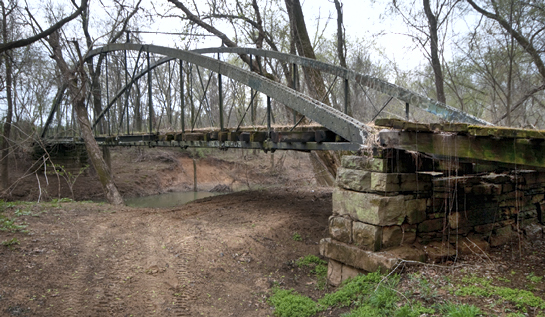 Sunday, March 15, 2009
The Springfield Bridge over Cadron Creek was completed in 1874 near Springfield, Arkansas. In that day and time, Springfield was a bustling town. Later, when railroads were laid in central Arkansas, Springfield was left in the lurch. Morrilton, its neighbor to the north, was favored with a railroad, which ran parallel with what would be "Main" Street in that fair city.
Morrilton prospered. Springfield went downhill.
Fortunately, the bridge was already there. It was built by the King Bridge Manufactory & Iron Works of Iola, Kansas, a branch of the King Bridge Co., of Cleveland, Ohio. The bridge is of the "iron bowstring truss" design, created and patented by none other than Zenus King of King Bridge Co. fame. The bridge is 188 feet long. The main span is 146 feet. In its heady days, when Springfield was still smothered with success, its iron bowstring bridge connected that part of Arkansas with Des Arc to the east, a busy port on the White River.
Springfield Bridge was bypassed in 1991 by a newer, wider bridge a few hundred yards upstream. One presumes that because the bridge is historically significant, it was left standing. Or, perhaps there was no budget for demolition. In either case, the outcome is favorable — we still have the bridge.
Even in its deteriorated condition, the bridge still holds a certain mystique, having resisted the elements to stand for 135 years. For the last 18 of those years, the only attention it has received is from sightseers and photographers. The maintenance crew avoids it like the plague.
One day, it will fall into the creek. But then, so will we, so to speak. A dose of reality for bridges and us. Carpe diem.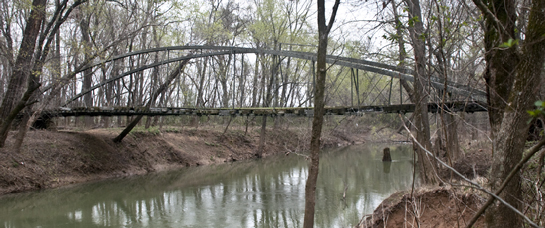 N O T E S:
Nikon D300, end shot, EX Sigma 10-20mm f4-5.6 DC HSM, tripod mounted, ISO 200, 1/320 @ f5.6, 18mm (35 equivalent 27mm) post processed with Photoshop CS4 Extended, Photomatix HDR and Genuine Fractals Print Pro.

See more about this bridge .... and more on our blog, Weekly Grist for the Eyes and Mind.
Click the jump wings
to see the previous
Photo of the Week.

Click the camera
for an index to every
Photo of the Week.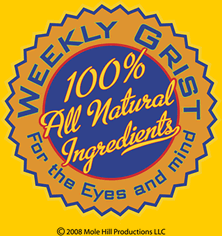 Most of the time, there is more to the Photo of the Week story than can be told in an essay. And most of the time there are more pictures to be seen. Presuming that some folk will enjoy being privy to this trove of information, I have created a blog, "Weekly Grist for the Eyes and Mind," where I am showing and telling "the rest of the story." There are also some blatantly commercial mentions of some of the things we do to earn our beans and taters. Click on the Weekly Grist logo and go to the blog. — J. D.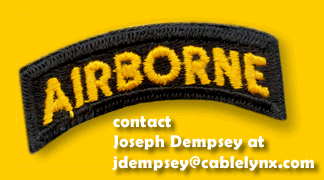 ---
---
---
---
---
---
---