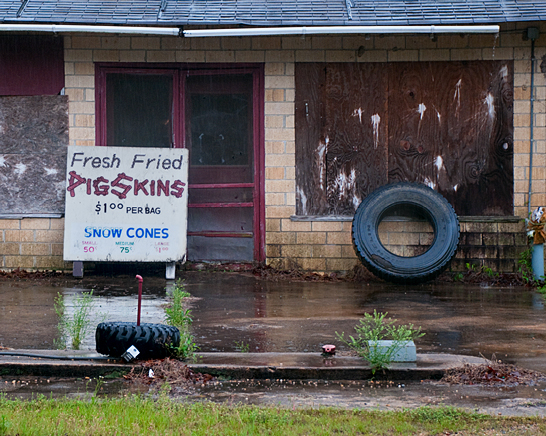 Sunday, May 3, 2009
Based on the presumption that readers of these missives have sense enough to come in out of the rain, if the secrets of a rainy day are to be revealed, it then falls on those of us not so imbued to snatch the wraps off of the arcane. It's a wet and sometimes muddy job, but someone has to do it.
In this neck of the woods, it is almost as if, for the last few days, we have been subjected to a monsoon. Almost, but not quite making Noah's flood look like a morning dew. It doesn't take a big dose of this alleged liquid gloom for some squirleyness to infect our attitudes.
This is a good time to remember some observations I heard from an Army Chaplain in the early 60s. His name escapes me, but his job was to deliver a well-placed homily to a group of soldiers about to deploy to the Far East for the proverbial 12-month tour of duty. Some of the troops, me included, were glad for the opportunity to see another part of the globe. Others were grumbling, contending that the coming tour would be a time unceremoniously snatched from their lives.
The chaplain begged to differ. Chiding the troops just a bit, he pointed out the fallacy of their contentions. He reminded us that calendars and clocks were not shutting down for twelve months just because we were changing locations. The sun would continue to rise and fall. And barring any untoward circumstances, for that twelve months we would still be counted among the quick, rather than among the dead. Given that since it is a time in our lives, it must be a time of great value, given that all of life's moments are times of great value. The moral of the story was to treat it that way. And that's my take on rainy days.
So, with divine guidance, I sallied forth into the rain. I came across the old store above. I had driven past it a zillion times but had never given it a second look. In the rain I did. Well, lo and behold, I saw some tongue-in-cheek visual humor there, which was made better by some reflections not available on dry days.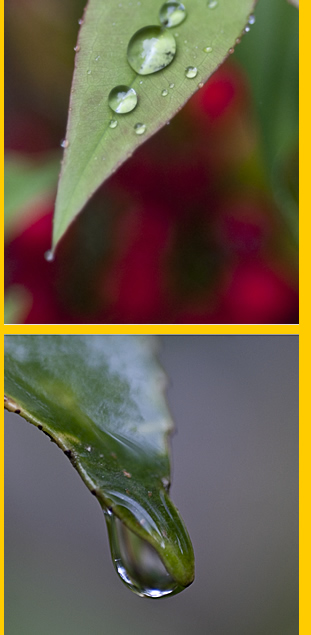 Before I left, I decided to take the easy shots first, which translates to looking around the domicile. Sure enough, outside the kitchen window, my favorite camellia (the bottom leaf to the left) and its neighbor (top) presented a drip and some drops, images not available on those cloudless, pristine spring days we hold in misplaced reverence. And, for context, the bottom leaf lives on the same bush that gave us the brilliant flower you'll see by clicking this phrase.
Sometimes in this symphony we call life, it is well for us to recognize that all movements are not allegro vivace. But they are still a part of the composition.

N O T E S:
Nikon D300, Leaf close ups AF Micro Nikkor 60mm F2.8 D, tripod mounted, top-ISO 400, 1/60 @ f3.2; bottom, ISO 200, 1/25 @ f4.5; Old store AF-S Nikkor 18-135mm f3.5-5.6 G ED, 1/80@f 5.0, ISO 400, (focal length 58 mm, 35mm equivalent, 87mm)

On our blog, the rainy day adventure continues. An "ud'n, ud'n" experience on a water-soaked road, someone's ass gets wet, another ramshackle building, some colorful graffiti and alas, another perforated stop sign. See it all on Weekly Grist for the Eyes and Mind.
Click the jump wings
to see the previous
Photo of the Week.

Click the camera
for an index to every
Photo of the Week.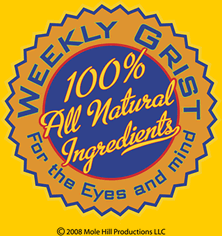 Most of the time, there is more to the Photo of the Week story than can be told in an essay. And most of the time there are more pictures to be seen. Presuming that some folk will enjoy being privy to this trove of information, I have created a blog, "Weekly Grist for the Eyes and Mind," where I am showing and telling "the rest of the story." There are also some blatantly commercial mentions of some of the things we do to earn our beans and taters. Click on the Weekly Grist logo and go to the blog. — J. D.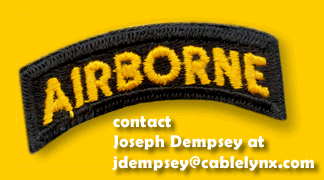 ---
---
---
---
---
---
---