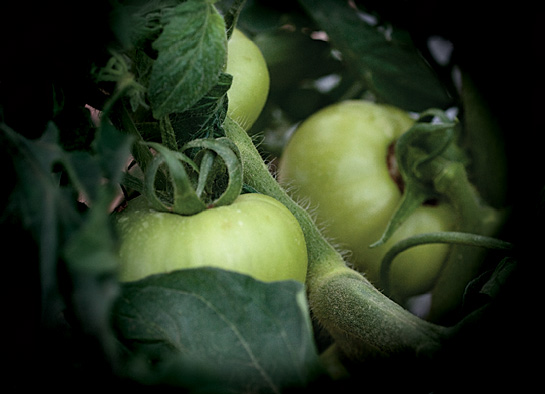 Sunday, May 17, 2009
At first blush, the image above looks like something you might expect to see an in a certain geographic publication article about some creepy, blind, cave-crawling creature. Conversely, you'd not pull the wool over the eyes of anyone from around Hermitage, Arkansas — or anywhere else in Bradley County for that matter. They'll tell you in a heartbeat that you're looking at a trio of tomatoes about three weeks away from acidic perfection.
From what we've been able to find out, people all over the nation are looking forward to the day these tomatoes hit the produce section of their favorite supermarket. "Arkansas home-grown tomatoes are the first to reach the market after winter," says Randy Clanton, a tomato farmer extraordinaire from Hermitage. "We ship our first tomatoes around the tenth of June and continue through the last of July."
Bradley County tomatoes are raised for the table, not for ketchup, sauces, or soup. According to Randy and his friend, former tomato farmer Kenneth Farrell, the process from seed to table starts around the end of February when they plant seeds in green houses. "The race is on in February," Randy says. By the middle of March, the seeds have become seedlings and they are planted in the fields, exposed to Mother Nature's best, and worst moods.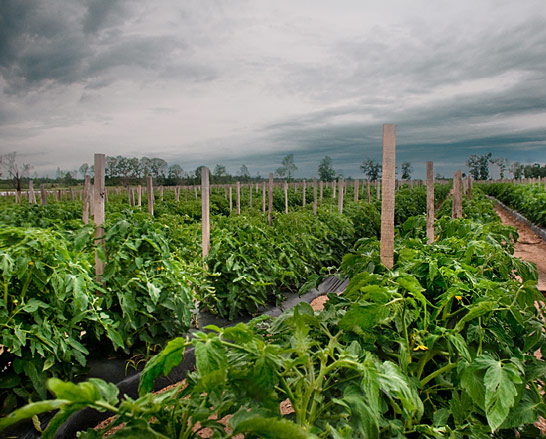 On the surface, a massive commercial tomato field bears little resemblance to a home garden, but practically speaking, the cultivation and handling is the same. The rich, south Arkansas loam loves tomatoes — and vice versa. The tomatoes of Bradley County farms are hand-picked, hand-wrapped and hand-packed, as one would expect of home-grown tomatoes.
"Folks like these tomatoes for the taste," Kenneth Farrell said. "The secret is to let them get ripe. When they are good and red, they taste the best." A lot of consumers around the United States and Canada agree. Arkansas tomatoes fly off the shelves into salads, sandwiches, and a lot of other happy summer dishes.
Randy and his fellow tomato farmers in Bradley County show us how good people with hands-on, second-generation family farming knowledge can combine their special knowhow with a bit of modern technology to produce a superior product — and keep the tomato fans of America clamoring for more.
As you look around the farm, you'll immediately see that it is as neat and well-kept as the White House lawn. It does not take a trained eye to figure out that the most important job is to raise really pretty tomatoes that taste as good as (or better than) they look. Randy and friends do a serious job and produce some serious tomatoes. Take it from me, a militant fan, who has been dribbling BLT drippings in his lap for more years than I care to admit.
N O T E S:
Nikon D300, Both Shots, tripod mounted, ISO 400 / Closeup: AF Micro-Nikkor 60mm F2.D, 1/200 @ f7.1; Wide shot AFS Nikkor 18-135mm f3.5-5.6G ED, 1/100 @ f5, 18mm (27 mm in 35mm focal length) Post processed with Photoshop CS4 Extended and Genuine Fractals Print Pro.

The pursuit of tomatoes continues on our blog, Weekly Grist for the Eyes and Mind. Click and get a slice of more juicy goodness.
Click the jump wings
to see the previous
Photo of the Week.

Click the camera
for an index to every
Photo of the Week.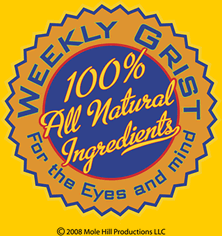 Most of the time, there is more to the Photo of the Week story than can be told in an essay. And most of the time there are more pictures to be seen. Presuming that some folk will enjoy being privy to this trove of information, I have created a blog, "Weekly Grist for the Eyes and Mind," where I am showing and telling "the rest of the story." There are also some blatantly commercial mentions of some of the things we do to earn our beans and taters. Click on the Weekly Grist logo and go to the blog. — J. D.