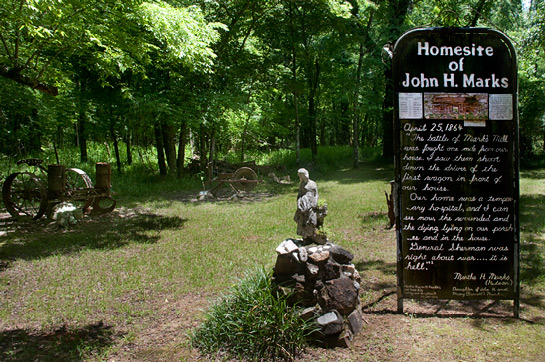 Sunday, June 7, 2009
By 1836, John Harvie Marks II, his father-in-law Nathaniel Barnett, and his brother Hastings Marks had settled in what was then Union County, Arkansas. The area is now Cleveland County, north of New Edinburg. By April 25, 1864, John Harvie Marks II, the only one of the three still living, was a successful farmer with a large plantation, a cotton gin, a sawmill, and a gristmill. Marks' family included his wife, Mary Barnett Marks, and their eight children.
On April 25, 1864, a Union wagon train, accompanied by 1,200 troops and six artillery pieces, was intercepted close to Marks' home by a larger Confederate force — and The Battle of Marks Mill was joined. A Confederate soldier fired the first shot at about 8 o'clock that morning. When the dust settled five hours later, the Confederates had scored a major victory, capturing the wagon train and 1,100 enemy soldiers.
On the sign in the yard pictured above, the words of Martha H. Marks, John Harvie's daughter, are emblazoned for history to remember: "The Battle of Marks Mill was fought one mile from our home. I saw them shoot down the driver of the first wagon from our house. Our home was a temporary hospital and I can see now the wounded and dying on our front porch. General Sherman was right about war, it is hell."
Fast forward to 1877 and the beginning of a lasting tradition. Seventeen Confederate veterans, all members of the Marks family, are gathered for a reunion at the home of J. H. "Little Jack" Marks, son of Hastings, in Chambersville, near Fordyce, Arkansas. The attendees agree to honor the family connection between them by pledging to make the reunion an annual affair. And these are men and women who know how to keep their word.
Today, the Seventh Day of June, 2009, the descendants of this extraordinary family came together for Reunion Number 133. They met at Marks Cemetery in the boondocks of Cleveland County.
Family members from as far north as North Dakota, as far south as the Cayman Islands, as far east as Georgia and South Carolina, and as far west as California attended the reunion. From the moment they began to arrive at the remote cemetery, you could see "old home week" in progress, for real. These people enjoy seeing each other and they enjoy the simple pleasures of visiting.
Local families bring food until the world looks level. If it tastes good, there is some of it on the tables. They also put a whole pig in the BBQ pit at 8 o'clock the night before and came back at 6 in the morn to make their final porcine adjustments.
In a day and time when doing the right thing and upholding traditional values seem to be endangered, the Marks family stands tall. They care for each other. They care about where they came from. Best of all, they care enough to nurture their relationships and carry their heritage forward. They care enough to do something about what they care about. Way cool.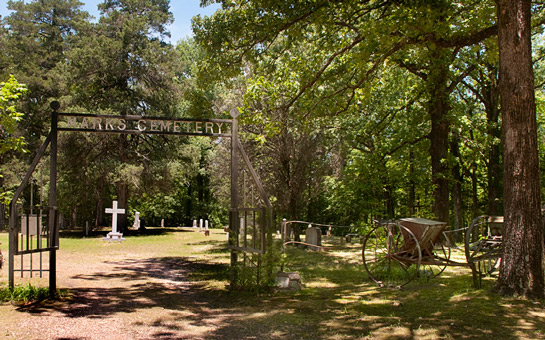 Marks Cemetery is well maintained and manicured. The horse-drawn farm implements are part and parcel of a collection of 20 similar historical artifacts placed around the cemetery. Each artifact has a metal plaque explaining who it belonged to and when it was used. Walking around the cemetery is a history lesson.
N O T E S:
Nikon D300 • Tripod mounted • Both shots, ISO 200, AFS Nikkor 18-135mm f3.5-5.6G ED • Marks Home place 1/200 @ f7.1, 20mm (30 mm in 35mm focal length) • Cemetery 1/160 @ f6.3, 20mm (18 mm in 27mm focal length) Feisol CT 3342 Tripod w/ ARCA Swiss Monoball. Post processed with Photoshop CS4 Extended and Genuine Fractals Print Pro.

There's much more to what this family has done. See more pictures and get the rest of the story on our blog, Weekly Grist for the Eyes and Mind.
Click the jump wings
to see the previous
Photo of the Week.

Click the camera
for an index to every
Photo of the Week.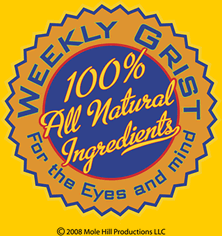 Most of the time, there is more to the Photo of the Week story than can be told in an essay. And most of the time there are more pictures to be seen. Presuming that some folk will enjoy being privy to this trove of information, I have created a blog, "Weekly Grist for the Eyes and Mind," where I am showing and telling "the rest of the story." There are also some blatantly commercial mentions of some of the things we do to earn our beans and taters. Click on the Weekly Grist logo and go to the blog. — J. D.