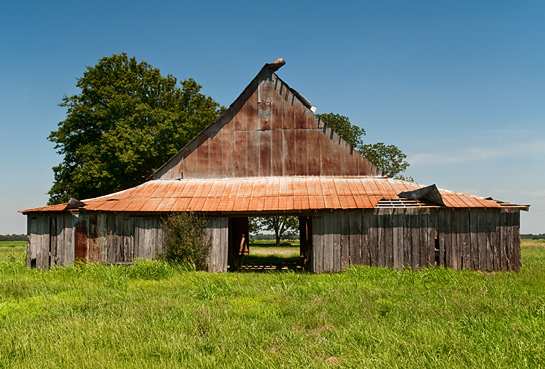 Sunday, June 21, 2009
It's like a June-bug in boiling molasses. Hot and sticky. But then if you are meandering about in south Arkansas in mid-June and expect something other than these conditions, you are sorely out of touch with reality. While the north-wind on my pickup is fully functional, on photo trips I don't turn it on since the viewfinder and lens immediately fog up when I make my egress. Not a good set of circumstances. So, I am at one with the environment. Sweat is good.
And, with un-fogged lenses, I discovered the barn you see above on Arkansas Highway 366 near a town called Roe. I ran a few local traps to see what I could find out about the barn, but only sketchy information materialized. However, most of my sources agreed that it was built around 1876. From what I could find out, the structure was in continuous use until 2004 when the property was sold. Since then, it has seen little use and apparently about as much maintenance.
Right now, the barn's highest and best use is as a home to a nice-sized barn owl that I spooked when I walked through her neighborhood. I'm saying her because I'm betting that this time of the year there is a nest full of owlets. She made several passes in my direction and then flew out the back door. Sorry to disturb your Sunday afternoon my deah!
The barn is typical of most I see, with the exception of the smell. Since the barn is open at both ends and is mostly concrete floored, olfactory evidence of previous inhabitants has wafted away. My panel of experts believed that the storage function of this barn was in the loft and that most of the original footprint was used as stall space for mules.
Over the years, the inside structure was modified to meet other agricultural requirements after the internal combustion engine replaced "arna-ree" mule teams. In the interior photo below, the space to the left is some sort of ventilated storage that was definitely post-mule. On the right there are some lingering vestiges of the mule era, but not much.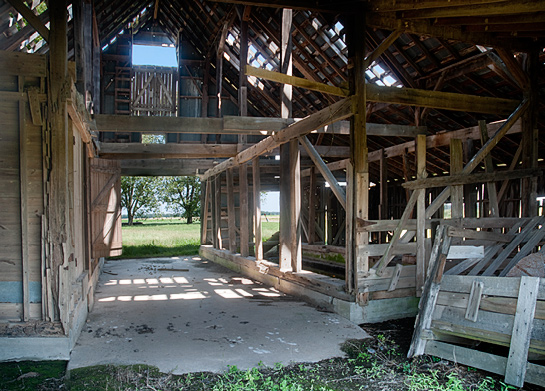 This old barn is prima facie evidence that there may be something to the old adage, "Use it or lose it." In any case, the barn was kept in use long enough for us to see it still standing. In a few more years, others may not be so fortunate.
N O T E S:
Both shots, Nikon D300 tripod mounted, ISO 200. AFS Nikkor 18-85mm f3.5-5.6G ED. Exterior 1/400@f10 at 18 mm focal length, 35mm equivalent is 27mm — the interior shot is a composite with exposures all over the place.

See some more shots of the barn, a country crop duster air strip and another country store on our blog, Weekly Grist for the Eyes and Mind.
Click the jump wings
to see the previous
Photo of the Week.

Click the camera
for an index to every
Photo of the Week.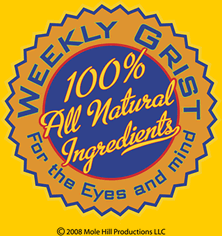 Most of the time, there is more to the Photo of the Week story than can be told in an essay. And most of the time there are more pictures to be seen. Presuming that some folk will enjoy being privy to this trove of information, I have created a blog, "Weekly Grist for the Eyes and Mind," where I am showing and telling "the rest of the story." There are also some blatantly commercial mentions of some of the things we do to earn our beans and taters. Click on the Weekly Grist logo and go to the blog. — J. D.