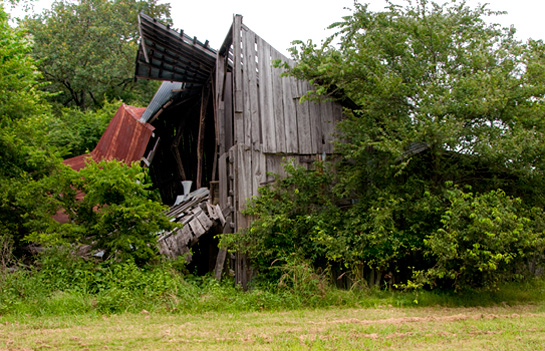 Sunday, July 5, 2009
Let's say you live in Italy, Greece, Egypt, or some other locality with a history of development far pre-dating 1492. And let's say you get this wild hair to see some ancient ruins. No problem. Swing by the pyramids, take a gander at the Roman aqueduct, or go take in a good dose of the Acropolis. Be back home, sipping a cool one before dark.
If you are in LA (Lower Arkansas), and experience a ravenous desire for ruins, tough luck — unless your passport is up to date. You are suffering ruin deprivation. Well maybe.
Yes, we do have some not exactly ancient ruins. You can see a good example above. A fine south Arkansas barn is yielding to the elements. It has, for the most part, been pummeled into submission. If it does not qualify as a "ruin" today, it will come not too many tomorrows.
The old barn was off the road a bit. I just caught a glimpse of the roof as I zoomed by, and then did a quick 180. I probably would not have looked except that there was one of those yellow and black Posted Keep Out No Trespassing Private Property We Are Watching You And You Will Go To Alcatraz If You Even Entertain The Thought Of Looking At This Property signs. In photographer, by the way, that translates to E X P L O R E M E .
There are some benefits to not-so-ancient ruins. Oftimes, neighbors can fill you in on the history of the "ruins." That's impossible if the ruins are bona fide a couple of thousand years old. Unfortunately, that wasn't the case on this visit, which was on July 4. The temperature was in the mid to upper nineties and the humidity was 6,036.9 percent. This means that sensible people are taking shelter, not crawling around old barns.
What you see above is the front of the barn, best I can tell. What you see below is the back, a logical observation arrived at by the process of elimination. I peeked inside and saw that one part of the barn was full of "artifacts," the largest of which was a mid-70s Ford automobile. The dust covered vehicle was probably driven into the barn. Other goodies included some old jacks, gardening tools, and miscellaneous other implements of days gone by.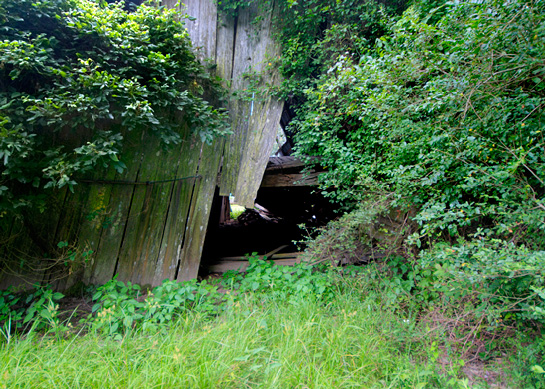 There are other accessible ruins, easier to find. Somehow, an abandoned strip mall or boarded-up flea market doesn't have the panache of an old barn.
N O T E S:
Nikon D-300 / ISO 200 Nikkor VR 18-200mm f3.5-5.6 G ED, tripod mounted. Both images are composited with different exposure data varies. I spot-metered some and matrix-metered some. Post processed in Photoshop CS4 extended, Photomatix HDR and Genuine Fractals Print Pro.

See another barn shot or two plus the house that goes with the barn, and a "you don't expect to see this" shot on our blog, Weekly Grist for the Eyes and Mind.
Click the jump wings
to see the previous
Photo of the Week.

Click the camera
for an index to every
Photo of the Week.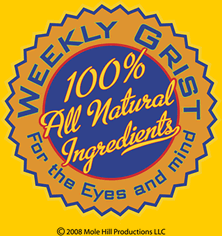 Most of the time, there is more to the Photo of the Week story than can be told in an essay. And most of the time there are more pictures to be seen. Presuming that some folk will enjoy being privy to this trove of information, I have created a blog, "Weekly Grist for the Eyes and Mind," where I am showing and telling "the rest of the story." There are also some blatantly commercial mentions of some of the things we do to earn our beans and taters. Click on the Weekly Grist logo and go to the blog. — J. D.