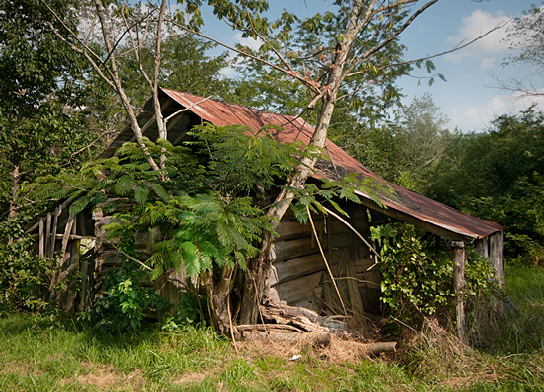 Sunday, August 9, 2009
It's not often that you run across a log structure which you strongly suspect is the real thing. Yes, you can see some log houses, but the logs came out of a machine, not the ground. This log building I do strongly suspect is the genuine item. Crafted from felled trees, pulled out of the woods by mules and shaped by sweat and strength. It is probably a small barn, since the logs are not chinked. One presumes the mindset was, "Since the critters are outside anyway, a roof over their head and thick logs between them and those who consider them a menu item was more than sufficient."
The log barn is west of Letona (and Pickens Chapel), Arkansas, in plain view on Arkansas Highway 310. Close by the log barn is a bigger barn. It is well constructed and very old. No one was on the scene and the neighbors were sparse, so I'm guessing.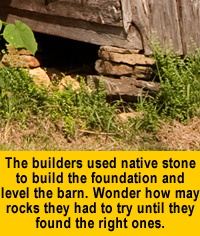 My guess is strengthened by the fact that the builder apparently used native stone to level the barn which is built on a slight slope. Take a look at rocks supporting the barn on the right side of the door. A stack of big rocks gives the approximate height needed to level the building. The smaller one fine tunes it. Repeat if necessary around the building. So, in addition to finding and felling the right trees, the builders had to find and transport the right rocks for the foundation.
Now we go to Lowes, Home Depot, or some such other supplier for just the right stuff. No chopping or hunting rocks required. We know that these two buildings have survived a long time, probably more than 100 years. I'm wondering if what we are building now will make it that long. That curiosity applies to other contemporary venues as well. Use your imagination.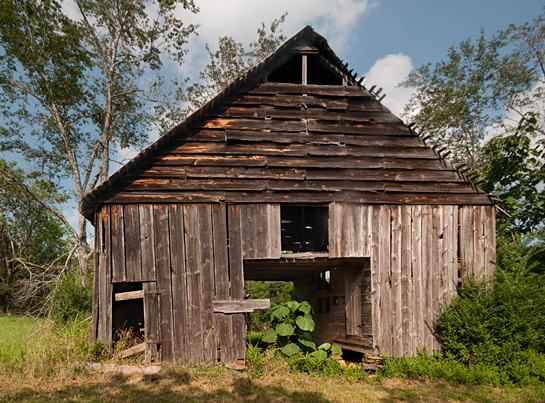 N O T E S:
Nikon D300, ISO 200, Nikkor VR 18-200mm f3.5-5.6 G ED, tripod mounted both shots. Post processed in Photoshop CS4 Extended and Genuine Fractals print pro. Both images are composited from several exposures. The base exposure for the barn and the log barn shots was 1/320 @ f-9.

See another picture of the barn and log barn on our blog, Weekly Grist for the Eyes and Mind. Also three more barns and some cows "cooling it."
Click the jump wings
to see the previous
Photo of the Week.

Click the camera
for an index to every
Photo of the Week.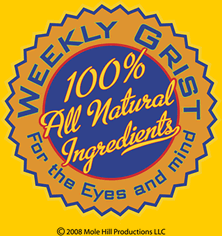 Most of the time, there is more to the Photo of the Week story than can be told in an essay. And most of the time there are more pictures to be seen. Presuming that some folk will enjoy being privy to this trove of information, I have created a blog, "Weekly Grist for the Eyes and Mind," where I am showing and telling "the rest of the story." There are also some blatantly commercial mentions of some of the things we do to earn our beans and taters. Click on the Weekly Grist logo and go to the blog. — J. D.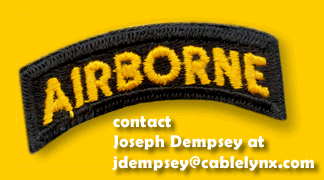 ---
---
---
---
---
---
---