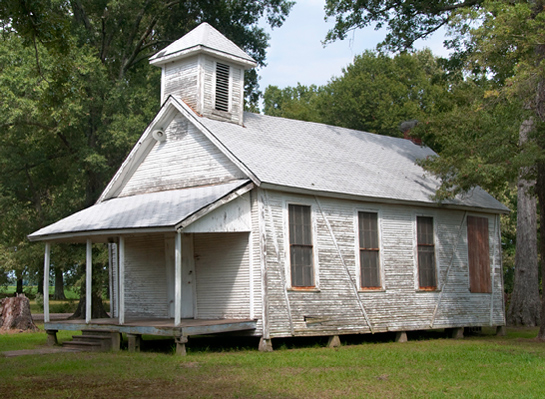 Sunday, September 13, 2009
Despite what your eyes are telling you, this is not a church. It is Idlewild Schoolhouse, south of DeValls Bluff, Arkansas, on Arkansas Highway 33 at Idlewild. I can't find any evidence of a town called Idlewild, but the Arkansas Department of Transportation and Highways saw fit to erect a sign there saying, you guessed it, Idlewild. So I guess that makes it official.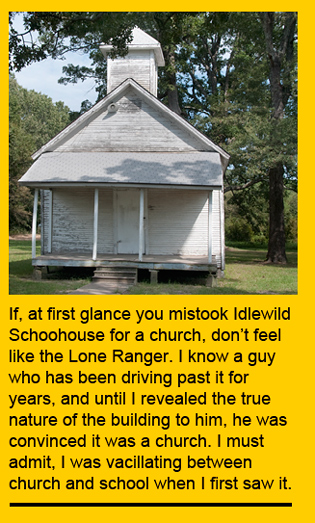 As luck would have it, while reconnoitering the area on a narrow gravel road for other targets, I noticed another truck coming toward me. We both had to slow down to allow each other to pass, so as we did, I stuck my noggin out the window and bade him to stop. He obliged, and I asked him if the old building was a school or a church.
As a course of politeness, we introduced ourselves — and then Ray Minor told me the building is Idlewild Schoolhouse. And further, that he had participated in a Boy Scout Troop and attended Vacation Bible School there. He said his sister had attended school in the building as well. But the real pearl of wisdom he revealed was the name of Marie Price, a nearby resident, who is the definitive well-spring of information on Idlewild Schoolhouse.
I found Marie, and after a bit of introductory banter, she came forth with a plethora of historical details about Idlewild Schoolhouse. The building was built in 1921 and remained an active school until it was consolidated into the DeValls Bluff School system in 1949.
When Marie started at Idlewild Schoolhouse in the fifth grade, customs were substantially different than now. During those years, school sessions were adjusted to allow students to help out during harvest, particularly when it was time to pick cotton. "They frequently paid the teachers in hog meat, eggs, or other home grown products," Marie said. Although the term was yet to be coined, the building back then represented the essence of "multi-tasking." According to Marie, it was used for public meetings, church services, weddings, socials, and a myriad of other uses.
Folks, about here you expect to see a picture of Marie. And rightly so. However, during the interview, she had her hair up in rollers. I would much prefer to let her appearance remain a shrouded mystery than display her for the world to see in rollers, and incur her wrath. Marie is a strong and resolute woman.
In 1949, after consolidation doomed its educational mission, a local church made an offer to buy the building. Church members let it be known that once they assumed ownership, Idlewild Schoolhouse would no longer be used for anything but church services. That did not set well with Marie and her local Home Extension Club. These stalwart women trumped the ecclesiastical offer and bought the building. Their ownership continues today. Under their stewardship, the building has been used for everything from baby showers to women's wrestling.
The Home Extension Club these days is struggling to keep the building available. We wish them luck. If anyone is of a mind to help, contact me, and I will put you in touch with Marie and her group. Find out more about Idlewild Schoolhouse here:

After our discussions, Marie, still an active farmer at the age of 87, led me to one of the family's barns to show off the partial results of their pumpkin harvest. Turns out, the Prices, Marie and her sons, are not only successful rice and soybean farmers, they are heavy hitters in the pumpkin business and provide pumpkins to stores and distributors on a wholesale basis. Their customers have relied on the Prices for years as a dependable and reliable source of pumpkins.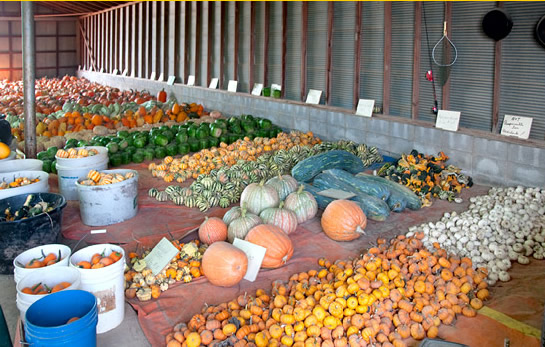 Pumpkins A-Plenty — This is the tip of the ice, er, pumpkinberg at the Price Farm. The other side of the barn has this many pumpkins again. Behind the barn, there are a lot more. This barn is actually the local pumpkin market where the Prices offer their products for sale to the public. Customers far and wide know about it and many will come a good way to get their pumpkins here at this unattended market. There is a bucket at the door where customers can leave payment for what they take away. "We've done it like this for years," says Marie Price. "Folks expect it and they always leave payment for their pumpkins."
Marie, her family, and her community deserve our admiration. They have the tenacity to continue a successful family business. They assume the mantle of leadership in their community. Because it is the right thing to do. If only larger venues would adopt these traditional principles.

N O T E S:
Nikon D300, Nikkor VR 18-200mm f3.5-5.6 G ED. Tripod mount. The pictures are composites, so exposure varies. Base exposure for the schoolhouse was ISO 200, 1/320 @ f9, 31mm which is equal to 46mm/35. Post processed with Photoshop CS4 Extended and Genuine Fractals print pro.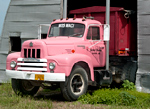 There's a pink truck, a restored tractor, and more to discover in this rural neighborhood. See these and other pictures on our blog, Weekly Grist for the Eyes and Mind.

Click the jump wings
to see the previous
Photo of the Week.

Click the camera
for an index to every
Photo of the Week.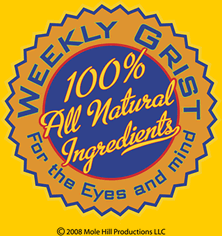 Most of the time, there is more to the Photo of the Week story than can be told in an essay. And most of the time there are more pictures to be seen. Presuming that some folk will enjoy being privy to this trove of information, I have created a blog, "Weekly Grist for the Eyes and Mind," where I am showing and telling "the rest of the story." There are also some blatantly commercial mentions of some of the things we do to earn our beans and taters. Click on the Weekly Grist logo and go to the blog. — J. D.