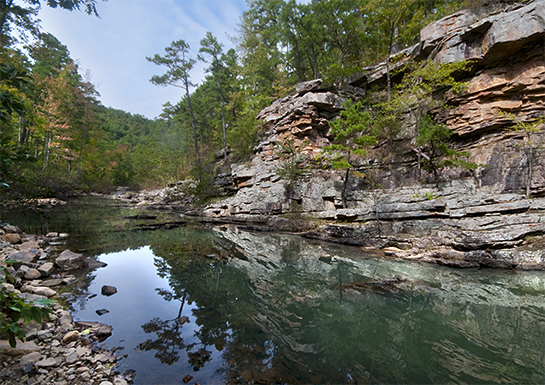 Sunday, October 11, 2009
Sugar Creek is a clear mountain stream that flows parallel to Forest Service/County Road 19 for several miles south of Booneville, Arkansas. That's where you'll find this bluff. On the way, you'll cross Sugar Creek on a low water bridge at Koppers Ford, where you'll also find a U.S. Forest Service campground.
The bluff is akin to a four-story building in height. As it wets

its feet in the creek, the bluff idly sits there, smugly inviting the human visitor to soak in the intricate details of its beauty and strength. Mother Nature and her minions are that way. She could care less whether or not we behold and experience her boundless litter of beauty spots. Mother Nature is not in the spoon-feeding business. She puts the beauty there, and then her responsibility ends. It's up to us to seek it out.
For those of us who do seek out these hidden pearls of rugged beauty, the rewards can be soul-cleansing. At the very least, you get to have a "wow!" moment. And, if you choose not to do the seek, you will not have the "wow!" The sad part about that is, not only will you have missed a "wow!" moment, you won't know you missed it. Nothing ventured, nothing gained.
In all fairness, "wow!" moments can occur in locations other than the boondocks, but the ground rules are the same: You have to put yourself in "wow's" way.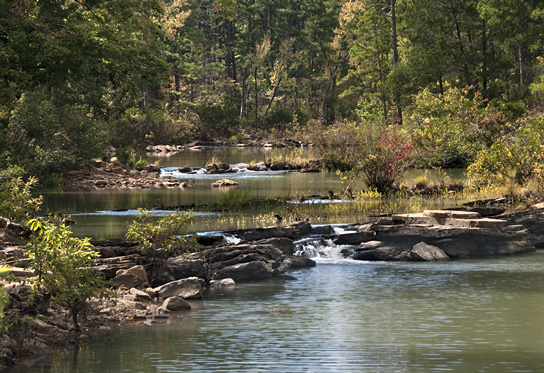 Knoppers Ford gives you an opportunity to get up close and personal with Sugar Creek. Here the stream is in its tranquil mode. Flattened vegetation and an abundance of flotsam and jetsam in the immediate area give evidence that only a short time back, Sugar Creek was in its manic mode. Seeing a mountain stream in that mode is definitely a "WOW!" moment, though a bit bone-chilling.
Driving Instructions: For those close enough to explore, it ain't hard to find. Travel south from Booneville, Arkansas, on State Highway 23 until you get to Arkansas 116. Continue south, hit a county road, and then proceed south on County/FS Road 19. Provided you are successful in that venture, you will reach Knopper's Ford across Sugar Creek. Stop and enjoy the scenery while you are at it. You have to keep going a few miles further south — keep one eye on the road and one eye peeled to the left until you catch a glimpse of the bluff through the trees. Sugar Creek and Road 19 run nearly parallel for several miles, so it should not be a major trick.
N O T E S:
Nikon D300, Nikkor VR 18-200mm f3.5-5.6 G ED, all ISO 200, tripod mount for the creek pictures which are composites, so exposure varies. Base exposure for Knoppers Ford was 1/200 @ f7.1 For the bluff, 1/640 @ f10. The young buzzard, 1/250 @ f8 with a Nikkor VR 18-200mm f4.5-5.6 D ED, at full extension. Post processed with Photoshop CS4 Extended and Genuine Fractals print pro.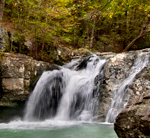 But wait, there's more on our blog, Weekly Grist for the Eyes and Mind. See a couple of waterfalls, some crazy street signs, and an old abandoned house. Click here.



Click the jump wings
to see the previous
Photo of the Week.

Click the camera
for an index to every
Photo of the Week.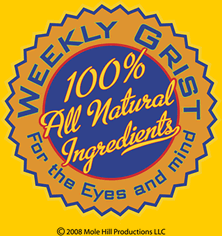 Most of the time, there is more to the Photo of the Week story than can be told in an essay. And most of the time there are more pictures to be seen. Presuming that some folk will enjoy being privy to this trove of information, I have created a blog, "Weekly Grist for the Eyes and Mind," where I am showing and telling "the rest of the story." There are also some blatantly commercial mentions of some of the things we do to earn our beans and taters. Click on the Weekly Grist logo and go to the blog. — J. D.