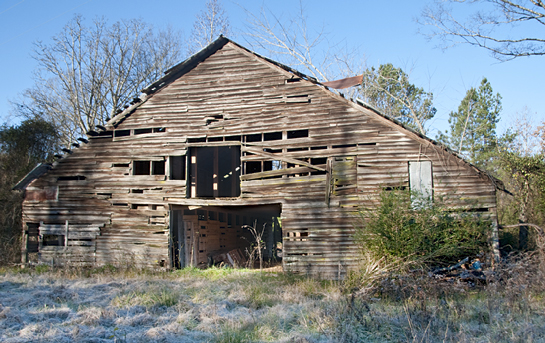 Sunday, December 27, 2009
Among barns, Rodgers Barn in Cleveland County, Arkansas, is one of the larger ones I've encountered. You round a curve on Mt. Elba Cutoff Road and there it is, bigger'n Dallas and begging to be shot. The grass in front of the barn has a light coat of frost, a standard component of early morning winter shots.
The best information I've been able to uncover tells us that it was constructed in the 1920s by Mr. E. P. Rodgers. For Arkansas history buffs, Mr. Rodgers was the father of Dr. Porter Rodgers, owner of "Rodgers Perfection," a world champion Tennessee Walking Horse in the fifties. Back in that time, pictures of Dr. Rodgers and his horse were seen virtually "everywhere" in the state. Kind of like NASCAR driver Mark Martin today.
At the time the barn was in use, it was home to a lot of mules, who pulled plows, disks and other implements necessary to raise cotton and corn. Although the area is sparsely settled today, according to my sources it was a thriving agricultural community with a gin. No doubt there was a store as well, but it was not mentioned by any of my informants.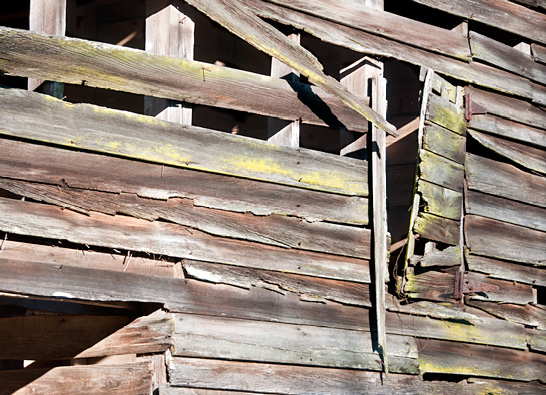 If the paint remnants you see above are telling the truth, it appears that Rodgers Barn was painted yellow instead of the traditional red you see on most other barns.
With the changes in agriculture after World War II, the barn fell from favor, so to speak, and has slowly deteriorated. However, given its age, it shows some staying power. But if a bad storm were to hammer it — and that's a good possibility, given its vulnerable location — the old barn could rapidly approach its end.
Rodgers Barn stands as a silent reminder of times which, in the overall scheme of things, were not all that long ago, but radically different from our contemporary age of Twitter, terrorism, the Internet, quad-core processors, Blackberries, consummate political bickering, telemarketing, and $5 a gallon gas — none of which were even figments of the wildest imagination at the time. And, if you are reading this, you lived to see it. How does it feel, being a part of history?
N O T E S:
Nikon D300, tripod mounted, ISO 200, Nikkor VR 18-200mm f3.5-5.6 G ED/tripod mounted. The pictures are composites — head on pictures, base exposure for full front 1/200 @ f 6.3, detail view 1/125 @ f 5.6; Further note. I found this structure the evening when the sun was in the wrong place. I took a compass reading of the direction of the front where I wanted to shoot and went here to find out where the sun would be the next (this) morning. Turns out, it was close to perfect. These little calculations can save aspiring photographers needless and disappointing trips.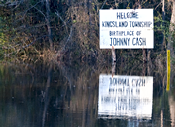 But wait there's more:
It's wet and wild on our Blog, Weekly Grist for the Eyes and Mind. There's high water in Cleveland County. "How high's the water Mama?"



Click the jump wings
to see the previous
Photo of the Week.

Click the camera
for an index to every
Photo of the Week.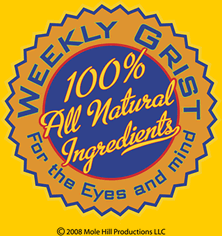 Most of the time, there is more to the Photo of the Week story than can be told in an essay. And most of the time there are more pictures to be seen. Presuming that some folk will enjoy being privy to this trove of information, I have created a blog, "Weekly Grist for the Eyes and Mind," where I am showing and telling "the rest of the story." There are also some blatantly commercial mentions of some of the things we do to earn our beans and taters. Click on the Weekly Grist logo and go to the blog. — J. D.