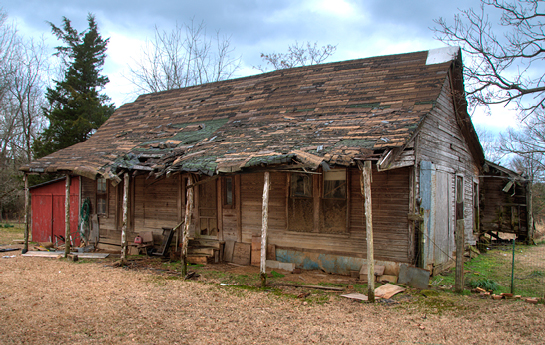 Sunday, February 7, 2010
Thanks to my friend Bob Abbott for this story. A few weeks ago he told me about this house and several other buildings on the site, including a couple of barns. Built in the late 1800s, the house, like a lot of other rural domiciles, got an addition in the early 1900s. The first order of business for a family was always shelter. As families grew, so did the shelter.
The house at Smead, Arkansas, was Bob's childhood home. But family connections went further back than that: Bob's grandfather was born in the house. He died in it, too.
There's not much left at Smead today. In fact, this old house, two barns, some other out buildings, a newer house, and a nearby church are about the entire crop of structures for Smead.
It wasn't always that way. "My dad worked at a saw mill here," Bob said. "I'm guessing he was one of 200 or so employees at the mill." The mill, like many businesses in remote areas, had a company store. Employees could get coupon books and draw against their salary. The community was a busy one with people, jobs, and other activities.
Like many other small communities, changing economic times accelerated the demise of Smead. As highways and communication improved, businesses shifted to more populated areas. But there is hope. A new family now owns the property. They are busy doing improvements, and once they reach a satisfactory point in their improvements, they'll become the next residents.
Smead's population will surge ahead by a few souls. The old place will again experience children, dogs, kinfolks, and visiting neighbors. As a home place, it can again be the site of triumphs and complications, which are a normal part of every family's life. If only the old place could talk.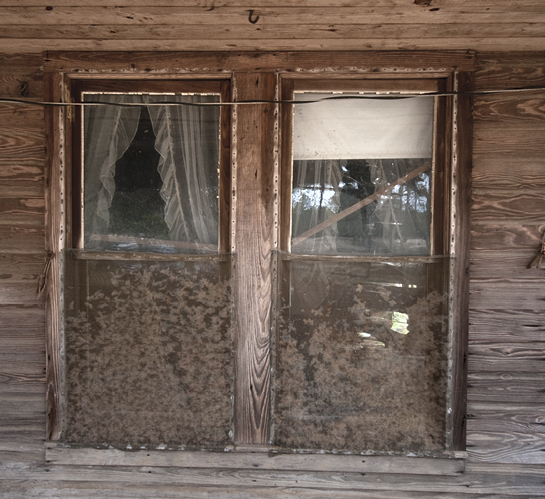 The last residents of the old place left their lace curtains hanging in what one would guess is the living room, more popularly referred to in the South of that era as the "front room." Perhaps they were wishing a warm welcome to the next residents, who never materialized.
In the meantime, Bob Abbott is looking for a way to move at least part of the house to his property, located 20 or so miles to the northeast on Pumpkin Hill Road near Rison, Arkansas. Photo of the Week readers have been there before.
All told, with a new family at Smead, and the old building safely moved to Pumpkin Hill Road, there may be a happy ending in the story of the old house. Thanks again to Jon Phillipi for accompanying me on the trip. For barn lovers, I will return to Smead sometime this week and shoot the barn, which will become the next Photo of the Week.
N O T E S:
Nikon D300 tripod mounted, ISO 200; House shot Nikkor VR 18-200mm f3.5-5.6 G ED, 1/160 @ f5 base exposure; Window shot Sigma 10-20, f4-f5.6D DC HSM, 1/80 @ f4.5. Both images composited. Post processed with Photoshop CS4 Extended, Photomatix HDR and Genuine Fractals Print Pro.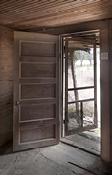 But wait, there's more:
See more pictures of the old house, inside and out, and be regaled with a few more pearls of information on our blog, Weekly Grist for the Eyes and Mind. Click here to go there.



Click the jump wings
to see the previous
Photo of the Week.

Click the camera
for an index to every
Photo of the Week.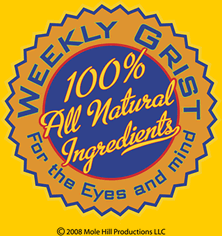 Most of the time, there is more to the Photo of the Week story than can be told in an essay. And most of the time there are more pictures to be seen. Presuming that some folk will enjoy being privy to this trove of information, I have created a blog, "Weekly Grist for the Eyes and Mind," where I am showing and telling "the rest of the story." There are also some blatantly commercial mentions of some of the things we do to earn our beans and taters. Click on the Weekly Grist logo and go to the blog. — J. D.