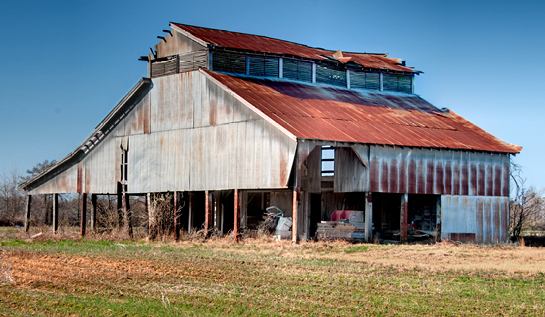 Sunday, March 14, 2010
Sound effects were a part of this story. As I shot the old structure at Ladd, Arkansas, a brisk March breeze rattled and whistled through loose and torn sheets of "roofin' arn," a building material known outside southeast Arkansas as corrugated metal roofing. That the barn's exterior is roofin' arn rather than the ubiquitous one-by-six clapboards most commonly wrapped around the majority of old barns we see around here should have been my first clue that I was not looking at an old barn.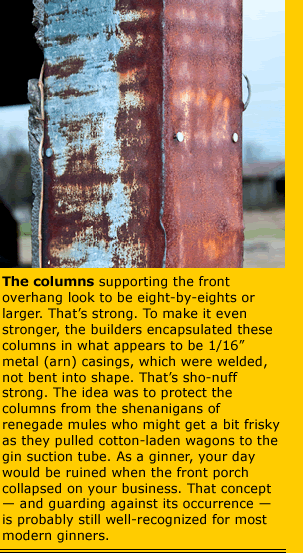 But, a cursory glance triggers the latent barn recognition neurons floating around in most people's noggins. I talked to three folks about the "old barn" at Ladd, and each confessed they knew little about it. Apparently, like me, these misguided souls probably believed it was a barn.
The old building is not an old barn. It is an old gin. I was set straight by Randy Shell, whose father, Lester Shell, worked at the gin sometime in the 20s.
Once I understood the original purpose, the giant side entrance and huge roof ventilation louvers began to make sense. The gin was built and put into steam-powered operation sometime in the 1800s. In the 1920s it was taken out of service and has served various owners as a storage facility ever since.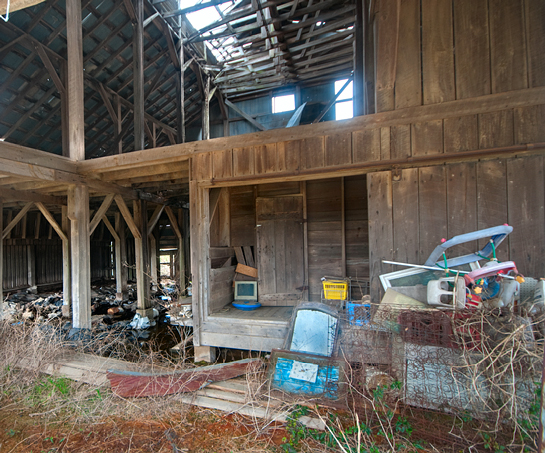 Nowadays, the gin is storing mostly detritus, rejected but not discarded, some of which was not even in the realm of imagination when the gin was in its heyday. There seems to be some ignominy in a structure surviving well to the south of 100 years serving as a repository for thrown-off electronic and plastic scraps of society.
There's nothing like clearing the air of misconceptions. I've been driving past the old gin and believing it was a barn since the early sixties. Though benignly wrong, the misconception is a symptom of insufficient curiosity and subsequent follow up interrogations of those who know. My only salve in this confession is that I am not by myself regarding this structure. If that sounds like a cop-out it is.


For those of you who have followed CornDancer's Photo of the Week for a while, you may recall an occasional mention of my camellia. Its annual blooming is somewhat of a cause de célèbre in the Dempsey household. It's back and in full swing. See the original story of the hardy camellia here → → →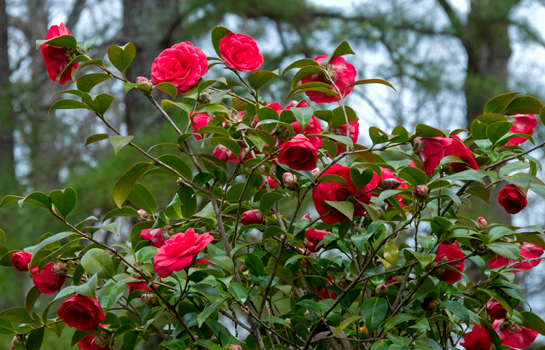 Out my kitchen window,
the fickle camellia orchestrates its crimson performance.

N O T E S:
Nikon D300, tripod mounted, All shots composited, AF-S VR Nikkor 18-200 f3.5-5.6 ED D, ISO 200; Base exposures: Outside 1/250 @ f8, Column 1/250@f4, Inside 1/60 @ f4.2; Camellias hand held 1/250 @ f8 ISO 400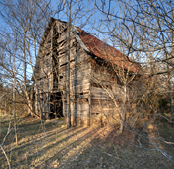 More barn pictures on our blog, Weekly Grist for the Eyes and Mind. See a cool old barn in winter mode, nearly impossible to see in spring and summer mode, plus some spring posies. Click here to go there. A rewarding trip I might add.


Click the jump wings
to see the previous
Photo of the Week.

Click the camera
for an index to every
Photo of the Week.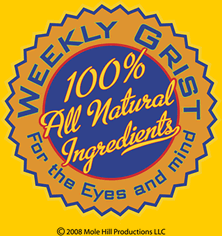 Most of the time, there is more to the Photo of the Week story than can be told in an essay. And most of the time there are more pictures to be seen. Presuming that some folk will enjoy being privy to this trove of information, I have created a blog, "Weekly Grist for the Eyes and Mind," where I am showing and telling "the rest of the story." There are also some blatantly commercial mentions of some of the things we do to earn our beans and taters. Click on the Weekly Grist logo and go to the blog. — J. D.