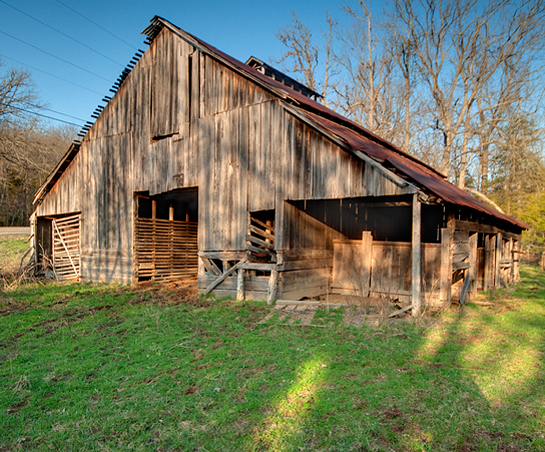 Sunday, April 4, 2010
To be bone-chilling cold in the winter, hotter than the hubs of Hades in the summer, have floors generally covered with a popular natural fertilizer, leaky roofs, sadly in need of a paint job, and completely void of modern conveniences, old barns remain close to the top, if not the most popular subjects of the visual pecking order when it comes to viewer preferences.
Perhaps it's because they, the old barns, are survivors of a simpler time and deserve our admiration. Maybe it's because folks like to see something which was created prior to (or in some cases, not long after) their birth. Or, perhaps it is none of above and, " … no explanation is needed, thank you very much, I just like 'em." I recommend the later choice, since some things simply don't need to be explained, justified, or defended.
The barn you see above may be seen on the east side Arkansas Highway 9 south of Mountain View, Arkansas. Sorry, I failed to record the mileage. It is in a downhill curve, so it does sneak up on you. I originally caught it in a rear view mirror.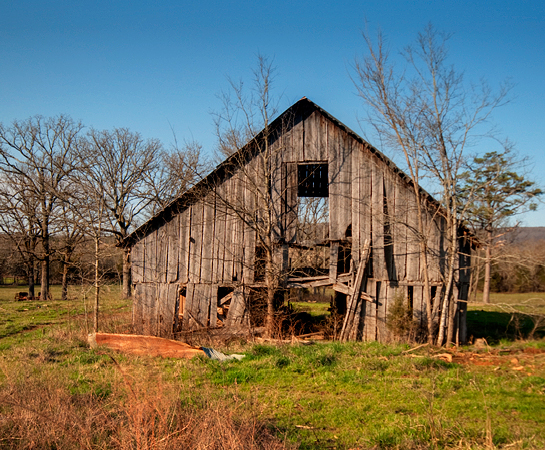 This neat little barn is on the east side of Arkansas Highway 5, south of Mountain View. The only way you can miss it is if you have complete tunnel vision. It is on a straight-stretch, so it does not sneak up on you. Since it faces west, the afternoon is the best time to see it at its best.
Unlike old barns , which are still more or less plentiful in rural areas, old windmills are as rare as eyebrows on eggs. Fortunately, the one below is easy to find and can be seen from the road.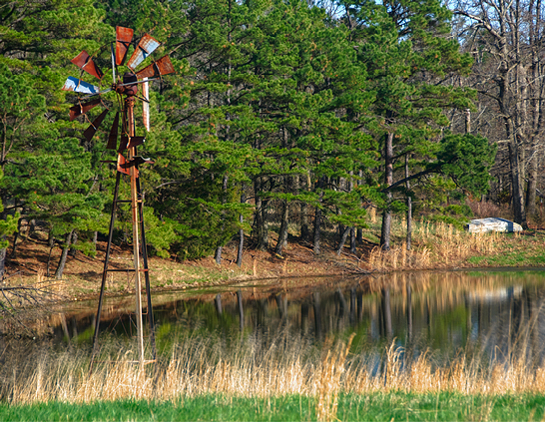 It's an Aermotor: Leave Drasco, Arkansas, head north on Five Mile Road, and you will soon see this old windmill (Aermotor) on the east (right-hand side) of the road. It has nearly, but not quite caved-in from the effects of a long onslaught of nasty Arkansas wind and weather. You will not have to leave your vehicle to see it.
For those of you who prefer to eschew gravel roads and well rutted pig trails, these three visual snippets are easy targets if you are in the neighborhood. If you aren't, you have now seen 'em without going anywhere. I have done my duty. It's a nasty job, but someone has to do it.

N O T E S:
Nikon D300, tripod mounted. Barn-1 and Barn 2, Sigma 10-20 f4-5.6 EX DC HSM; Barn-1, ISO 200, 1/1000@f5.6; Barn 2, ISO 400, 1/160@f4.5; Aermotor, AF-S VR Nikkor 18-200 f3.5-5.6 ED D, 1/500@f5.3. (Base exposures for composited images).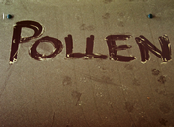 READ ABOUT the yellow peril
on our blog, Weekly Grist for the Eyes and Mind. More pictures,
more sly observations. Click here
to go there.


Click the jump wings
to see the previous
Photo of the Week.

Click the camera
for an index to every
Photo of the Week.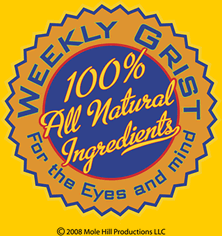 Most of the time, there is more to the Photo of the Week story than can be told in an essay. And most of the time there are more pictures to be seen. Presuming that some folk will enjoy being privy to this trove of information, I have created a blog, "Weekly Grist for the Eyes and Mind," where I am showing and telling "the rest of the story." There are also some blatantly commercial mentions of some of the things we do to earn our beans and taters. Click on the Weekly Grist logo and go to the blog. — J. D.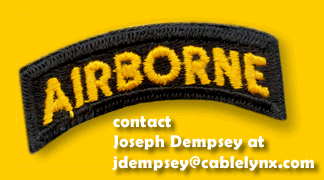 ---
---
---
---
---
---
---
---