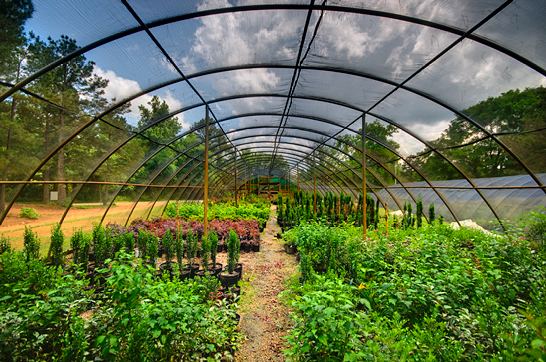 Sunday, May 16, 2010
As a grower of ornamental plants, Brian Kirksey of Fendley, Arkansas, is good at what he does. In fact, Kirksey was named the Swisher Sweet Southeastern Farmer of the Year in 2008, just a year after the Kirkseys — Brian, his wife Nan, daughter Kathryn, and son John — were named Arkansas Farm Family of the Year. That's even more amazing when you learn that after graduating from Henderson State University, Brian Kirksey had no intentions of being a farmer.
Fate, though, can change intentions.
In 1988, Brian lost his job at Reynolds Metals in nearby Arkadelphia. Faced with some tough decisions, he opted to follow an idea that had first occurred to him years before as a schoolboy employee of a nursery business in Amity, Arkansas. "I worked there from the ninth grade until I graduated from college," Kirksey said. "All the while I was working there, I often wondered why the company didn't propagate its own plants."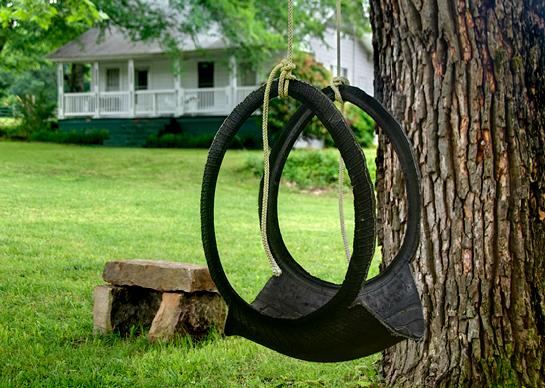 Just across the road from the main premises of Brian Kirksey's farm is the home of his forbearers. "My great-great grandfather came here around 1874. There have been Kirkseys here ever since," Brian Kirksey reported. Across from this house is the Fendley Store, which was established by his great grandfather in 1907. The store closed in the forties, but the Kirkseys have not allowed it to deteriorate like so many old business establishments have. (See pictures of the store on our blog, Weekly Grist for the Eyes and Mind, link below.)
Brian had one big advantage. He lived on a family farm started by his great-great grandfather Kirksey around 1874. That was also a motivation. He and his family wanted to stay there. So he made the decision to go into the plant propagation business. Working with the late Ken Scott, a fine horticulturist with the University of Arkansas, he propagated 50,000 plants the first year. (Before we go any further, any mention of Ken Scott should always include the fact that he was a world-class whittler. His artistry was popular and always in demand).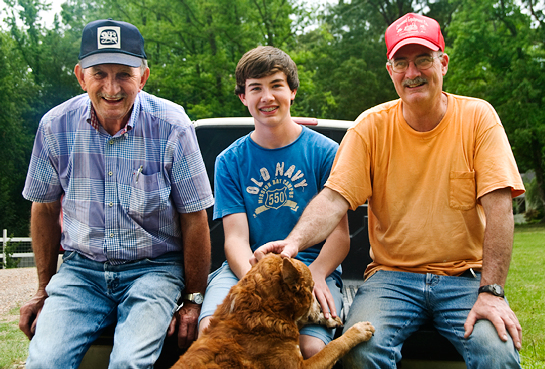 Three generations of Kirkseys make their home in Fendley. That's the name of the crossroads where they live. The nearest town is Amity. Late on a Saturday afternoon, they were busy with chores around the farm. Left to right, Bill Kirksey, father of Brian; John Kirksey, son of Brian; and ... hisself, Brian Kirksey. One of five Kirksey dogs is receiving what he considers to be proper attention.
Once the propagation business was rolling, Brian's former schooldays employer became his biggest customer. At that point, being dissatisfied with the commercial greenhouses he was buying, Brian designed and built his own. When a late-eighties giant snow storm crushed a huge number of neighboring greenhouses, Brian's houses were still standing, and . . . . all of a sudden, Brian was in the greenhouse construction business.
Now, 22 years later, the nursery business, Spring Creek Nursery, is alive and well despite the untoward directions taken by the American economy in the last few years. "It has made us pay very close attention to what we are doing," Brian says.
From Brian Kirksey, one would expect no less. He saw what he needed to do and did it. He burned no bridges. He saw opportunity and knew what to do with it. No doubt a result of good "upbringin'." Methinks that's the American way.
N O T E S:
Nikon D300 tripod-mounted for greenhouse and house. Hand held for the guys in the truck. ISO 200. Greenhouse, base exposure 1/160@f6, Sigma 10-20 f4-5.6 EX DC HSM; House 1/160@f3.8, Sigma 10-20 f4-5.6 EX DC HSM; Guys on tailgate. 1/160@f6.3, AF-S VR Nikkor 18-200.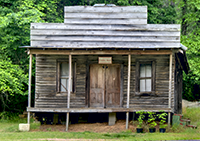 MUCH MORE!
on our blog, Weekly Grist for the Eyes and Mind. See Fendley store, a fully restored shotgun house, and more greenhouse pictures. Plus a link to our weekly high-resolution gallery of all CornDancer and Weekly Grist pictures, plus a few from the same shoot not published elsewhere. Click here to go there. Satisfaction Guaranteed.


Click the jump wings
to see the previous
Photo of the Week.

Click the camera
for an index to every
Photo of the Week.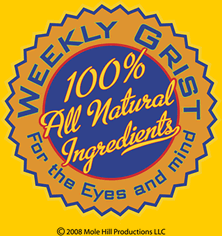 Most of the time, there is more to the Photo of the Week story than can be told in an essay. And most of the time there are more pictures to be seen. Presuming that some folk will enjoy being privy to this trove of information, I have created a blog, "Weekly Grist for the Eyes and Mind," where I am showing and telling "the rest of the story." There are also some blatantly commercial mentions of some of the things we do to earn our beans and taters. Click on the Weekly Grist logo and go to the blog. — J. D.