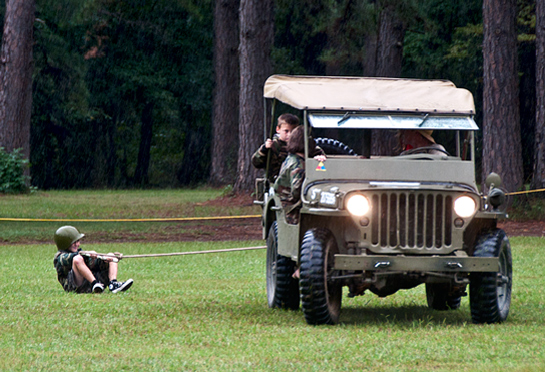 Jeep Yard-Skiing: Grinning from ear to ear, young Thomas Hopkins
is slipping and sliding on a smooth-bottomed mess hall platter
behind a well restored jeep. At the wheel of the jeep is his father,
David Hopkins. Just like water skiing, when the skier gets weary,
he drops the rope. Though the World War II vintage jeep
was never intended for such use, it does a good job of entertaining kids
— and , I might say, their parents, grandparents, and on-lookers as well.

Sunday, September 26, 2010
Had you been on Petit Jean Mountain in central Arkansas, September 23-25, 2010, you might have had to pinch yourself to see if it was really you and that it really was 2010, not the forties, fifties, or sixties. The mountain was the site of the 10th Annual Petit Jean Arkansas Military Vehicle Preservation Association Rally. Once you entered the campgrounds, you were in the midst of a rolling outdoor museum of jeeps, trucks, ambulances, and a World War II U.S. Army Harley-Davidson, well restored and looking good.
Despite the collection of vehicles for war, the members and guests are a family-oriented lot. The demographics run from grade-schoolers to World War II vets. Do the math and that is a respectable range by any measure. And though you might think of military vehicles as the ultimate "boy-toys," many of the participants in the organization are women (married to the guys) and share their spousal unit's enthusiasm for olive-drab wheels.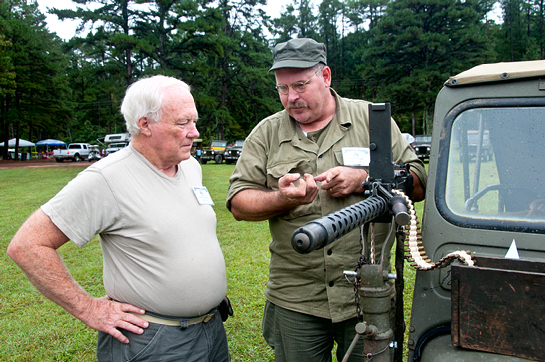 Tom Essary, who brought his jeep from Arlington, Texas, discusses the finer points of a .30 caliber (30-06 cartridge) Browning air-cooled light machine gun mounted on his vintage WWII jeep, with Bob McFarland, who is president of the Mid South MVPA of Atoka, Tennessee. The gun is fully functional for automatic operation firing blank ammunition. The owner let meeting attendants fire the gun. He said that when he was a boy, he had a toy jeep with a machine gun and now he has the real thing. Unlike the general population, hearing a machine gun bark did not cause panic among attendees or raise many eyebrows for that matter.
Enthusiasts from Kansas, Oklahoma, Louisiana, Tennessee, Texas, Georgia, Mississippi, and Illinois converged on the mountain to join native Arkansans for the event. Virtually all of the participants in the organization and rally restore and maintain their own vehicles. Turns out, they not only revel in tinkering with and driving their vehicles, they delve deeply into the history surrounding their vehicles.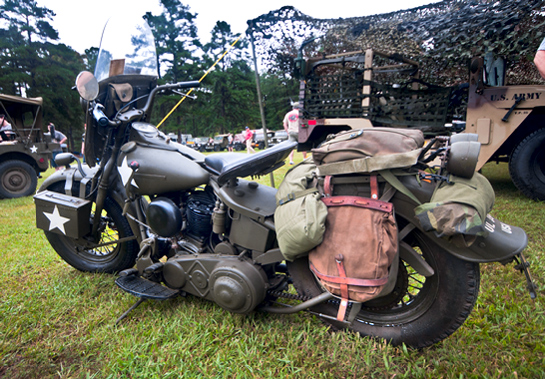 This World War II U.S. Army Harley-Davidson was restored with an eye for detail by Bill Thorne of Yellville, Arkansas. The "hard-tail" design left any shock-absorbing duties to springs under the seat, which were woefully short in field conditions. My fanny aches just to think about it. The only parts not original equipment on the bike are the fenders, which Bill crafted from plans for the original.
These folks put their money where their mouths are in pursuing their avocation. In so doing, they help us remember some of the heroic and sacrificial moments of our history. Anyone short of being brain-dead understands that there is a great benefit in knowing our history versus a great danger in forgetting it. 'Nuff said.
N O T E S:
Nikon D300, ISO 400, all; Jeep pulling boy, AF-S VR Nikkor 18-200 f3.5-5.6, 1/200@f5.6; Machine gun jeep, same lens, 1/250@f8; Harley, Sigma 10-20 f4-5.6 EX DC HSM, 1/160@f4.8. Post processed Photoshop CS5 Extended and Genuine Fractals Print Pro.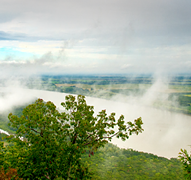 SEE MORE
MILITARY VEHICLES
and the view from the top of Petit Jean Mountain at Weekly Grist for the Eyes and Mind. Also, another Harley shot and a convoy to boot. Click here to go there. Be sure and look for "But Wait, There's More" to see our weekly picture-only galleries.


Click the jump wings
to see the previous
Photo of the Week.

Click the camera
for an index to every
Photo of the Week.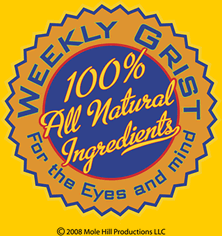 Most of the time, there is more to the Photo of the Week story than can be told in an essay. And most of the time there are more pictures to be seen. Presuming that some folk will enjoy being privy to this trove of information, I have created a blog, "Weekly Grist for the Eyes and Mind," where I am showing and telling "the rest of the story." There are also some blatantly commercial mentions of some of the things we do to earn our beans and taters. Click on the Weekly Grist logo and go to the blog. — J. D.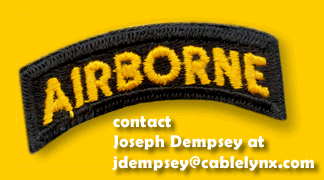 ---
---
---
---
---
---
---
---