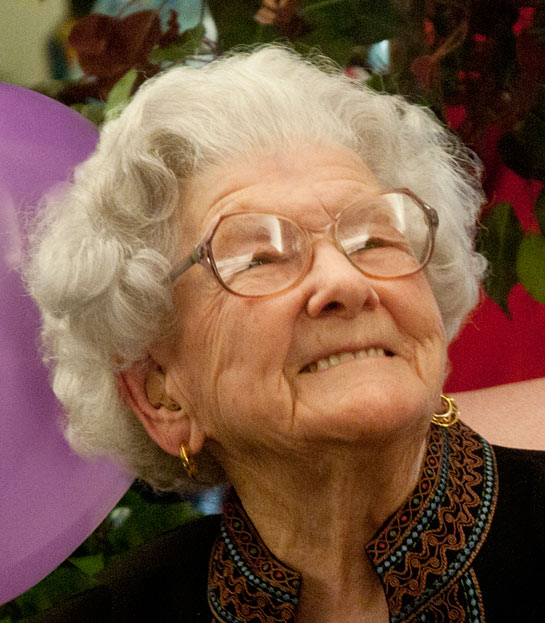 Sunday, Ocotber 3, 2010
October 3, year of our Lord 2010: One hundred years ago today, Lucille Montgomery was born in tiny Roe, Arkansas.
Different than many small towns of that era, Roe, like its distinguished daughter, is alive and well. U.S. Highway 79 runs smack through the middle of town. When Lucille was born, the highway was still a dirt road, and her parents operated a household sans electricity and running water. She had four siblings and was the third born. Humble, but not unusual beginnings for the times — and who's to argue with success?
Friday, October 1, was the official celebration day for Lucille's birthday. She is a resident of Whispering Knoll Assisted Living at Davis Life Care Center in Pine Bluff, Arkansas, where the celebration was held. An appropriate standing-room-only crowd of friends, family, fellow Whispering Knoll residents, staff, and a healthy collection of dignitaries gathered to offer their salutes to Lucille.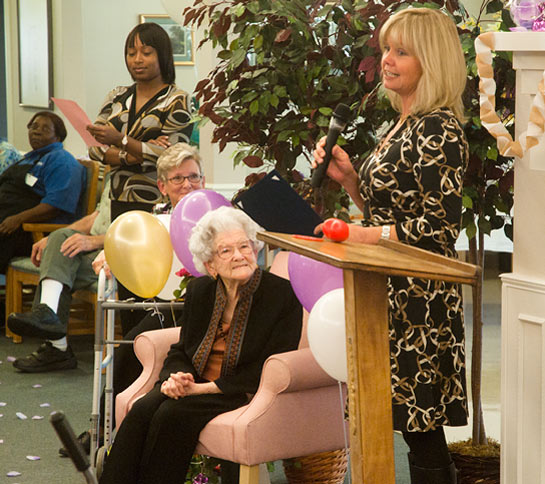 Greetings from Arnold — Tammy Greer (standing, right) of Moore Park, California, Lucille Montgomery's granddaughter, bears greetings from the Honorable Arnold Schwarzenegger, 38th governor of California, and reads his proclamation extolling the virtues of her grandmother at Lucille's official birthday party, October 1, 2010 at Whispering Knoll Assisted Living. To Lucille's left are Wilma Mitchell of Sheridan, Arkansas (seated), Nina Hunt, Whispering Knoll administrator (standing), and a Whispering Knoll employee (seated).
When you meet Lucille, you find it difficult to believe she is 100 years old. "My sight and hearing are not what they used to be," she says.
Small wonder considering the time her sensory parts have been on the job. Never mind the bothersome details, but the part of Lucille between her ears is fully functional.
While we visited, she answered two phone calls from well-wishers using the speaker. Her daughter, Wilma Mitchell, says her mother is "sharp as a tack." From what I experienced, Wilma's observation is 100 per cent correct.
Lucille Montgomery is a delight to be around, a fact her neighbors at Whispering Knoll are quick to tell you. It is a delight to share a conversation with her.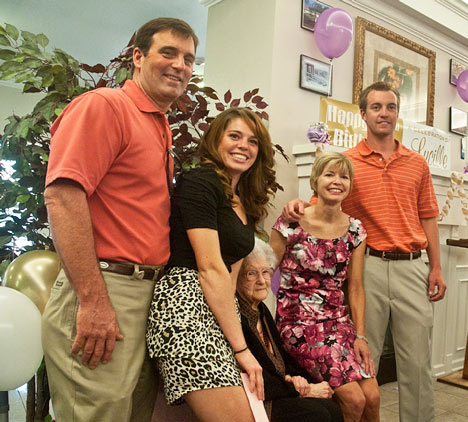 Lucille Montgomery's family came from California, Texas, and Indiana to celebrate the occasion with their matriarch. The Nocton family made their way from Richmond, Indiana, for the festivities. They are (from left) father Steve, daughter Amy, mother (and daughter of Lucille) Tara, and son Alec.
One would say Lucille Montgomery is a treasure. My guess is that this is not a recent development, but one which continues to evolve in its 100th year. It is our good fortune to know Lucille Montgomery.
N O T E S:
Nikon D300, ISO 2000, AF-S Nikkor 18-70 f3.5-4.5 ED DX, hand-held, all; Lucille, 1/80 @ f4.5; Tammy, 1/60 @f4.5 and the Noctons, 1/80 @f4.5. Post processed in Adobe Photoshop CS5 Extended and Genuine Fractals Print Pro.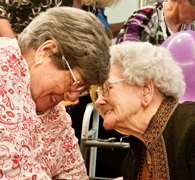 SEE MORE
of this celebration at Weekly Grist for the Eyes and Mind. People having fun and cuttin' the cake. After all, it ain't every day you get invited to a 100-year birthday party.


Click the jump wings
to see the previous
Photo of the Week.

Click the camera
for an index to every
Photo of the Week.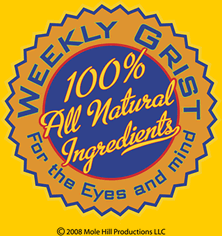 Most of the time, there is more to the Photo of the Week story than can be told in an essay. And most of the time there are more pictures to be seen. Presuming that some folk will enjoy being privy to this trove of information, I have created a blog, "Weekly Grist for the Eyes and Mind," where I am showing and telling "the rest of the story." There are also some blatantly commercial mentions of some of the things we do to earn our beans and taters. Click on the Weekly Grist logo and go to the blog. — J. D.