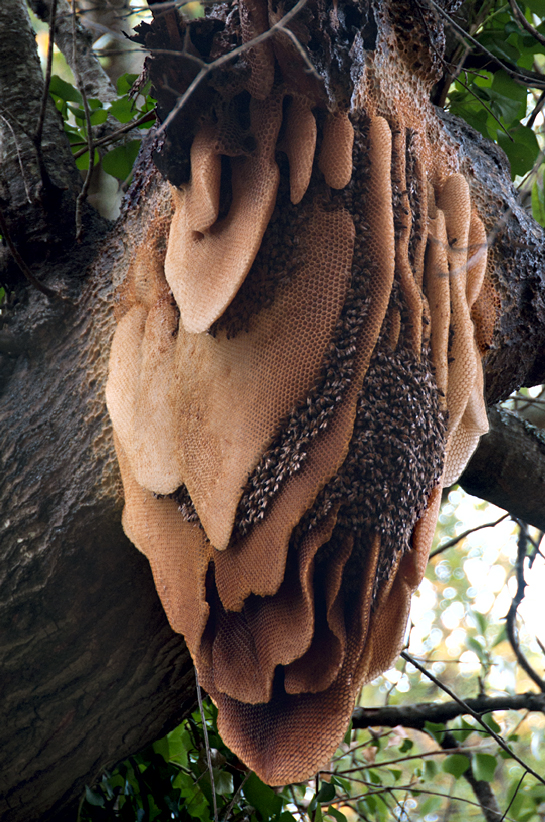 This is a not a giant primordial man-eating fungus in a deep foreboding jungle. It is a giant honeycomb smack-dab in the middle of town in Pine Bluff, Arkansas.

Sunday, November 14, 2010
As I set up my tripod to shoot my neighbor's spindly red-leafed crepe myrtle tree superimposed in front of his giant yellow-leafed hickory tree, he came tooling down his driveway and asked me if I had ever seen the giant honeycomb in that big ol' oak tree in the back yard on the premises of his former domicile.
I allowed as how I couldn't say that I had seen nor heard-tell of it, even though I have driven past the place at least 1.36 zillion times.
He proceeded to tell me about the size, the location, and the fact that it dripped honey on his former deck. He further informed me that he was leaving to photograph it. I allowed as how I would be right behind him.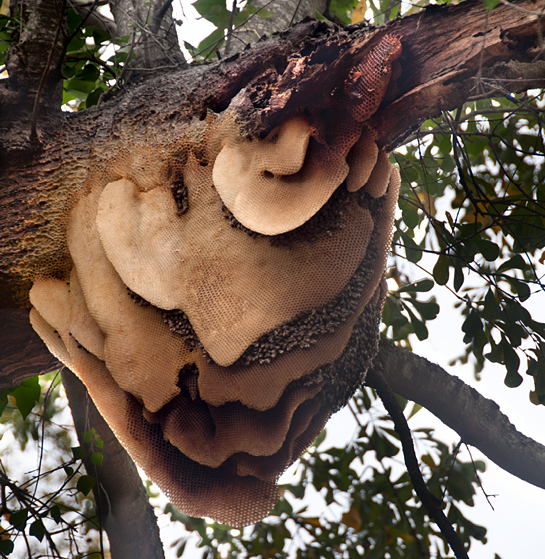 Given that honey and water may weigh close to the same eight-and-a-half pounds per gallon, and considering the size of this comb full of honey, one wonders how those bees glued the massive container to a tree when most of us can't fix the handle on a coffee cup with high-tech super glue.
I pulled up and there it was, probably twenty feet in from the curb and in the neighborhood of 40 feet straight up, bigger'n Dallas and as plain as the nose on your face once you looked in that direction. The day was chilly, so the bees were clustered together to create warmth, one would presume. Do bees get goose bumps?
According to my neighbor, the bees and their home have enjoyed that location for years. This conclusively proves that humans and wild bees are well compatible when the bees are 40 feet straight up. It also proves that the little boogers survive well at the confluence of two busy streets.
All of this new knowledge gives one pause to ruminate upon the discovery. What else am I missing? After all the thing has probably been there since my beard was black. And shame on me for not engaging in enough conversation with my neighbor to have made this discovery sooner. Look harder and talk more to your neighbors.
N O T E S:
Nikon D300, tripod mounted, AF-S VR Nikkor 18-200 f3.5-5.6 both shots, top shot 1/40@f5.6, second shot, 1/80@f5.6. Post processed with Photoshop CS5 Extended and Genuine Fractals Print Pro.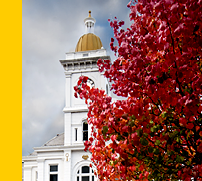 FALL FINALLY COMES TO LA
(lower Arkansas) at
Weekly Grist
for the Eyes and Mind.
See some nice fall colors
close to home. Short and sweet.
Click here to go there.


Click the jump wings
to see the previous
Photo of the Week.

Click the camera
for an index to every
Photo of the Week.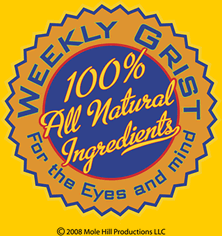 Most of the time, there is more to the Photo of the Week story than can be told in an essay. And most of the time there are more pictures to be seen. Presuming that some folk will enjoy being privy to this trove of information, I have created a blog, "Weekly Grist for the Eyes and Mind," where I am showing and telling "the rest of the story." There are also some blatantly commercial mentions of some of the things we do to earn our beans and taters. Click on the Weekly Grist logo and go to the blog. — J. D.