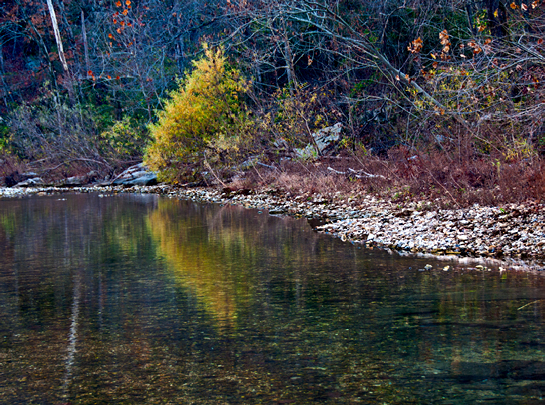 A tree reflects in a creek near Mitchell Road in Stone County, Arkansas. The picture was shot from a low-water bridge upstream of the tree. There were no signs to identify the stream. From map reconnaissance, the best I can tell, the creek is named "Roasting Ear Creek," properly pronounced "rohs'near." For non-southerners, a "roas'near" (the proper spelling), is a ripe ear of corn.
Sunday, November 21, 2010
In north Arkansas, leaves have dropped and most of the trees are now bare. While some may see this as a bleak environment, the fact is that for the next few months, Mother Nature will pull back the curtains on wonders we cannot see when the mountains are sporting their full measure of foliage.
This time of year, you begin to see drop offs that are downright scary, cliffs you did not know were there, and stream beds that you might have guessed were there but did not know for sure. The beauty is still there, manifested in different costuming.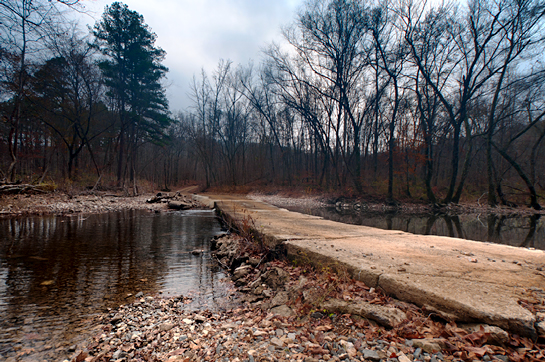 The water is low at the Hanover Road low-water bridge over Turkey Creek in Stone County. In March there was a healthy flow across the bridge. Different time, different light, different water. See it here.
Because light now penetrates the bare forest canopy, there are pictures which can be shot that might be otherwise nigh impossible. The reflections in the picture below are a good example.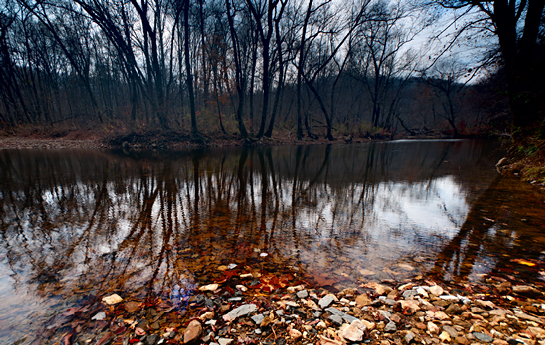 Just upstream from the low-water bridge, bare trees of late fall reflect in Turkey Creek. These reflections were not available from April through late October. The boondocks abound with such marvels. Unfortunately few see them. They are not visible from a recliner.
Take this hint: Mother Nature does not close-up shop when the weather gets cold.
N O T E S:
Nikon D300, tripod mounted, ISO 200 all. Tree on creek, AF-S VR Nikkor 18-200 f3.5-5.6, 1/160@f6.3; Low water bridge, and reflections, Sigma 10-20 f4-5.6 EX DC HSM, both 1/160@f6.3. Post processed in Photoshop Extended CS5 and Genuine Fractals Print Pro.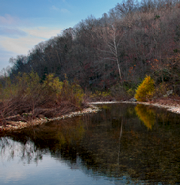 SEE ANOTHER PICTURE
of the tree on the creek at
Weekly Grist for the Eyes and Mind.
Also an old barn, and old store and for my friend Frank Girolami, a shot of at Fifty-Six, Arkansas.
Click here to go there.


Click the jump wings
to see the previous
Photo of the Week.

Click the camera
for an index to every
Photo of the Week.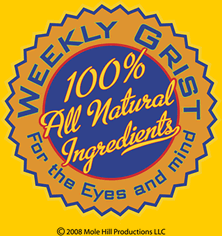 Most of the time, there is more to the Photo of the Week story than can be told in an essay. And most of the time there are more pictures to be seen. Presuming that some folk will enjoy being privy to this trove of information, I have created a blog, "Weekly Grist for the Eyes and Mind," where I am showing and telling "the rest of the story." There are also some blatantly commercial mentions of some of the things we do to earn our beans and taters. Click on the Weekly Grist logo and go to the blog. — J. D.