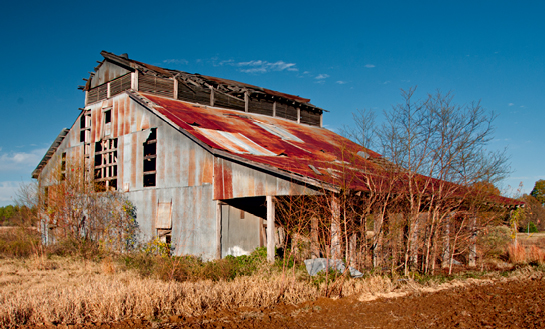 An old friend I've shot many times, this old gin at Ladd, Arkansas, hangs in there, but with every new visit, a bit more damage is evident. Well built, it has survived for substantially more than 100 years. Like many misguided souls in this neck of the woods, for years I was confident the old structure was a barn. Once I did a little research, some friends set my misguided and erroneous confidence straight. Click here to see our last encounter with the old gin.

Sunday, November 28, 2010
Agriculture remains an essential component of the southern economy in these parts. Like other economic pursuits that have managed to survive into the 21st century, agriculture has undergone radical changes in the people who do it, how they do it, and the equipment they use — leaving flotsam, jetsam, and detritus in its wake.
These residual monuments of economic and people transitions scatter the landscape here in LA (lower Arkansas). I suppose these remains are the rural equivalent of the structural ruins dotting urban landscapes around our nation. So much for keeping up with the Joneses.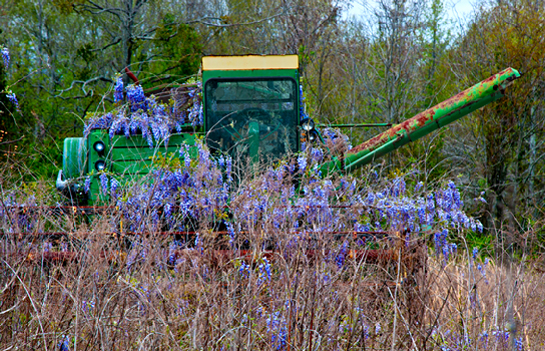 A few miles southeast of the old gin, in northern Lincoln County, Arkansas, I encountered perhaps the only retired combine on the planet to have found a second life as a trellis for lilacs. It may be a good thing. There's not much in the way of adaptive re-use for a retired combine. It is a machine that begins to shake itself apart from the git-go. It is good for one thing only, and those duties occur once yearly.
More than likely, the abandoned combine is a left-over from a farming operation gone bust. When those unfortunate circumstances occur, repossessing the equipment is an exercise in economic futility. A combine is expensive to move, and the market is probably glutted with similar equipment. So there it sits.
On the bright side, this one has given lilacs a place to thrive, and no doubt wily critters perceive it as a land-locked John Deere reef, suitable for habitation. Where man has failed, ol' Mother Nature and her minions have again initiated actions to take up the slack. She's good like that. Helps make up for our manifold foibles.
N O T E S:
Nikon D 300, tripod mount, ISO 200, AF-S VR Nikkor 18-200 f3.5-5.6, all. Gin shot today, 1/160@f14, combine shot March 2009, 1/200@f9. Post processed with Photoshop CS5 Extended and Genuine Fractals Print Pro.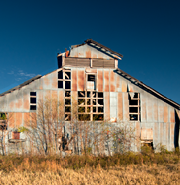 SEE ANOTHER SHOT
of the of the old gin, plus scenes
from what appears to be an abandoned farming operation
at Weekly Grist
for the Eyes and Mind.
Click here to go there.


Click the jump wings
to see the previous
Photo of the Week.

Click the camera
for an index to every
Photo of the Week.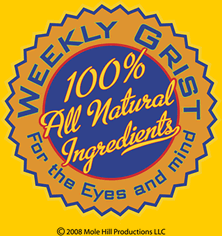 Most of the time, there is more to the Photo of the Week story than can be told in an essay. And most of the time there are more pictures to be seen. Presuming that some folk will enjoy being privy to this trove of information, I have created a blog, "Weekly Grist for the Eyes and Mind," where I am showing and telling "the rest of the story." There are also some blatantly commercial mentions of some of the things we do to earn our beans and taters. Click on the Weekly Grist logo and go to the blog. — J. D.