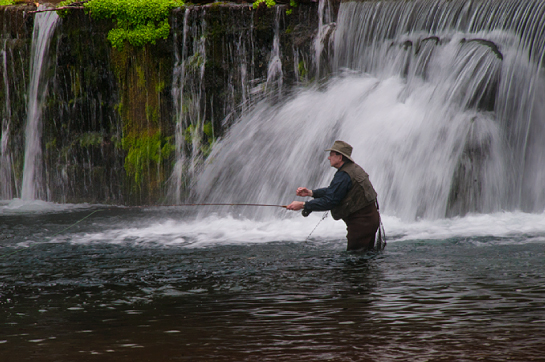 The roar of the falls across this mill-pond dam at Rockbridge, Missouri, is every bit as mesmerizing as any I have heard created by natural falls. And the visuals ain't all that shabby either. Also on the up side, it's only a little over knee-deep to an average height individual, and trout seem to make themselves available here.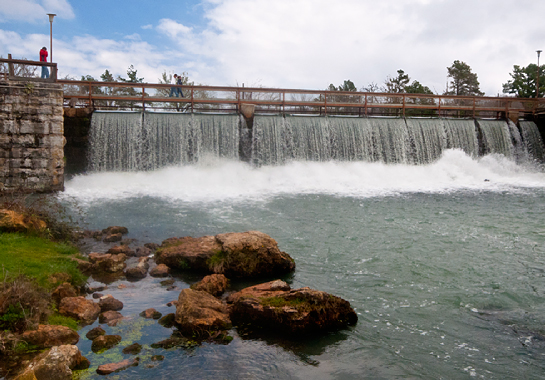 Not many waterfalls afford a bird's eye view of the proceedings. This one, at Mammoth Spring, Arkansas, affords the opportunity for free. The falls are part and parcel of Mammoth Spring State Park.

Monday, March 28, 2011
While we praise the efforts of Mother Nature as we consider and observe her wonders, all too often we overlook some of our own (human-wrought) visual and aesthetic accomplishments in the great outdoors. Some of the favorite targets of scorn are dams. Well, a few dams may deserve the derision they get, but most serve useful purposes. In some instances, that useful purpose is to look cool.
The two dams you see here are my case in point. The fly-fisherman angling for trout at Rockbridge, Missouri, is knee-deep in front of a fine waterfall cascading off a dam completed in 1868. The dam made a pool, and from the pool water was sluiced to power a still-standing grist mill. The dam and waterfall are easy to access and see. You don't even have to leave your vehicle. It looks cool, sounds cool — and is cool. We've shot it before.
A hour or so away from Rockbridge is another man-made wonder, Mammoth Spring Dam on the Spring River at Mammoth Spring, Arkansas. Like its cousin in Missouri, the Arkansas dam started its life as a source of power for a grist mill. Later it became a source for power generation. Now its job is to be the crown-jewel of the Mammoth Spring State Park and look and sound cool. There are few places where you can stroll across the top of a waterfall. This is one of the best of those places.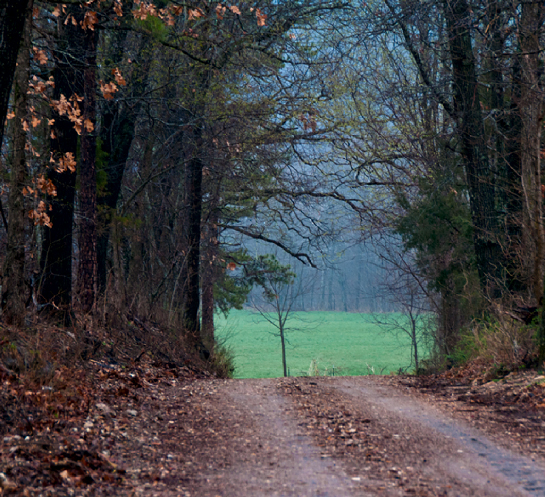 A mile or so west of the falls at Rockbridge on County Road 142, you will find this pristine scene. Well, maybe not exactly. You had to be there shortly after a downpour in late March — a few of last fall's leaves lingered on the branches, but mostly the trees were bare, with some green grass around the great trunks. You get the drift. As fast as the trees are budding now, the moment captured here is fleeting. But some time past, some of my fellow humans took the time to build a road and plant some grass. Otherwise, we would have missed it all.
Bottom line, we tend to castigate ourselves for some of our deeds, when in fact we do some pretty good stuff. Take a look at the good things you have done and congratulate yourself. But play it safe and don't injure your person with a self-applied back pat.
N O T E S:
NIkon D300 Tripod Mounted, AF S Nikkor 18-200mm f3.5-5.6 VR, all three shots. Fly-fisherman 1/25@f25, ISO 400. Bridge over falls, 1/800@f14, ISO 800. (I hadn't reset it from a low illumination shot and should have known better.) Post processed with Perfect Resize Pro and Photoshop CS5 Extended.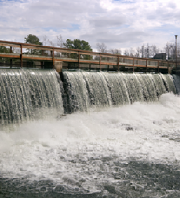 SEE MORE WATERFALLS,
A COOL BARN
and some other cool stuff
at Weekly Grist
for the Eyes and Mind.
Lo-cal, easy to digest and you can show it to your Momma. Honest.
Click. Go. Enjoy.

Click the jump wings
to see the previous
Photo of the Week.

Click the camera
for an index to every
Photo of the Week.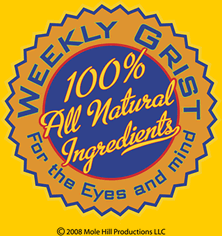 Most of the time, there is more to the Photo of the Week story than can be told in an essay. And most of the time there are more pictures to be seen. Presuming that some folk will enjoy being privy to this trove of information, I have created a blog, "Weekly Grist for the Eyes and Mind," where I am showing and telling "the rest of the story." There are also some blatantly commercial mentions of some of the things we do to earn our beans and taters. Click on the Weekly Grist logo and go to the blog. — J. D.