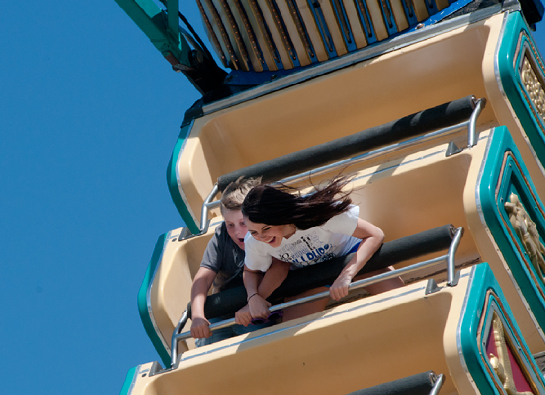 We see cautious enjoyment on the left and unfettered glee on the right. This pair is locked into the passenger vessel of "Pharaoh's Fury," a four-story tall super swing at Star Daze, the annual spring festival in Star City, Arkansas. The youngsters are just beginning to descend from the back swing.

Sunday, April 17, 2011
The aroma of southern grilling, accompanied by screams of thrilling, welcomed visitors to the 2011 Star Daze Festival in Star City, Arkansas. It's kind of like a county fair in the spring — without the critters and their piquant aroma.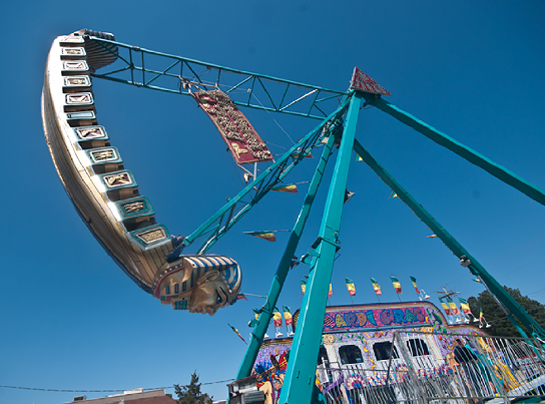 Behold "Pharaoh's Fury," the swing on steroids at the Star Daze Festival. I'm guessing the top of the frame is at least four stories in the air. As you can see, the swing takes "Pharaoh's Pirogue" well outside the frame. Though the giant machine runs quietly, many of its passengers screech to the top their lungs, so you are well aware that it is underway without looking.
Dozens of rides, carnival hawkers, and merchants added their Saturday afternoon panache to the mix as a Texas band belted out country music that sounded like the blues. Or was it blues that sounded kinda like country? Suffice to say, they mixed it well.
I saw a lot of people having a lot of fun. In this day and time, that sort of relief from the six-o'clock news and banner headlines that assault us daily is a welcome balm for troubled times. We find and are grateful for relief where and when we can get it.
After putting Pharaoh in the rear view mirror, I headed to a giant "winter" wheat field northeast of Pine Bluff, hoping to discover something un-shot and un-reported by me thus far in this life. How can I say it other than I got lucky.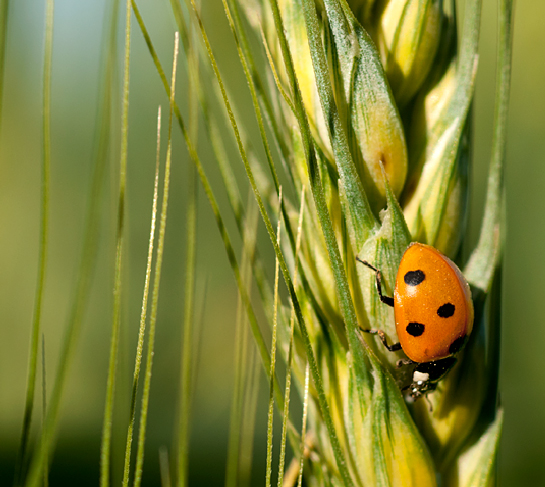 This kind Lady Bug decided to show her stuff in the few square inches in front of me in a wheat field bigger than a lot of towns. Whodathunkit? After crawling up and down her favorite stalk of wheat a few rounds, she was joined by her neighbor, and they both busied their selves doing whatever it is that Lady Bugs do, oblivious to my presence. Not looking like a hungry bird probably helped.
I stopped at the edge of a humongous wheat field hoping to record some agricultural magnificence destined to sooner or later show up as pancakes, biscuits, bread, or some other forbidden fruit to those counting carbs. What I got was that and more, personified as a couple of Lady Bugs. They are not just cute. They are predators, whose favorite menu items are a litany of bugs who bug us and our crops. We are grateful to our little friends. And to the higher power who put them there.
N O T E S:
Nikon D300, all shots hand-held. Carnival riders, AF S Nikkor 18-200mm f3.5-5.6 VR, ISO 400, 1/640@f13; Lady Bug, same lens, ISO 400, 1/500@f8; Pharaoh's Fury, Sigma 10-20 f4-5.6 EX DC HSM 1/500@f11, ISO 200. Post processed with Perfect Resize Pro and Photoshop CS5 Extended.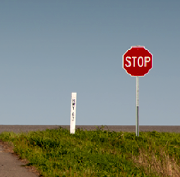 SEE MORE FESTIVAL
AND LADY BUG
pictures, plus a couple
of unlikely surprises
at Weekly Grist
for the Eyes and Mind
as the story of this trip continues to unravel before your very eyes.


Click the jump wings
to see the previous
Photo of the Week.

Click the camera
for an index to every
Photo of the Week.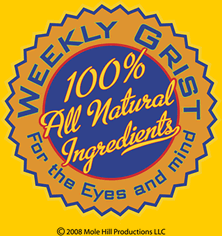 Most of the time, there is more to the Photo of the Week story than can be told in an essay. And most of the time there are more pictures to be seen. Presuming that some folk will enjoy being privy to this trove of information, I have created a blog, "Weekly Grist for the Eyes and Mind," where I am showing and telling "the rest of the story." There are also some blatantly commercial mentions of some of the things we do to earn our beans and taters. Click on the Weekly Grist logo and go to the blog. — J. D.