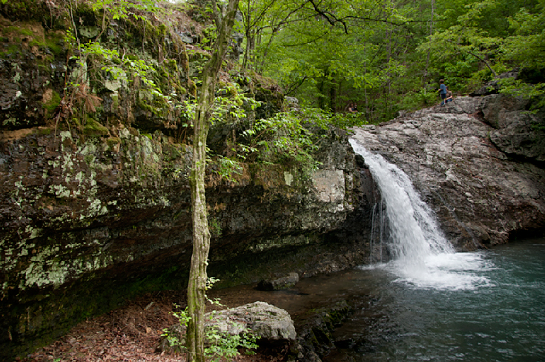 You are looking at the falls at Lake Catherine State Park near Hot Springs, Arkansas. One of the state's most widely visited and popular waterfalls, the cascading waters are an easy hike from the camping areas of the park on a very civilized trail. Photographers who want to shoot the falls without onlookers in the shot must be patient. The trail runs along the top of the falls, so people are always checking it out. I elected to include a pair in this image.

Sunday, April 24, 2011
Like hearing one of your favorite songs, munching out on one of your favorite treats, or getting a big old hug from a cherished acquaintance, re-experiencing a favorite waterfall is one of the best things that can happen to your person. I first photographed these falls in the late sixties and keep coming back. For this human, and I suspect others, waterfalls have a curative effect that must occasionally be re-experienced.
I say experience falls as an inclusive term rather than see, because even if you are blindfolded, the sounds of a waterfall stand alone as an external stimulus, stirring the imagination to outward limits. The sounds will also have navigational benefits, according to premier nature photographer Chuck Harralson. He says when you are headed to a falls not visited before, you should stop and listen for the sound to help zero in on the ultimate destination. He's right. It always works.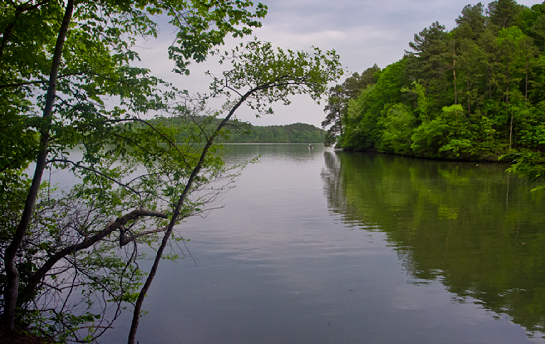 The "well civilized" trail leading to and from Lake Catherine Falls skirts the lake for part of the trip. Along this lakeside stretch is a strategically located bench where hikers can take a breather while enjoying a great view of the Lake. I shot this image while plopped on the bench.
Lake Catherine Falls is a photographer magnet. While I was shooting, four other photographers drifted in as well as a lot of other non-camera-toting visitors. Ease of access is one of the falls' greatest attractions, and since we have been drenched for the last several days, those needing a waterfall fix flocked on in.
There's no admission charge for rubber-necking, so for the price of gas, you can get a bit of exercise and enjoy a phenomenon of nature that is in its gazzillionth season and still going strong. Make your move.
N O T E S:
Falls picture was composited: Nikon D300, tripod mounted, ISO 200, AF S Nikkor 18-200mm f3.5-5.6 VR, base exposure 1/60@f3.5; Lake picture Nikon Coolpix P7000, ISO 200, 1/1050@f3.2, hand held. Water fall picture manually composited. Lake picture composited with HDR express and manually adjusted. Both post processed with Photoshop Extended CS5.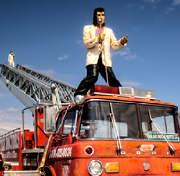 SEE MORE FALLS,
a lagoon well-suited as a lair
for a boogerman, and a link to
"The King" atop a retired fire truck
at Weekly Grist
for the Eyes and Mind.
The adventure continues.


Click the jump wings
to see the previous
Photo of the Week.

Click the camera
for an index to every
Photo of the Week.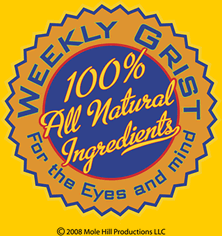 Most of the time, there is more to the Photo of the Week story than can be told in an essay. And most of the time there are more pictures to be seen. Presuming that some folk will enjoy being privy to this trove of information, I have created a blog, "Weekly Grist for the Eyes and Mind," where I am showing and telling "the rest of the story." There are also some blatantly commercial mentions of some of the things we do to earn our beans and taters. Click on the Weekly Grist logo and go to the blog. — J. D.