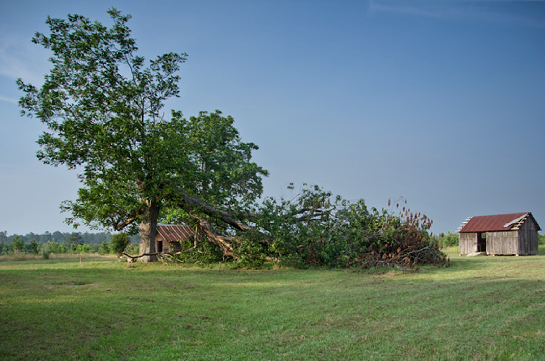 The biggest part of the fine old pecan tree is on the ground, no doubt a victim of any one of a number of untoward windstorms which recently assaulted this neck of the woods. The leaves on the felled part are not yet wilted, so one would presume there are enough woody tendrils still attached to keep the juices flowing. Look carefully behind the remains of the pecan tree and you will see another tree, an uncharacteristically tall catalpa.

Sunday, June 12, 2011
Prairie Road in Cleveland County, Arkansas, came as a nice surprise. I found a couple of old barns and this old home place with a huge, partially-toppled pecan tree and the biggest catalpa tree I have ever seen — and a couple of old buildings to boot. Unfortunately, I was not able to find out who owns the place, so the provenance remains a mystery. However, it is mowed and well taken care of.
That said, it is not a stretch of the imagination to believe that some beloved relatives once resided here, were born here, and perhaps even died here — and further, that the descendants of these former residents believe that keeping the old home place in good condition is the right thing to do.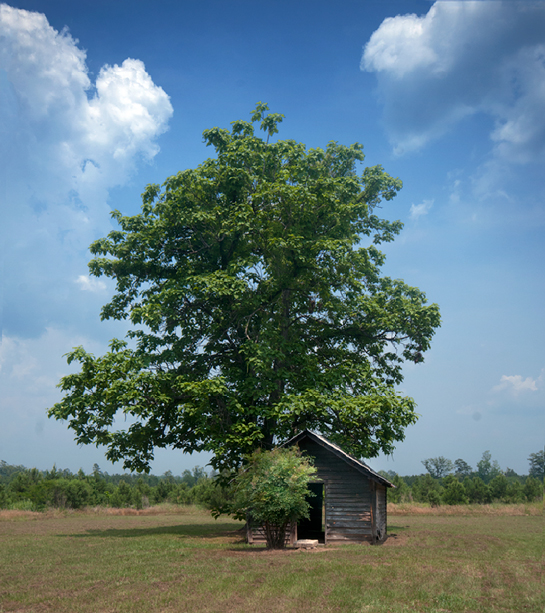 Catalpa tree on steroids: You do not find many catalpas this tall. They produce pretty white flowers and big leaves, which offer good shelter for birds. I made this shot on the second visit, hoping for some clouds in the background — and got my wish.
On the other side of the pecan tree stands a tall catalpa tree. Catalpas are the only place you will find catalpa worms, a yellow and black caterpillar that is considered an irresistible delicacy by the feisty bream, the official first catch of most southern kids.
The ultimate fruit of the catalpa is its long skinny "bean." Plant scientists will probably call it some sort of a pod, but for our purposes, it's a bean. The "bean" eventually ripens, shrivels, turns brown, and falls to the ground. In my boyhood days, our neighbor, Mr. Edgar W. Young, had a small catalpa tree in his yard. The neighborhood boys would gather up fallen beans, surreptitiously repair to the alley, clip the ends off the beans, and proceed to smoke them. We called 'em "Indian cigars." They were a terrible smoke and no one ever smoked the whole thing. But if one did, the others of necessity followed suit. It's a boy thing.
There are thousands of old home places similar to this one, but few receive the care this old place enjoys. Because someone cares about heritage and tradition, we gain a glimpse of the past and a reminder that our predecessors in many cases paid what we today would consider to be steep and inconvenient dues, such as illumination from "coal-oil" lamps and refreshment from hand-carried water. Not to mention hostile neighboring critters that might consider you a menu item. If you are not mindful and grateful, think again.
N O T E S:
Fallen tree and catalpa leaf detail, Nikon Cookpix 7000 hand-held, ISO 100, fallen tree 1/800@f2.8; 1/200@f5.6; Large catalpa tree, Nikon D300, tripod mounted, ISO 200, Sigma 10-20mm F4-5.6, EX DC HSM, 1/500@f11.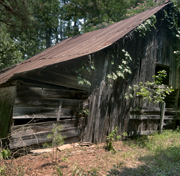 SEE AN OLD BARN
ON PRAIRIE ROAD
at Weekly Grist
for the Eyes and Mind,
plus an old store, a fine
on-the-road southern lunch,
and entertaining road detritus.
Click, go, see, and enjoy.


Click the jump wings
to see the previous
Photo of the Week.

Click the camera
for an index to every
Photo of the Week.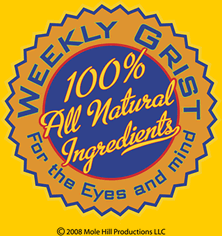 Most of the time, there is more to the Photo of the Week story than can be told in an essay. And most of the time there are more pictures to be seen. Presuming that some folk will enjoy being privy to this trove of information, I have created a blog, "Weekly Grist for the Eyes and Mind," where I am showing and telling "the rest of the story." There are also some blatantly commercial mentions of some of the things we do to earn our beans and taters. Click on the Weekly Grist logo and go to the blog. — J. D.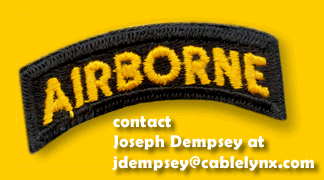 ---
---
---
---
---
---
---
---