This idyllic pond on Lincoln County Road 10 west of Star City, Arkansas, sneaks up on you as you round a gentle curve. You can't miss it. I had to stand in the road to get this shot. The fine reflection on a summer afternoon brought back memories of childhood and teen years' fishing trips.

Sunday, June 19, 2011
Stuff we see, hear, smell, read, and feel gives us pause to reflect on where we've been, what we've done, how we acted and reacted, what we said, and what were we thinking (??) when we did that (!!). Sometimes. And unfortunately, when our mood is calloused and our receivers are malfunctioning, we sometimes fail to recognize these divinely triggered admonitions.
As I gazed upon the reflections you see featured here, my pesky brain calluses dissolved. I reflected. I invite you to do the same.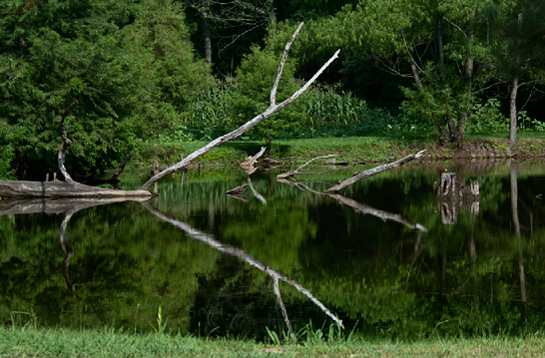 This reflection on Griffith Springs Road in Lincoln County, Arkansas, seems to be pointing back in time. As it conjured up memories, some of which were pleasant and some of which were about times that I now see as object lessons in reality, I pondered my past, then snapped back to the present, somewhat rearmed for the day. There was a lot of road ahead.
When you are in the fourth quarter, you frequently look back and think about what you would have done differently. Not that you don't entertain a similar train of thought earlier in life, but in the fourth quarter you have more material to consider and more information to assist the process. As you come to grips with reality, you begin to realize that there are some things you wanted to do, but now probably won't.
With this realization comes the knowledge that you are not diminished by missing out on something you wanted to do. In fact, you may have unwittingly avoided injury or other unintended consequences. Indeed, if you are at peace with where you are today, what you missed did not matter anyway, because it may have profoundly changed your direction and you would not be where you are now. I'm cool with June 16, 2011. That's my story and I'm stickin' to it.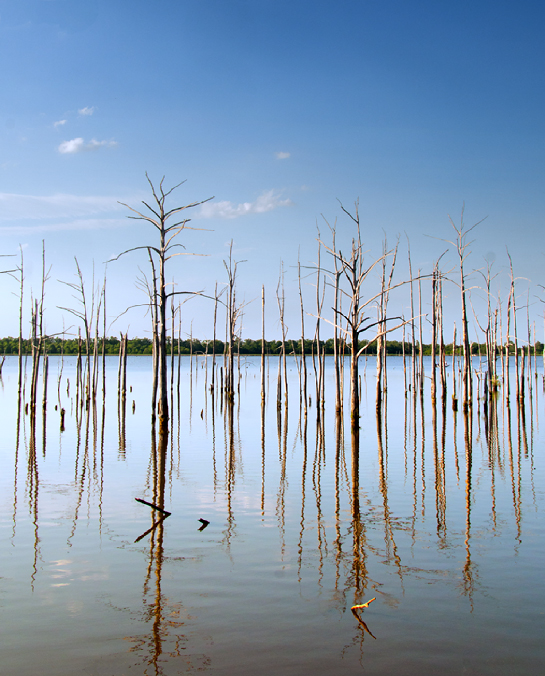 Typical of many man-made impoundments in the South, Cane Creek Lake in Lincoln County, Arkansas, included a lot of standing trees when game and fish engineers began to fill the lake bed. There is a method to their madness and it is, so to speak, out of sight. The underwater dropped limbs and exposed root systems of these asparagus-looking trees are luxury condos for game fish while they are young and vulnerable. Mother Nature recycles everything.
N O T E S:
Nikon D300, ISO 200, All. Top picture; AF S Nikkor 18-200mm f3.5-5.6 VR, 1/250@f8.0; Second picture, hand-held, same lens, 1/320@f7.1; Third picture, same lens, tripod mounted, 1/320@f9 with polarizing filter.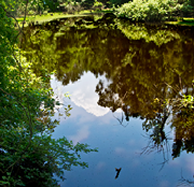 SEE ANOTHER REFLECTION
and a lot more
at Weekly Grist
for the Eyes and Mind —
including a huge dead oak tree
still in possession of all its limbs
and looking fine against a cool sky, some hairy wheat,
and one of nature's conundrums. Click, go, and see.


Click the jump wings
to see the previous
Photo of the Week.

Click the camera
for an index to every
Photo of the Week.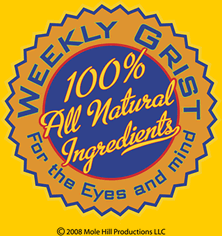 Most of the time, there is more to the Photo of the Week story than can be told in an essay. And most of the time there are more pictures to be seen. Presuming that some folk will enjoy being privy to this trove of information, I have created a blog, "Weekly Grist for the Eyes and Mind," where I am showing and telling "the rest of the story." There are also some blatantly commercial mentions of some of the things we do to earn our beans and taters. Click on the Weekly Grist logo and go to the blog. — J. D.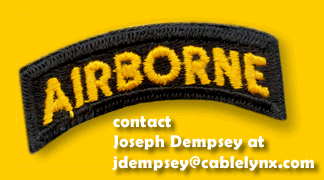 ---
---
---
---
---
---
---
---