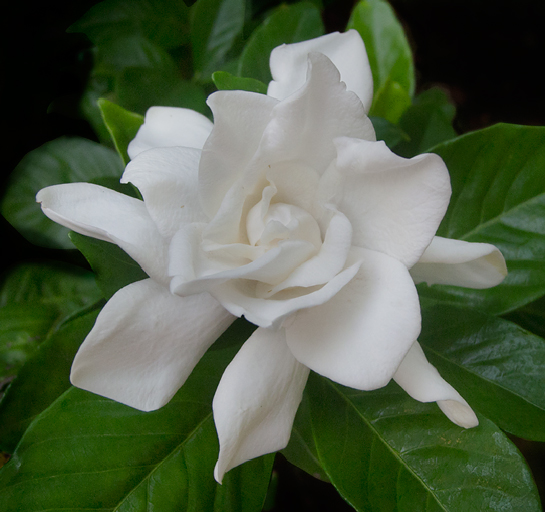 This is the last Cape Jasmine of the year on our front-yard bush. I call it psycho-plant because it is so unpredictable. You never can tell when the poor thing will bloom, as opposed to the rest of our meager plant inventory, which is completely predictable (within reason). These are most pleasant plants. When the wind is right you can get a whiff of the delectable Cape Jasmine scent from one side of the yard to the other, a small price to pay for psycho behavior — the worst option being no fragrance at all.

Sunday, June 26, 2011
The price of gas is making me take a closer look at sights found closer to home. Not to say that the wanderlust gene has gone dormant. It's just that the frugal, penny-pincher gene is overriding its more adventurous cousin. Sooner or later the festering, pent-up desire to drive three to four hours while sucking gas like like a whirlpool to arrive at the "shooting grounds" will shove financial discretion aside. Not today. The first stop was our front yard for a visit with the psycho jasmine.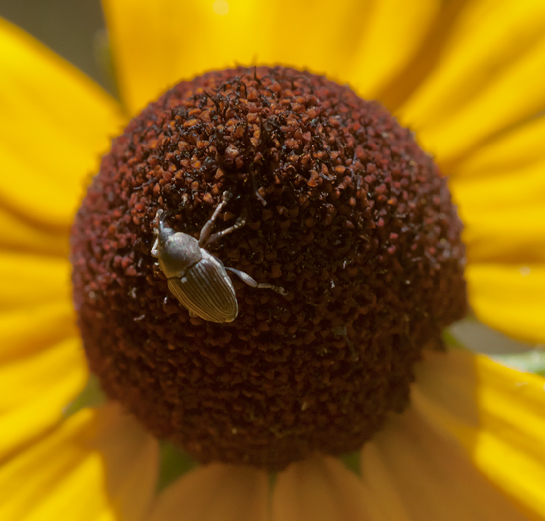 Got lucky. Just as I focused on the flower, the bug crawled out from under the petals to grab some rays while munching out on black-eyed Susan detritus. It is always better to be lucky than good.
The second stop, less than half a mile from our domicile, featured a small colony of black-eyed Susans. They populate a slightly overgrown grassy area near the entrance to a nature trail. To my delight, I found that some of the flowers were like Watergate: bugged. I looped back to the truck and grabbed a macro-lens. Subsequently, a few of the little critters cooperated. Total gas burned so far: about a tablespoon.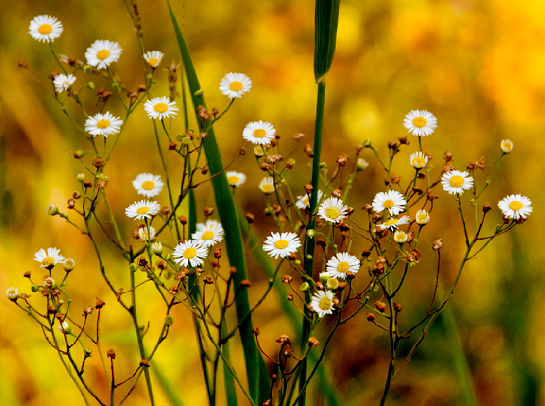 I stumbled across these dainty daisies while shooting something else. The location was perfumed by the remains of an unknown and unseen critter who apparently was in the midst of his or her final "dust-to-dust" performance. I did not linger.
The third stop yielded little daisies in a ditch on a rural road no more than ten minutes from physco-jasmine and buggy-susan. I would have missed the daisies had I not glanced down while shooting some trumpet vine blooms, which you can see in our Weekly Grist Gallery.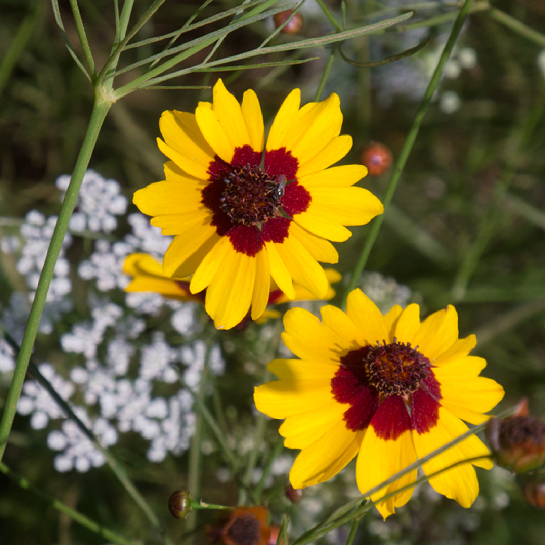 I can't call these black-eyed Susans because their eyes are red — and I've never heard of red-eyed Susans, unless Susan had one too many the night before. There are some Queen Anne's Lace blooms in the background. Regardless of the name, these posies do a great job of brightening their little corner of the world . . . . and now ours.
Stop four was on Mount Elba Cutoff close to its intersection with Mount Elba Road down in nearby Cleveland County, a happy hunting ground for pictures. You also pass a cool old barn on that road, which you will see in a future Photo of the Week article.
Sometimes what we view as a set of unwelcome circumstances gradually take a nice turn, provided we allow ourselves to make that turn. In good ol' boy parlance, it's like falling in a bucket of guano and coming out smelling like a rose.
N O T E S:
Psycho-Jasmine, Nikon Coolpix P7000, ISO 200, 1/380@f2.8; Black-eyed Susan and bug, Nikon D300, ISO 500, 1/500@f11 (the wind was moving the plant around, thus the high ISO), AF Micro-Nikkor 60mm f2.8D; Dainty Daisies, Nikon D300, ISO 400, AF S Nikkor 18-200mm f3.5-5.6 VR, 1/400@f8; "Red-eye" Susans, Nikon Coolpix P7000, ISO 100, 1/640@f5.6

SEE MORE BLOOMS
AND BUGS, PLUS
birds and bees
at Weekly Grist
for the Eyes and Mind.
We will step inside the leafy cave
of a magnolia tree and look around.
Also find a link to our Weekly Grist
Gallery with 45 blooms, bugs, birds and bees pictures.
You could waste a whole afternoon perusing pictures,
and be glad you did. Click, go, and see.


Click the jump wings
to see the previous
Photo of the Week.

Click the camera
for an index to every
Photo of the Week.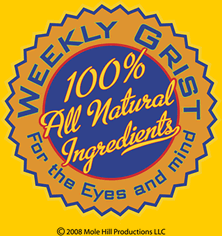 Most of the time, there is more to the Photo of the Week story than can be told in an essay. And most of the time there are more pictures to be seen. Presuming that some folk will enjoy being privy to this trove of information, I have created a blog, "Weekly Grist for the Eyes and Mind," where I am showing and telling "the rest of the story." There are also some blatantly commercial mentions of some of the things we do to earn our beans and taters. Click on the Weekly Grist logo and go to the blog. — J. D.