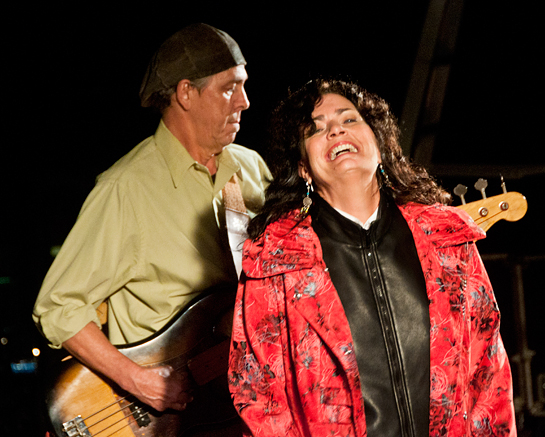 FAMILY BLUES: Reba Russell, headline act for the Blues for a Cause concert, holds forth with her award-winning style of blues. Behind Reba is her husband, Wayne Russell, who keeps things bumping on the bass. The concert took place on September 16 in Pine Bluff, Arkansas.

Sunday, September 18, 2011
Legendary blues performers Jimmy Thackery and Reba Russell headlined a seven-band, two-day blues benefit concert in the Pine Bluff-Jefferson County Regional Park amphitheater, September 17-19, 2011. The performance was the second in what will be a continuing benefit event. The sponsoring organization, Blues for a Cause, A Helping Hand Blues Benefit and Music Festival, is just a few months old, but is growing fast. Here's the story of the organization and its founders.
A year or so ago, Joe Powell, family man, IT guy, and blues aficionado of Pine Bluff, Arkansas, and Sandra Sallings of Wynn, Arkansas, a registered nurse and widow of award-winning blues harmonica player Mark Sallings, hatched up a unique idea: Why not have a blues benefit concert to help people facing catastrophic illnesses without the benefit of insurance?
Not finding any impediments, they forged ahead. First they stated their specific purpose: To Help folks pay their medical bills, or other health related costs, when times are really tough, with funds raised from an annual blues concert. Then they went to work to make it happen.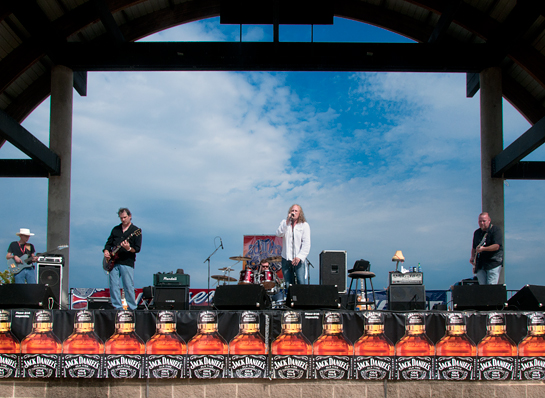 The 2011 Blues for a Cause concerts were held in the Pine Bluff-Jefferson County Regional Park amphitheater, a venue specifically designed to accommodate outdoor concerts. The stage faces west, so the sky makes a dramatic backdrop late in the afternoon. The band onstage is The Saints of Yesterday.
The first item of business was to recruit Tracey, Joe's wife, who is a school counselor and mother of two youngins (both are grandchildren of yours truly). Tracey, a stickler for details, joined the project without batting an eye. The blues team scurried about to see if they could sell the idea, knocking on doors and asking for support. Little by little, they gained a toehold of community support, mainly from friends, and then from friends of friends.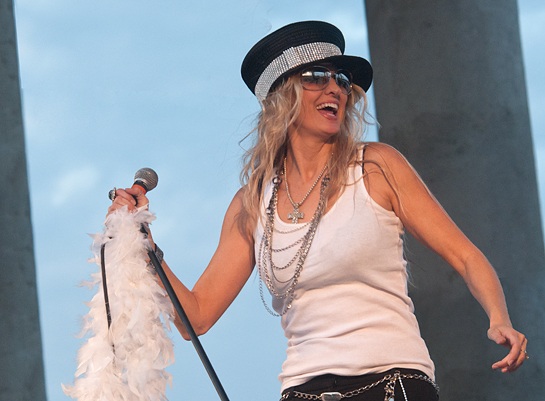 Tullie Brae and the Medicine Man Review performed Saturday afternoon. High energy Tullie never stopped smiling and took advantage of every inch of the stage to sing her blues. The band members exuded their namesake's energetic enthusiasm, and the audience responded with appreciation.
The intrepid concert planners penciled in March 19, 2011, as their target date. Once the date was established, some potential sponsors took notice and responded favorably. The leap of faith was gaining traction. The Powells and Sandra made connections with performers, got commitments, found a location, and started their publicity — less than 120 days from the first performance, an impressive accomplishment for even the most experienced concert planners.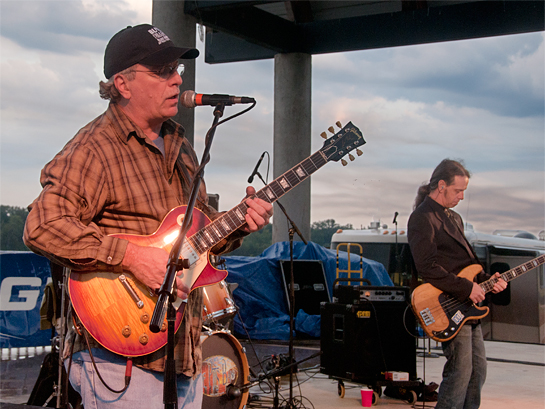 The Joe Pitts Band, led by Joe Pitts (left) of nearby White Hall, played Friday afternoon. Joe and his band are recognized internationally and regularly play overseas dates. With his bass man Jimmy Lynn and drummer Lance Womack, the band began their performance about the time a light rain started. Not being ones to let a little rain dampen their enthusiasm, they belted out the blues and made the audience very happy.
March 19 came 'round and everything unfolded without a hitch. What the crowd lacked in size they more than made up for in enthusiasm. Fortunately, there were enough of these souls to push the concert to profitability, and the proceeds were donated to John "Critter" Killingworth, a cancer patient who was having a tough time meeting financial obligations. Critter attended the first concert and by the Grace of God was also present at the second concert. We have high hopes he will see the third.
N O T E S:
Nikon D300, hand held. Reba and Wayne Russell, Nikkor VR 18-200mm f3.5-5.6 G ED, 1/100@f5.6, ISO 3200; Regional Park Amphitheater same lens, ISO 200, 1/500@f11; Tullie Brae, ISO 200, AF Nikkor 80-400mm f4-f5.6 D ED, 1/250@f5.3; Joe Pitts, Nikkor VR 18-200mm f3.5-5.6 G ED, 1/160@f6.3 ISO 640. Post processed with Photoshop CS5 Extended.

MORE BLUES
AND CONCERT PIX:
Legendary guitarist and now
Arkansas resident Jimmy Thackery was the headliner for Saturday's concert. See Jimmy,
Billy Jones Bluez, Amy Lee,
Josh Roberts and Adam Varnell at Weekly Grist for the Eyes and Mind. Be sure and look for our link to the Weekly Grist Gallery with 31 concert pictures. Click and goooooooooooo!


Click the jump wings
to see the previous
Photo of the Week.

Click the camera
for an index to every
Photo of the Week.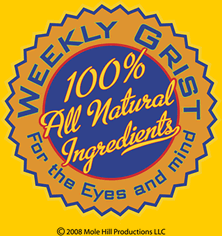 Most of the time, there is more to the Photo of the Week story than can be told in an essay. And most of the time there are more pictures to be seen. Presuming that some folk will enjoy being privy to this trove of information, I have created a blog, "Weekly Grist for the Eyes and Mind," where I am showing and telling "the rest of the story." There are also some blatantly commercial mentions of some of the things we do to earn our beans and taters. Click on the Weekly Grist logo and go to the blog. — J. D.