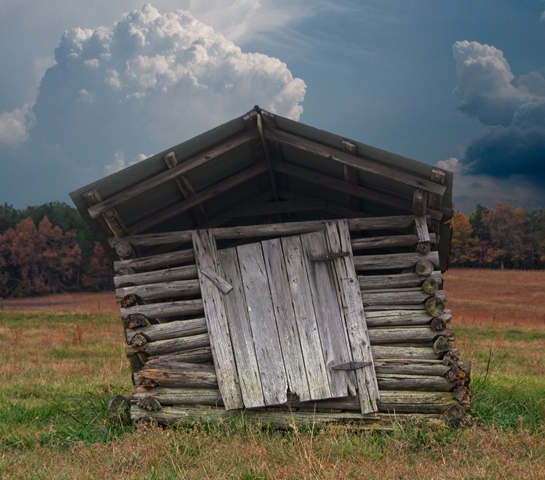 This old corn crib, framed with a dramatic sky and fall colors, stands alone in a field on Arkansas Highway 16, a quarter mile or so west of its intersection with Arkansas Highway 5 near Heber Springs. The camera was level, so the lean you see is for real. Gravity is winning. The building is losing.

Sunday, November 13, 2011
One of the benefits of Arkansas residency is the occurrence of four definable seasons. The times of change are normally where the fun is. Once the season chugs on, it begins to wear thin, except for fall, which seems to be shorter than winter or summer, and less threatening than spring, which is fraught with sometimes catastrophic storms. Fall has the widest swing of colors in both palette and coverage. All good reasons to sally forth and look.
One of the best places to look for fall colors is Arkansas Highway 16 as it meanders through the north and central Ozark Mountains. It's been a while since we traveled this route and that usually means you see the stuff you missed the first time around.

Just across from the old corn crib is a used car lot. And boy are they used. Well used. Here you see, from left: a '54 Plymouth, a '54 Oldsmobile 88, and a mid-fifties Buick. Barely visible behind the Olds, you can see the left taillight fin of a mid-fifties Cadillac.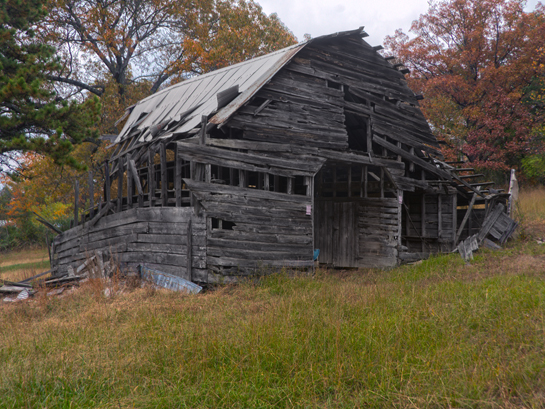 Still on Highway 16, past the town of Greers Ferry, we found this old barn built on the side of a hill, not an easy construction project, since most of the materials that might be the same size for construction on level ground — aren't. The builders of this one did a good job of keeping it level, but now the forces of nature are taking their inevitable toll. Crunch time is around the corner.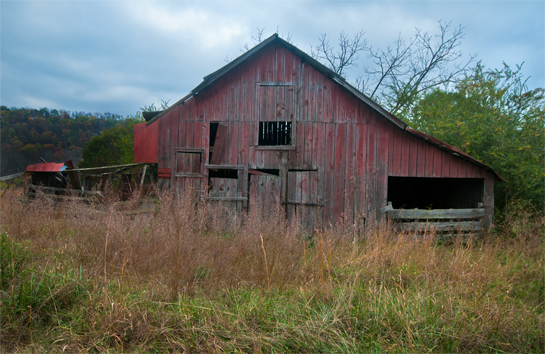 Our Highway 16 trip took us through Clinton. (Non-Arkansans note: The town was so named way before the former president was an itch in his father's jeans.) West of Clinton we saw this barn still sporting some red paint and looking fine on a moderate but cloudy fall afternoon.
Sometimes it's fun just to go look and enjoy with no agenda and no destination. And it's not a bad idea to take some Nikon big-boy toys along to record it for your friends. Thanks for looking.
N O T E S:
Nikon D300, ISO 200, all. Corn crib and line of cars, AF-S VR Nikkor 18-200 G ED, both 1/200@f7.1 base exposure for composite, tripod mount. Barn on hill, tripod mount, same lens, 1/320@f7.1. Red barn, Sigma 10-20mm F4-5.6, EX DC HSM, hand held, ISO 250, 1/320@f9.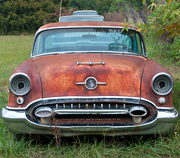 SEE MORE
of the old cars, plus and old tractor,
an old truck and other fall stuff
at Weekly Grist
for the Eyes and Mind.
Guaranteed to fat-free,
low-cholesterol, and easy to read. Click and go.


Click the jump wings
to see the previous
Photo of the Week.

Click the camera
for an index to every
Photo of the Week.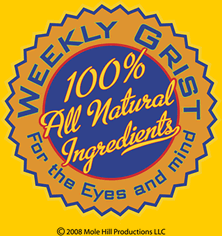 Most of the time, there is more to the Photo of the Week story than can be told in an essay. And most of the time there are more pictures to be seen. Presuming that some folk will enjoy being privy to this trove of information, I have created a blog, "Weekly Grist for the Eyes and Mind," where I am showing and telling "the rest of the story." There are also some blatantly commercial mentions of some of the things we do to earn our beans and taters. Click on the Weekly Grist logo and go to the blog. — J. D.