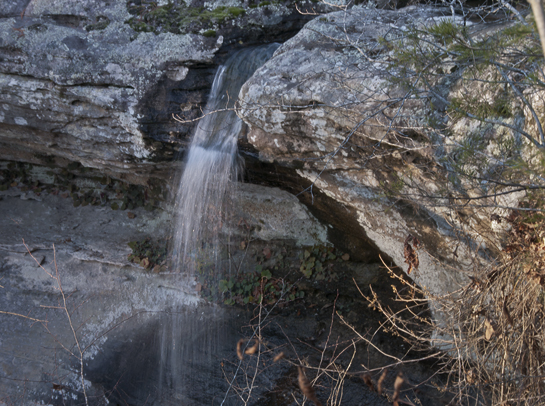 Three Springs Falls in Baxter County, Arkansas, is relatively easy to find and access, but is far enough off the normal waterfall circuit that the probability of a private view is high. Three springs normally feed the falls. When rain adds to the flow, the falls increase in size substantially. The drop to the hollow floor from here is 45 feet give or take a few inches.

Sunday, November 27, 2011
For some of us, waterfalls are magnetic north to Nirvana. Finding one is an all-too-brief transfer to tranquility and clarity. Under the cascading concerto spell, one is sequestered in serenity. However, like anything else worth a toot, for most wild waterfall experiences there is a non-monetary price of admission. Waterfalls by nature must be higher than the surrounding real estate. So most of the time, there is a climb involved. It could be on the way in, or it could be on the way out.
Secondly, if falls are easy to find and access, you may find yourself in a crowd. So, if you enjoy being alone with your falls, they should be off the well-beaten path. Which means you may have to, well, beat a path.
Thirdly, waterfalls are constructed by the Almighty in any one or more of thousands of permutations of his own native stone, lest they wash away if created with lesser matter — which means you will probably have to negotiate rocks somewhere around the size of a cedar chest to a UPS truck. Or bigger.
The falls of the day are "Three Springs Falls," off Cook Road, off Arkansas State Highway 341 (a.k.a. Push Mountain Road) in Baxter County, Arkansas. Legendary hiker, journalist, and photographer Tim Ernst nicely describes how to find these falls in his Arkansas Waterfalls Guidebook, recently updated.
I overshot Tim's instructions and wound up walking and back-tracking by foot and pickup further than I planned, but I finally discovered how to find the falls with my ears, rather than my eyes. The path to the general area appears to be a four-wheeler trail and is easy to follow. Once you hear the falls and leave the trail, you walk about fifty yards or so to reach the edge of the hollow. There it is necessary to traipse through wait-a-minute vines (with stickers) and over downed timber. There are still a lot of dropped limbs and trees from an ice storm several years ago.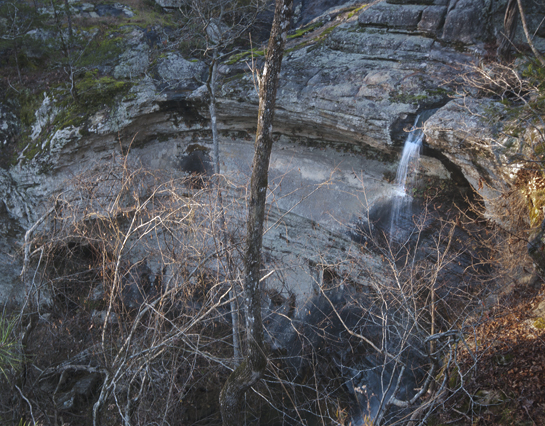 Three Springs Falls drop into a hollow — I'm guessing it has a footprint of a couple of city blocks or more. What you are seeing here would not be completely visible a few months ago before the leaves dropped, one of the benefits of winter exploration. Here you are eye-level with tree tops.
The falls first drop 15 feet or so, then plunge off a precipice some 45 feet or so to the hollow floor. Due to limited time-on-target, shooting from the top of the falls was my only option, but a little bit of a decent waterfall is better than no waterfall at all. The hollow floor is a couple of city blocks or in that neighborhood.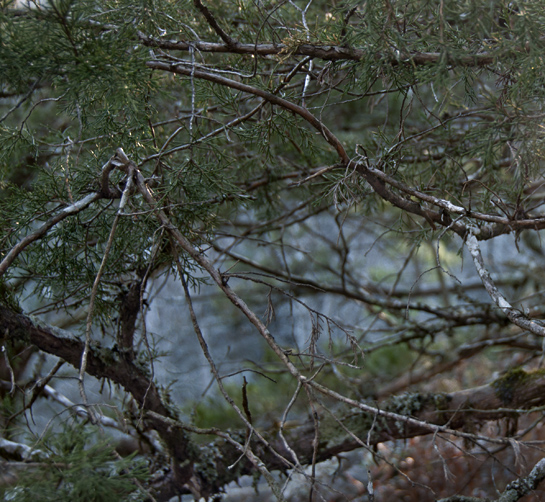 My first glimpse of the hollow came through a break in cedar tree foliage. The falls are not far from the approach trail, but I did not find a defined path to the hollow rim where the falls were visible. Tiptoeing through underbrush and over rocks is a small price to pay for what you see and experience.
I was alone with the falls and a wild-and-wooly patch of mountainous Arkansas real estate for nearly two hours. Not a bad deal, particularly when you make it back home to tell your friends. The experience: out of sight. The price: some, sweat, scratches with slight bleeding, bruises, and unbelievably in November, a tick who found me and migrated to one of most tick's favorite body areas on my person. Well worth it.
N O T E S:
Nikon D300, all hand held because like a dummy, I failed to load my tripod for the trip. ISO 200 all. Top picture, Nikon AF-S VR Nikkor 18-200 G ED. Second picture, same lens, 1/8@f9; third picture, 1/40@f4.5. Post processed in Photoshop CS5 Extended.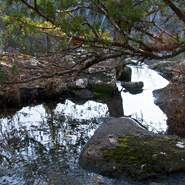 SEE MORE
OF THE WATERFALL
and surrounding territory
at Weekly Grist
for the Eyes and Mind.
We take a look at what is going on behind the falls and what we saw
on the way out as the sun was dropping.


Click the jump wings
to see the previous
Photo of the Week.

Click the camera
for an index to every
Photo of the Week.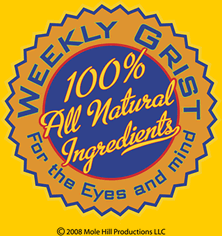 Most of the time, there is more to the Photo of the Week story than can be told in an essay. And most of the time there are more pictures to be seen. Presuming that some folk will enjoy being privy to this trove of information, I have created a blog, "Weekly Grist for the Eyes and Mind," where I am showing and telling "the rest of the story." There are also some blatantly commercial mentions of some of the things we do to earn our beans and taters. Click on the Weekly Grist logo and go to the blog. — J. D.