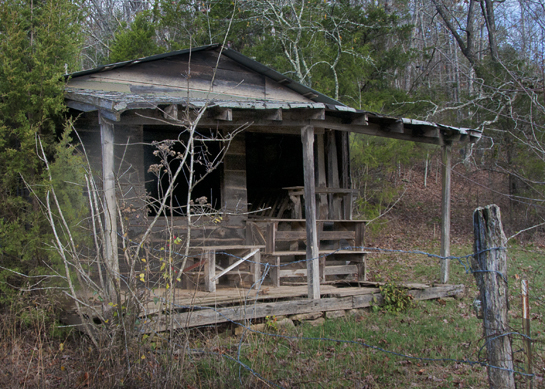 County Road 22 leaves Arkansas Highway 9 south of Mountain View right before the highway crosses Turkey Creek. It is an inviting road. A mile or so down the road you see this old building. From the way it is built, it could have been a store. I'm just not sure. Today it provides shelter for a really fine looking fat cat. I am sure of that. It's a cathouse.

Sunday, December 4, 2011
Some things deserve a second look. Stone County Road 22, snaking alongside Turkey Creek off Arkansas Highway 9 south of Mountain View, is one of those. My most recent visit a week ago was on a late-fall morning when most of the leaves had fallen from the trees. My previous visits have been in warm weather in afternoon light with a forest full of green leaves. I'm glad I took a second look.
Otherwise, I would not have spied a big ol' kitty who takes residence under the house — and maybe in it, too, for all I know. The old house has some interesting windows, which I have shot before, but not with light like Mother Nature provided on this visit. I was concentrating on the windows when my new, improved, peripheral vision* eyes caught some movement: the cat. And what a cat she is.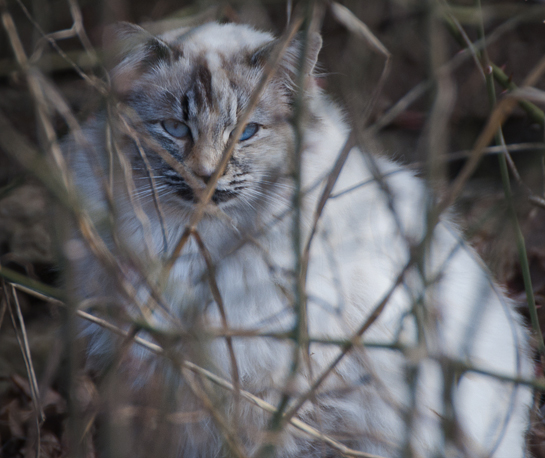 This cat may be feral or just may prefer these digs. I've never seen a feral cat as well-fed as this one appears to be, so who knows. One thing for sure. She was curious about me, but lit a shuck when I got what she considered to be too close.
I say she because she shows some evidence of Calico mixed in with her Siamese, tabby, and rag-doll mixed-bag genetic code. All Calico cats are girls. She came out and took a seat to watch what I was doing, but never left the security of her weed patch. I was shooting from the truck and after I stepped out to get a better angle, she scurried under the house. I repaired back to the truck drove a bit, turned it around, and returned to the scene. Lo and behold she had returned to her observation post. I fired away and made another move to see if I could get closer. I could, but not much, before she turned tail for a sprint under the house.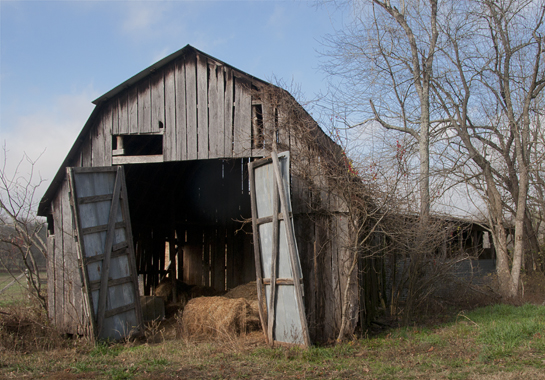 Across the road from the cathouse is this barn, which may be the rodent-rich smorgasbord responsible for her girth.
Sometimes giving things a second look is a good thing. In words of the immortal Fats Waller, "One never know do one?"
N O T E S:
Nikon D300 all. Cathouse: Nikon AF-S VR Nikkor 18-200 G ED, 1/640@f5, tripod mount. Cat, same Kodak, lens, and ISO, hand-held, 1/200@f5.6; Barn, Same Kodak, same lens, same ISO, tripod mount, 1/800@f5.6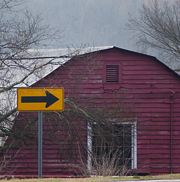 SEE MORE OF THE CAT
and this fine country environment, including the rugged road
to the cat, a couple of barns,
an equal number of cows
and more at
at Weekly Grist
for the Eyes and Mind.

*Due to recent and most successful cataract surgery.
Click the jump wings
to see the previous
Photo of the Week.

Click the camera
for an index to every
Photo of the Week.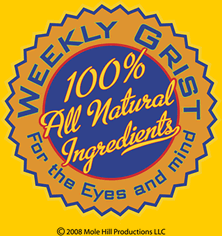 Most of the time, there is more to the Photo of the Week story than can be told in an essay. And most of the time there are more pictures to be seen. Presuming that some folk will enjoy being privy to this trove of information, I have created a blog, "Weekly Grist for the Eyes and Mind," where I am showing and telling "the rest of the story." There are also some blatantly commercial mentions of some of the things we do to earn our beans and taters. Click on the Weekly Grist logo and go to the blog. — J. D.