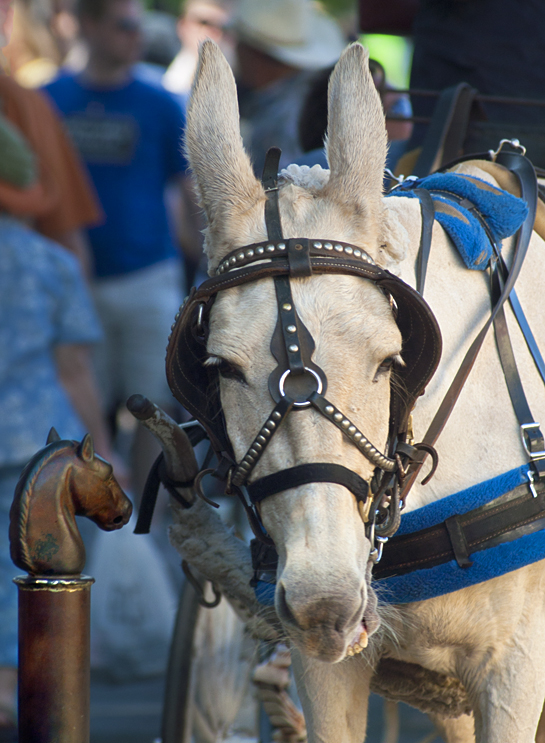 There's no telling how long the hitching post has stood at Decatur and Toulouse Streets. The first time I saw it was in the fifties. It was then and still is one of my favorite targets since the scene normally includes a mule giving the horse a quizzical look.

Sunday, January 29, 2012
It's April 2004 on the sidewalks bordering New Orleans' famed Jackson Square. Katrina is still 16 months away. It is situation normal on a fine, slightly muggy spring day in the Quarter. It is also Friday, the first day of the 2004 French Quarter Fest, so these mules will be busy.
Fortunately, the founding fathers of New Orleans had more sense than those who followed. They built on the highest spot for miles around, so while the rest of the city was anywhere from knee-to-chest-deep Katrina primordial soup, the Quarter was about ankle deep or a little better. This was indeed a fortuitous set of conditions since a lot of history was at stake that survived well. It's there to see today.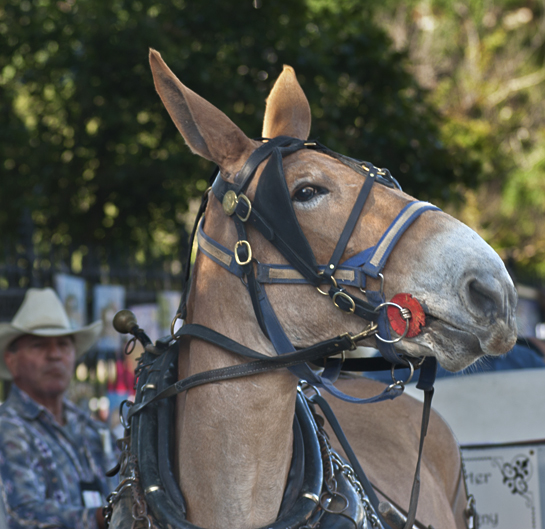 This mule seems to be telling me that "this is my best side, shoot now." The guy in the background seems unimpressed.
N O T E S:
Nikon D200, ISO 200, hand held, F2.8 Nikkor 80-200D, both. Top mule 1/320@f4.5, second mule 1/200@f3.5. Post processed with Photoshop CS5 Extended.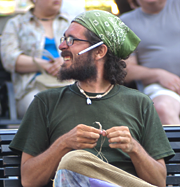 SEE MORE
OF THIS WEEKEND
in New Orleans at Weekly Grist
for the Eyes and Mind.
See the dude to the right
weaving "hemp jewelry,"
which seems to be a contradiction
in terms. Also of couple of
St. Louis Cathedral shots as it gets a bit of well deserved maintenance. Click and go!


Click the jump wings
to see the previous
Photo of the Week.

Click the camera
for an index to every
Photo of the Week.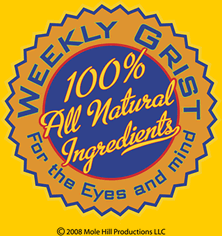 Most of the time, there is more to the Photo of the Week story than can be told in an essay. And most of the time there are more pictures to be seen. Presuming that some folk will enjoy being privy to this trove of information, I have created a blog, "Weekly Grist for the Eyes and Mind," where I am showing and telling "the rest of the story." There are also some blatantly commercial mentions of some of the things we do to earn our beans and taters. Click on the Weekly Grist logo and go to the blog. — J. D.