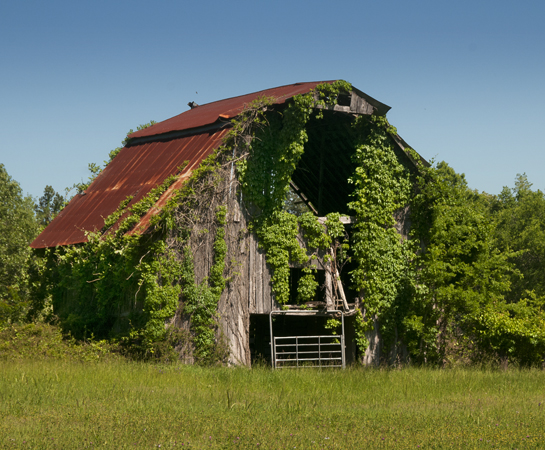 This old barn in plain view from Arkansas Highway 5 is a local favorite among barn viewers and aficionados. Old barns hold a unique place in our visual hierarchy, and this one is a prime example. If it was not a barn and in this condition, it would be labeled an eyesore. This may be one of the few instances of a double standard being OK.

Sunday, April 22, 2012
On a short day trip to a family affair, I passed a barn that has held a spot on my "to-shoot" list for a long time. That translates to being a "been-gone." In LA (lower Arkansas) parlance, that means "I been-gone shoot that barn for a while now."
My seeing the barn on that spectacular spring day moved the shoot from "been-gone" to "fixin'-to." "Fixin'-to" implies some sort of action in the immediate foreseeable future, implementation of which could stretch from a few minutes to a few days. Just to be clear, under certain circumstances, "fixin'-to" can also portend immediate action. For example, "If yew don't cut that out, I'm fixin'-to kick your sorry butt," is roughly like a rattlesnake sounding his alarm prior to the strike.
In this case, my "fixin-to" was to be implemented a few hours later on the return trip when the sun was ideally positioned to illuminate the aging structure. The barn stands on the east side of Arkansas Highway 5, south of Benton, Arkansas. Highway 5 follows an old winding path through some very scenic Arkansas territory and is a pleasant drive.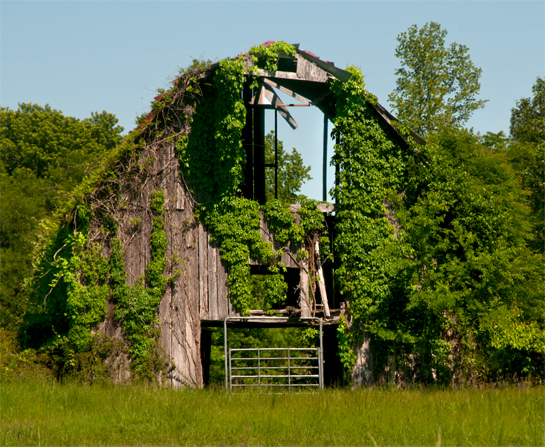 Missing planks at either end of the loft create the breezeway that is much admired by photographers and barn viewers. The old barn is probably past redemption, which means that at some time in the future it will collapse to rubble, depriving us of that special glimpse into our past currently provided by the grand old structure.
In some stretches the shoulder of the road becomes very narrow, making it virtually impossible to pull off and park for a shot. Such is the case at the site of the old barn. However, right next to the barn, which sits behind a "bob-wahr" fence, there is a small entrance drive where one can park his truck. That's the good news. The bad news is for an afternoon shot, one has to saunter 75 yards or so back down the highway to get the best angles. If no traffic is coming, you can walk on the skinny shoulder. If traffic is coming, you walk in the roadside ditch. Small price to pay for a good shot. Particularly since the opportunities to get this shot are diminishing day-by-day. A good reason to transform "been-gones" into "fixin-tos."
N O T E S:
Nikon D300 - Tripod mounted, AF-S VR Nikkor 18-200 f3.5-5.6, ISO 200 all; top picture 1/320@f9, second picture, 1/400@f10. Post processed with Photoshop CS5 Extended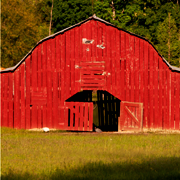 SEE MORE BARNS
at Weekly Grist
for the Eyes and Mind.
While I was at it, I turned two more been-gones" into "fixin-tos" and discovered a neat little barn I had been overlooking for years.
Click and go.


Click the jump wings
to see the previous
Photo of the Week.

Click the camera
for an index to every
Photo of the Week.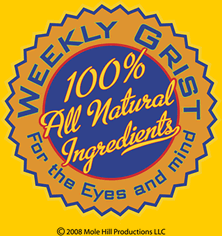 Most of the time, there is more to the Photo of the Week story than can be told in an essay. And most of the time there are more pictures to be seen. Presuming that some folk will enjoy being privy to this trove of information, I have created a blog, "Weekly Grist for the Eyes and Mind," where I am showing and telling "the rest of the story." There are also some blatantly commercial mentions of some of the things we do to earn our beans and taters. Click on the Weekly Grist logo and go to the blog. — J. D.