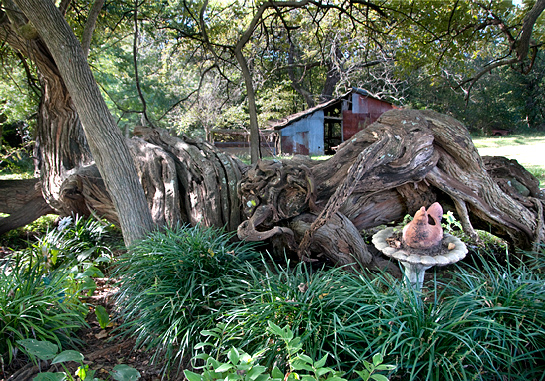 Gerald Ware's Bois d' Arc tree stands near Greenwood, Arkansas. I'm thinking there's not another like it anywhere. And Gerald ain't exactly your average guy either.

Sunday, July 1, 2012
A U T H O R ' S N O T E :
I occasionally recall the metaphorical string that an old friend and former cousin/employee was accustomed to reciting whenever he observed something seemingly unbelievable, but nevertheless in plain sight before his very eyes: "I been to six rodeos, a dog fight, a goat ropin,' and a Conway County election, and I ain't never seen nothin' like this." I particularly recalled the recitation when I first laid eyes on Gerald Ware's Bois d' Arc tree near Greenwood, Arkansas, back in the fall of 2009.

The tree, now more than 140-years-old, is a living miracle and a testimony to Mother Nature's toughness and adaptability.

After visiting with Gerald, a man of faith, I knew it wasn't a stretch to believe that Gerald was Divinely steered to the patch of mother earth that he, his wife Candice, and their assorted critters call home. The Almighty needed a responsible party to look out for the best interests of his tree. The tree and its keeper are unique. Read on.

Joe



Originally Published on Sunday, October 4, 2009
All of us, at pivotal points large and small — and most will admit it — have said to themselves, "Self, if I had not (fill in the blank), then (fill in the blank)...." As this epistle developed, I posed that query to myself more than once, because it was only by pure happenstance that while standing in the middle of Witcherville Road near Greenwood, Arkansas, Gerald Ware and I made each other's acquaintance. Had either of us varied from what we did leading up to that happenstance, his Bois d' arc tree would have remained unknown to any of us here in Photo of the Week land.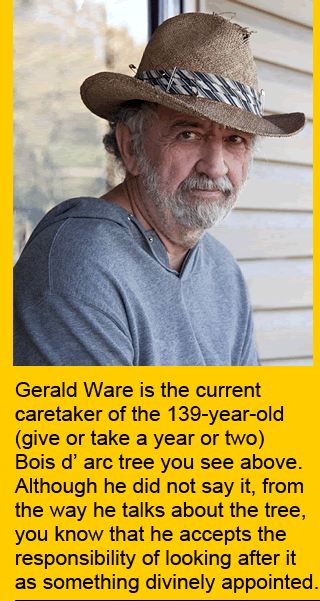 Gerald was taking his walk. I was driving around looking for stuff to shoot. I waved, he waved back. A bit further down the road, I turned left and set up to shoot an old barn. As I was about to finish, here comes Gerald on his return trip. We exchanged pleasantries and conversed. As he was walking off, he stopped and asked if I could do panoramas. "Yeah I could, whatcha got?" Then he began to reveal the story of the 139 year-old-or-so Bois d' arc (pronounced bo-dark) tree you see above. The tree is on Gerald's "place," a term used in these environs to describe one's home-sweet-home. He told me how to find his place and I set off, leaving him, at his insistence, to finish his walk.
Gerald arrived and took me to the gnarled, twisted, and contorted tree. It grows beside the home shared by he and his wife, Candice — yep, she is called "Candi." According to Gerald, the place was originally settled by homesteaders around 1870. His best research has convinced him that the original settlers planted the tree. At some point, years ago, Gerald, a retired biology teacher, believes the tree became a bit top heavy or lop sided and started to lean.
If you are not familiar with Bois d' arc trees, they are as hard as an anvil and one of the hardiest plants you will come across. For those of us who remember, you could probably call the Bois d' arc the Dick Butkus of trees. These trees have a genetic bent to survive.
Given their genetic tenacity, the tree, reacting to its abnormal growth, gracefully bent to the ground, pointed a couple of limbs earthward for additional support and nourishment, and then decided that it would become a horizontal Bois d' arc tree rather than a vertical one. Since the tree is at least 139 years old, who will argue? Looks like the plan is working. The horizontal mess of a trunk you see is a healthy tree, regardless of appearance.
The tree, answering an unavoidable inconvenience, found a way to survive despite what might be seen by others as debilitating, proving that good lessons are where you find them. This time in Gerald Ware's side yard.
N O T E S:
Nikon D300, Nikkor VR 18-200mm f3.5-5.6 G ED, all ISO 200, tripod mount. The tree pictures are composites, so exposure varies. Base exposure for the close-up shot, 1/125 @ f4.0.  For the wider tree shot, 1/50 @ f4.5.  Gerald, 1/60 @ f.4.5. Post processed with Photoshop CS4 Extended and Genuine Fractals print pro.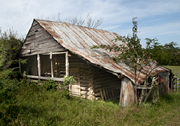 See more
of the great reclining
Bois d' arc tree on our blog,
Weekly Grist
for the Eyes and Mind.
Also an old log cabin and yet another old barn.

Click the jump wings
to see the previous
Photo of the Week.

Click the camera
for an index to every
Photo of the Week.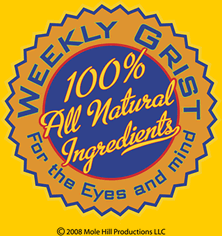 Most of the time, there is more to the Photo of the Week story than can be told in an essay. And most of the time there are more pictures to be seen. Presuming that some folk will enjoy being privy to this trove of information, I have created a blog, "Weekly Grist for the Eyes and Mind," where I am showing and telling "the rest of the story." There are also some blatantly commercial mentions of some of the things we do to earn our beans and taters. Click on the Weekly Grist logo and go to the blog. — J. D.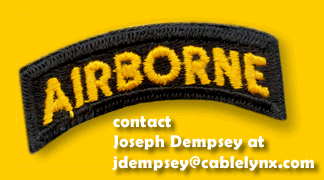 ---
---
---
---
---
---
---
---