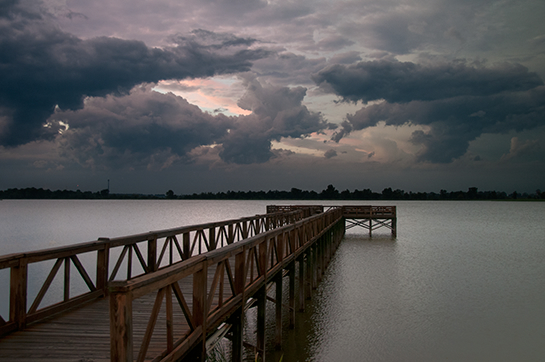 Late in the day, Friday, August 31, 2012, Isaac is leaving LA (lower Arkansas). Or so it seemed at the time. This is the fishing pier on Saracen Lake, our downtown impoundment here in Pine Bluff. As this image clearly demonstrates, this is a good place for late evening pictures. Here we are looking north. On most occasions here, we aim the camera west to catch dazzling sunsets.

Sunday, September 2, 2012
When certain hurricanes start their tour in the Gulf of Mexico, here in LA (lower Arkansas) we are frequently booked on the tour. Fortunately, we are never the main event. Our most recent visitor was Isaac. By the time he arrived on our turf, he was a mere tropical depression, which generally means a lot of rain accompanied by winds up to 39 mph.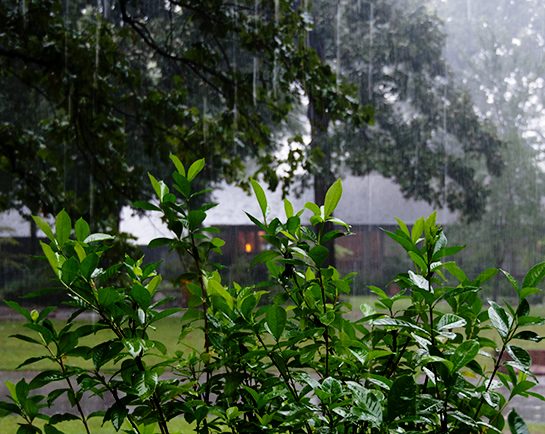 Isaac is dumping drops in the hood. We are looking out our den window during the downpour. In the background, our across-the-street neighbors. In the foreground, our favorite Cape Jasmine bush, which seems to enjoy the shower.
Isaac was a slow mover. He took his time getting here. Once he arrived, he stayed the better part of two days. After he left on Friday, July 31, he performed an encore on Saturday night, September 1. I should have known something was in the works as I cruised around Saturday afternoon. In LA fisherman parlance, "the wind was so strong, the minnow bucket was white-cappin.'"
About halftime of the football game between the Razorbacks and Jacksonville State, the encore storm blew through with rain, hail, and some stiff breeze. I did not realize that the storm was a tailing of Isaac until my son gave me a ring and told me to check the radar. Sure enough, our storm was connected to a disturbance running from our fair city northeasterly to Illinois and Indiana.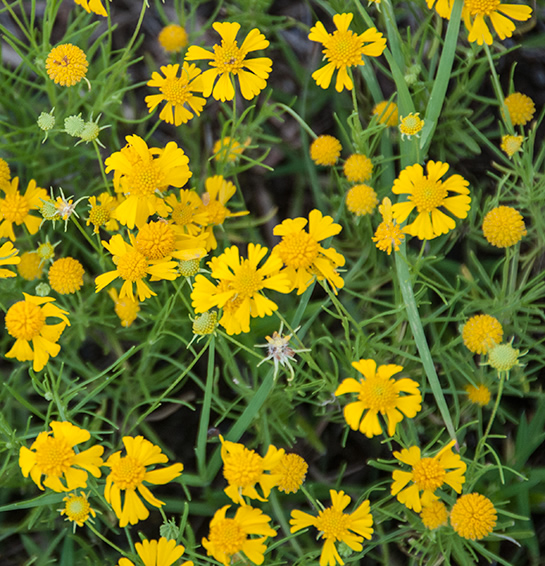 These hardscrabble posies live alongside an on-ramp to I-530. In the words of Mammy Yokum, they enjoyed Isaac's visit, "as any fool can plainly see."
I had erroneously bid farewell to Isaac with good riddance for inconveniences and thanks for needed rain. Then, up jumps the devil. Ol' Isaac gave us all a reminder that things are not always as they seem.
N O T E S:
Nikon D300, AF-S Nikkor 18-200 G ED, hand held, all. Dock and clouds, ISO 320, 1/13@f4; Rainy window, ISO 500, 1/50@f4.2; Flowers, ISO 400, 1/60@f5.6. Post processed with Photoshop CS6 Extended.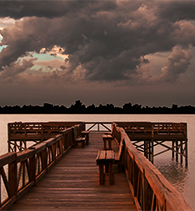 SEE ANOTHER VIEW
OF THE DOCK,
more pictures from Isaac,
and a couple of "I'm gonna
shoot it, catch up" pictures
at Weekly Grist
for the Eyes and Mind:
fat free, environmentally friendly, no harmful ingredients, homemade goodness. Click here.


Click the jump wings
to see the previous
Photo of the Week.

Click the camera
for an index to every
Photo of the Week.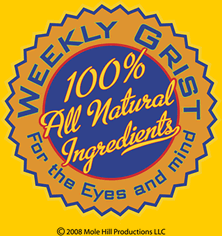 Most of the time, there is more to the Photo of the Week story than can be told in an essay. And most of the time there are more pictures to be seen. Presuming that some folk will enjoy being privy to this trove of information, I have created a blog, "Weekly Grist for the Eyes and Mind," where I am showing and telling "the rest of the story." There are also some blatantly commercial mentions of some of the things we do to earn our beans and taters. Click on the Weekly Grist logo and go to the blog. — J. D.